Financial support for marijuana legalization, both medical and recreational, has grown significantly in 2020 compared to 2016.
Proponents of state ballot measures have outraised opponents this election season by almost 36-to-1, a massive increase from four years ago when advocates outstripped the opposition by only 4-to-1.
Supporters of the legalization measures in
Arizona
,
Mississippi
,
Montana
,
New Jersey
and
South Dakota
have brought in roughly $19.6 million so far, compared with only $546,000 raised by opponents, according to a
Marijuana Business Daily
analysis using data from Ballotpedia and campaign-finance disclosures.
But that is a far cry from the $83.5 million supporters raised for the eight measures on the 2016 ballot, when California and Maine each raised record sums.
Of all the measures being considered that year, only the one that would have allowed adult use in Arizona failed – and that by only 2.6 percentage points.
Arizona is back on the ballot this year, and indications are it could be successful this time around.
The latest poll by Monmouth University in New Jersey at the beginning of October showed 56% supported the measure with 36% opposed and 8% undecided.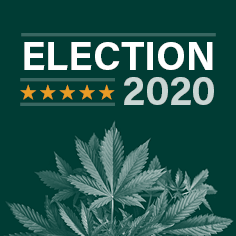 Public support isn't the only thing changing in Arizona this year.
Legalization supporters have outraised opponents 11-to-1 in 2020, a stark contrast to 2016, when the groups raised about $6 million each.
So far, Smart and Safe Arizona, the committee supporting the measure, has raised more than $5 million; the opposition has brought in $459,000.
Advocates point to the careful wording of the initiative for the lack of opposition funding.
"The Smart and Safe Arizona campaign put a lot of effort into drafting a well-rounded initiative that addressed some of the concerns of the opponents to the 2016 campaign," Steve White, CEO of Arizona-based Harvest Health & Recreation, wrote in an email to MJBizDaily.
"That is one reason why the opposition to the initiative is much smaller than it was four years ago."
Harvest is the largest donor to Smart and Safe Arizona, putting $1.42 million into the campaign so far, which represents 28% of the total.
The company's Arizona operations would benefit from the passage of recreational marijuana.
It operates 15 medical cannabis dispensaries in the state through various ownership agreements.
Harvest also has a total of 185,496 square feet of growing and processing facilities in Camp Verde, El Mirage, Flagstaff, Phoenix and Willcox.
Other marijuana businesses – including Massachusetts-based Curaleaf, Arizona-based Copperstate Farms and Illinois-based Cresco Labs – have donated a combined $1.3 million to support passage in Arizona.
In 2016, 29% of the supporting Arizona contributions came from the Marijuana Policy Project.
Matthew Schweich, the deputy director of MPP, said that while the organization supports the Arizona and New Jersey ballot measures, its staff has been focused on the Montana and South Dakota campaigns.
"That's where our assistance can make the biggest difference," Schweich said.
The longtime cannabis legalization organization has given $84,330 in cash and in-kind donations to the two states, a drop in the bucket compared with the $1.69 million it gave Arizona in 2016.
By comparison, New Jersey supporters received $800,000 from lawn and garden giant Scotts Miracle-Gro, which owns Hawthorne Gardening, a hydroponics subsidiary for cannabis growers.
Scotts gave $100,000 to NJ Can 2020 and $700,000 to the Building Stronger Communities Action Fund.
But the support Arizona is receiving from businesses is rare. Most of the contributions for ballot measures in 2020 still come from policy groups, political action committees and individual donors.
MPP's Schweich noted that he is not seeing major changes in other ballot initiative-related political activity by marijuana businesses.
Andrew Long can be reached at andrew.long@mjbizdaily.com