Medical marijuana dispensaries in Oregon are preparing to say goodbye to sweet, sugary edibles, and dispensary owners believe that removing these popular products will hurt their business.
They are concerned that other forms of cannabis sold as replacements – tinctures, capsules and other forms of edible cannabis – will not sell as strongly. Tinctures are more expensive than edibles and capsules do not have the same taste or texture. Older patients, specifically, gravitate toward the sweeter edibles.
"We've pulled all of them off of the shelves," said Troy Moore, owner of Oregon's Finest in Portland, who estimates that sweets account for 15-20% of his overall sales. "Everybody that comes in is like 'where are the edibles? I want the edibles.'"
Last week the Oregon Health Authority released its draft rules for medical marijuana dispensaries, and the rules ban the sale of sweet and sugary edibles.
If the ban is not repealed, it could be the first of its kind to specifically target sweet edible products.
Edibles overall have frequently come under fire from lawmakers in medical marijuana states. In 2011, Colorado Republicans tried to ban edibles with the unsuccessful H.B. 1250. Last year, Michigan's Supreme Court ruled that edibles made from marijuana extract were not legal under the state's medical marijuana law.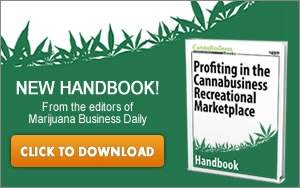 New Jersey's original medical marijuana regulations banned edibles; governor Chris Christie signed an amendment this past fall to allow the products for minors only. And this year, Arizona officials attempted to prevent dispensaries there from selling edible products.
Anthony Johnson, executive director of the Oregon Cannabis Industry Association, said the ban caught the industry and lawmakers by surprise. Johnson, who sits on the advisory committee for the Health Authority, said some politicians pressured the group to prohibit edibles packaging from containing cartoons or other child-like logos. He said an all-out ban on edibles was not discussed.
Johnson has helped organize a campaign to change the rule, and said that his group purchased ads on Facebook asking Oregonians to write letters to the Oregon Health Authority asking to allow edibles.
"Even the author of the original bill said this has taken it too far," Johnson said. "I think everyone agreed that (edibles) should be in child-resistant packaging but not a ban."
Matt Walstatter, owner of Pure Green dispensary in Portland, said that, while losing sweet edibles would shrink his business by 5-10%, he's confident that edible manufacturers will roll with the punches.
He said some of his edibles vendors hope to sidestep the law by simply selling marijuana-infused coconut oil or the marijuana-infused butter products that patients can purchase and then bake into sweets themselves.
Another vendor, he said, is looking into making savory edibles instead. Walstatter does not currently stock savory edible products.
"I do think there is some wiggle room for these companies," Walstatter said. "The next step is finding out what alternatives we can provide."
Not all edibles companies are as optimistic. Josh Erickson started Uncle Chompy's infused ice cream earlier this year, and he and his partner recently began selling their products through dispensaries.
The business has grown quickly enough for the two to move the operation out of their home and into industrial kitchen space. That move has been put on hold as the two wait to see if the Health Authority repeals the ban.
Erickson said his company does not have a backup plan if the edible ban remains.
"We're in 'wait and see' mode. I guess we could do sugar-free ice creams," Erickson said. "This has slowed us down because if we can't do it, we don't want to waste our resources."