By Chris Walsh
Retail medical cannabis sales in the United States could hit an estimated $1.3 billion-$1.5 billion in 2013, growing 10-15% from last year as the industry recovers from widespread turmoil, according to exclusive research data released today by MMJ Business Daily.
The long-term future appears even brighter: The legalization of marijuana for adult use in Colorado and Washington – coupled with the emergence of several new markets and continued overall growth on the medical side – could boost overall state-legal cannabis sales to $3 billion in 2014 and $6 billion by 2018.
These forecasts appear in the Marijuana Business Factbook 2013, a 180-page industry report, with 69 exclusive table and charts, that begins shipping on Monday, March 25.
The Factbook – published by the editors of MMJ Business Daily – provides a comprehensive overview of the cannabis industry and includes state-by-state market estimates and stability/opportunity rankings as well as regulatory and investing information. It also features a wealth of financial data such as average revenues and startup costs for dispensaries, cultivation operations, edibles companies and ancillary firms. You can order it now here.
"Although plenty of information has been published elsewhere about cannabis itself, as well as the legalization movement, until now there's been a near-complete dearth of financial, market and other business-related data," said Cassandra Farrington, publisher of MMJ Business Daily. "These are all facts that entrepreneurs, investors and expanding businesses need at their fingertips."
The industry revenue estimates include sales of medical cannabis and infused products at dispensaries in states that have marijuana laws on the books, but not wholesale revenues or dollars tied to ancillary products and services. Projections for 2014-2018 include sales of marijuana for recreational use in states where it's legal.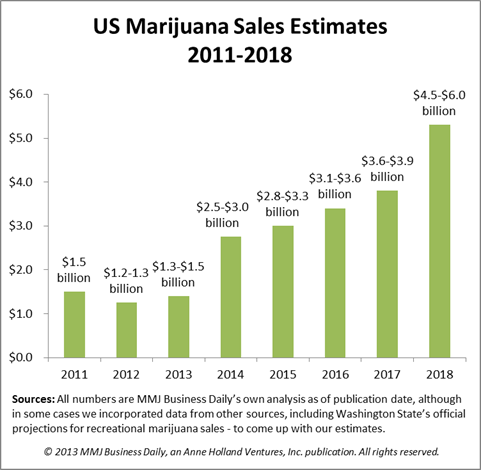 MMJ Business Daily estimates that retail medical cannabis sales totaled roughly $1.5 billion in 2011. The numbers could have been much higher, but a crackdown by the federal government and other challenges stunted growth and led to hundreds of dispensary closures and plummeting patient numbers in some areas.
The turmoil intensified in 2012, leading to an estimated $200 million to $300 million decrease in retail medical marijuana sales as hundreds of additional dispensaries closed for various reasons and the industry collapsed in some states and cities, such as Montana and San Diego.
This year, however, the industry is poised for a recovery and should be able to get back to 2011 levels.
Dozens of MMJ centers are on track to open in Arizona – generating tens of millions of dollars in revenues this year – while states such as New Jersey, Rhode Island and Vermont as well as Washington DC are moving forward with their dispensary programs. The Colorado, Oregon and Washington State markets also are expected to grow, and there could be an MMJ revival in several California cities such as San Diego and San Francisco.
In 2014, the emergence of cannabis retail stores in Colorado and Washington could generate roughly $1 billion in state-legal cannabis sales during the first full year of operation. The markets will eventually be much bigger, but it could take time for the recreational marijuana industry in those two states to reach its near-term potential, in part because officials might look to prevent rapid growth (Colorado and Washington are still crafting regulations). Several other states are expected to pass medical or recreational cannabis laws this year, which will further fuel growth in 2014.
This trend is expected to continue for years to come, and the industry could see another huge spike in 2018 – when any marijuana-related ballot measures passed in the 2016 general elections would really begin to play our from a business perspective. It often takes at least a year or two for states to get their dispensary/retail marijuana programs up and running after a law is passed.
There are some caveats to the projections, though.
California is still a very shaky market, and the industry could swing one way or the other this year. For instance, Los Angeles – the largest single MMJ market in the country – could see most of its dispensaries close later this year if voters back one measure on the ballot this spring. Several other markets, including Michigan, face challenges as well.
Additionally – and more importantly – the feds have not yet clarified how the government will respond to the recreational marijuana business in Colorado and Washington. Industry revenues will come in much lower if the Obama administration fights the new laws or looks to clamp down on retail cannabis stores.
On the other hand, revenues could soar much higher than expected if Colorado and Washington both allow visitors to purchase cannabis, which would create a massive marijuana tourism industry (the industry sales projections do not currently account for this possibility, as it is currently a big unknown).
MMJ Business Daily arrived at its estimates after conducting an in-depth study of the marijuana market in each state with dispensaries.
Given that the amount and quality of information available varies greatly in each state, the research team used a mix of methodologies to come up with reliable estimates, including: existing estimates by government agencies or other sources, identifiable trends, the maturity of the market, averages for similar markets or neighboring states with reliable data, average revenue per dispensary estimates, average annual patient spend in the area, information from local professionals, and/or MMJ tax revenues.