Banking relief for cannabis businesses in Colorado and Washington state may be within reach.
In Colorado, the state Legislature has approved the country's first-ever banking system for cannabis businesses, while in Washington a major credit union announced it will open accounts for recreational marijuana growers and processors.
The Colorado bill – which needs a final green light from the governor – creates cannabis-specific financial cooperatives that will be overseen by the state's financial services commissioner. The co-ops will function similarly to credit unions and will not require deposit insurance.
The Colorado Bankers Association publicly rejected the bill, stating that it was a non-starter due to marijuana's inclusion in the Controlled Substances Act. But proponents believe that the Justice Department's recent memo on banking could pave the way for a state-run institution to operate.
The plan, though, hinges on approval from the U.S. Federal Reserve. Critics believe the governing body will veto the plan since it does not require deposit insurance.
Washington state's Numerica Credit Union will also test the Justice Department's guidelines when it begins offering accounts to marijuana cultivators and processors. The Spokane-based credit union, which already has 100,000 members, is the first in the state to publicly work with the businesses.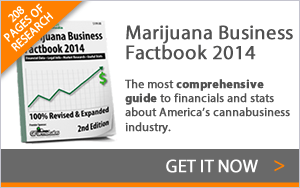 Numerica's executives agreed to work with growers and processors, however they balked at the idea of offering accounts for recreational stores that sell marijuana to consumers.
The credit union offered up a set of working guidelines for cannabis businesses it will serve:
– Each marijuana business account is limited to $5 million in total deposits.
– The credit union will not issue debit or credit cards attached to the marijuana accounts.
– The marijuana businesses cannot use remote deposit capture (taking a photo of a check and depositing it via a cellphone).
– All deposits must be made in person, with no night deposits allowed.
– Account holders must live in an area where Numerica has a branch. The credit union has 17 branches in Washington state and Idaho.
– Account holders cannot make deposits or withdraw money from other credit unions that are part of the same credit union network.