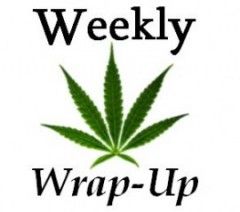 By John Schroyer, Omar Sacirbey and Bart Schaneman
Los Angeles voters approve a groundbreaking marijuana initiative, Canada adult-use legalization may take longer than anticipated, and an influential standards-setting group eyes cannabis.
Here's a closer look at some notable developments in the marijuana industry over the past week.
L.A. industry now hitched to uncertain city rules
Those outside Los Angeles may not have heard wedding bells for the city's cannabis industry and local officials, but that's basically what happened following passage of Proposition M.
The yes vote gives city officials the authority to approve cannabis businesses and write citywide regulations and licensing procedures for L.A.'s marijuana industry.
"We're arming them with tons of information from the industry side. The neighborhood councils are involved in the conversation so … it allows us to have a very sensible regulatory framework put together," said Virgil Grant, a longtime L.A. dispensary owner and co-founder of the Southern California Coalition.
Andrew Westall, assistant chief deputy to L.A. City Council President Herb Wesson, told a town hall meeting on March 3, "We're going to take care of this industry."
Westall said the city has a vested interest in the jobs marijuana businesses create, noting such companies can help revitalize industrial parts of L.A. He further predicted there won't be caps on the number of non-retail cannabis businesses. (Westall hedged about retailers, saying, "It's our hope that there's no cap on retail businesses.")
Jerred Kiloh, a dispensary owner and head of the UCBA Trade Association, is also confident about the city council's direction. But he said serious questions remain.
Kiloh, for instance, thinks the city is being optimistic about the timing for:
Writing regulations.
Accepting and processing license applications.
Issuing business permits.
That will probably take longer than a few months, meaning the city will likely butt up against the Jan. 1 deadline for MJ businesses to obtain local permits before new state rules kick in at the start of 2018, Kiloh said.

"Organized frustration is what this is going to create," Kiloh predicted. He expects the city will receive around 10,000 business permit applications for growers and retailers alone. That doesn't include edibles makers, delivery companies, testing labs and other plant-touching companies.

"When they're not able to go through enough applications, that's when frustration will hit," Kiloh said.

Another 4/20 surprise in Canada?

Canada's march toward recreational marijuana legalization appeared to slow when Bill Blair, the parliamentarian who heads the government's legalization task force, declined to say whether the new adult-use system will be ready by next year or if work may stretch into 2019. He added that sales may not happen until 2019.

Canadian cannabis stocks tumbled in response.

But Paul Pedersen, a cannabis consultant with Greywood Partners in Vancouver, British Columbia, expects cannabis sales will start next year.

Pedersen added that Blair's comments – plus statements from Prime Minister Justin Trudeau and top officials about the need to obey existing federal cannabis prohibitions – aren't a surprise for a government that's self-conscious about appearing overly enthusiastic toward cannabis.

"Politicians have to appeal to a wider base, and the average voter doesn't want to see a politician openly embracing marijuana or another drug or alcohol," Pedersen said.

Petersen noted the Trudeau government still believes legalization is the right policy and has given much thought to how recreational cannabis should be regulated.

"People are going to be surprised with how fast this moves, despite Blair's comments," Pedersen said.

In fact, Pedersen expects the government will unveil legislation for rec legalization on or around April 20 – much as it did last April 20 when it announced plans to introduce legislation this spring.

The legislation, Pedersen predicted, will be based on the government's marijuana task force report released in December.

He also believes the federal government will regulate cultivation, while decisions about cannabis distribution – via retail stores, liquor stores, pharmacies, etc. – will be left to the provinces.

It will take provinces time to launch their programs. But consumers may not have to wait: Pedersen believes the federal government will allow existing federally licensed cultivators to mail product to rec customers – like they now do for medical cannabis patients.

"These licensed producers are already doing mail order, so that's going to be an easy rollout for them," Pedersen said.

Standards sorely needed

Word that a global standards group has launched a cannabis committee is welcome news for an industry that could benefit from such guidance.

"Standards are really important … for cannabis," said attorney Jordan Wellington with cannabis-centric law firm Vicente Sederberg.

The marijuana industry lacks uniform standards in many areas, like labeling and packaging. As the industry develops, and business owners expand into more states, they must navigate a "patchwork quilt of regulations that are frequently outside their scope of institutional knowledge and expertise," Wellington added.

If marijuana is legalized at the federal level and businesses are subject to Uncle Sam's oversight, uniform standards geared toward national regulation will strengthen cannabis companies.

In particular, such standards would make it easier for multistate operators "so that packaging doesn't constantly need to be redefined and business opportunities restructured based on each individual market's nuances," Wellington said.

If the "federal government ends prohibition, then the FDA is going to … say, 'This is how we want cannabis labeled.' If businesses are prepared for that they'll be more efficient in circumventing that transition," Wellington added.

John Schroyer can be reached at [email protected]

Omar Sacirbey can be reached at [email protected]

Bart Schaneman can be reached at [email protected]