Publicly traded multistate marijuana operators appear to be in better financial health than they were at the beginning of the year, but many have shed operations in potentially lucrative markets to bolster their balance sheets.
MSOs are benefiting from growing marijuana markets, strong sales during the coronavirus pandemic and some easing in the capital markets as investors become more willing to fund cannabis companies.
But, with cash cushions low and debt high for many, it's too early to say most multistate operators are out of the woods.
Many MSOs still are struggling to become profitable after making heavy initial investments in their business, and they face economic uncertainties caused by the pandemic.
"The third quarter is going to be a very important quarter as it relates to the health of these companies," said Joe Caltabiano, co-founder and former president of Illinois-based MSO Cresco Labs, which has been one of the strong performers to date.
Caltabiano is referring to the quarter that ended Sept. 30. Companies traded on the public stock markets aren't expected to report their results until next month.
Even before the pandemic, MSOs such as Los Angeles-based MedMen Enterprises had started downsizing their operations and identifying assets to sell.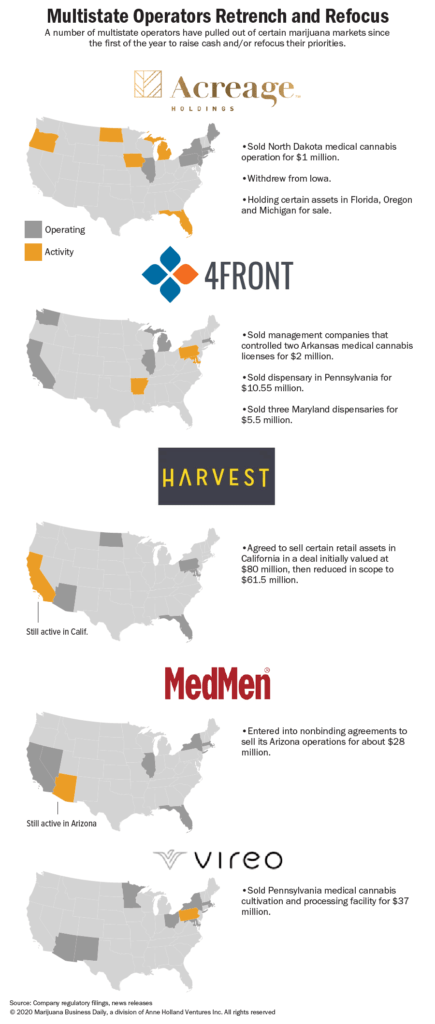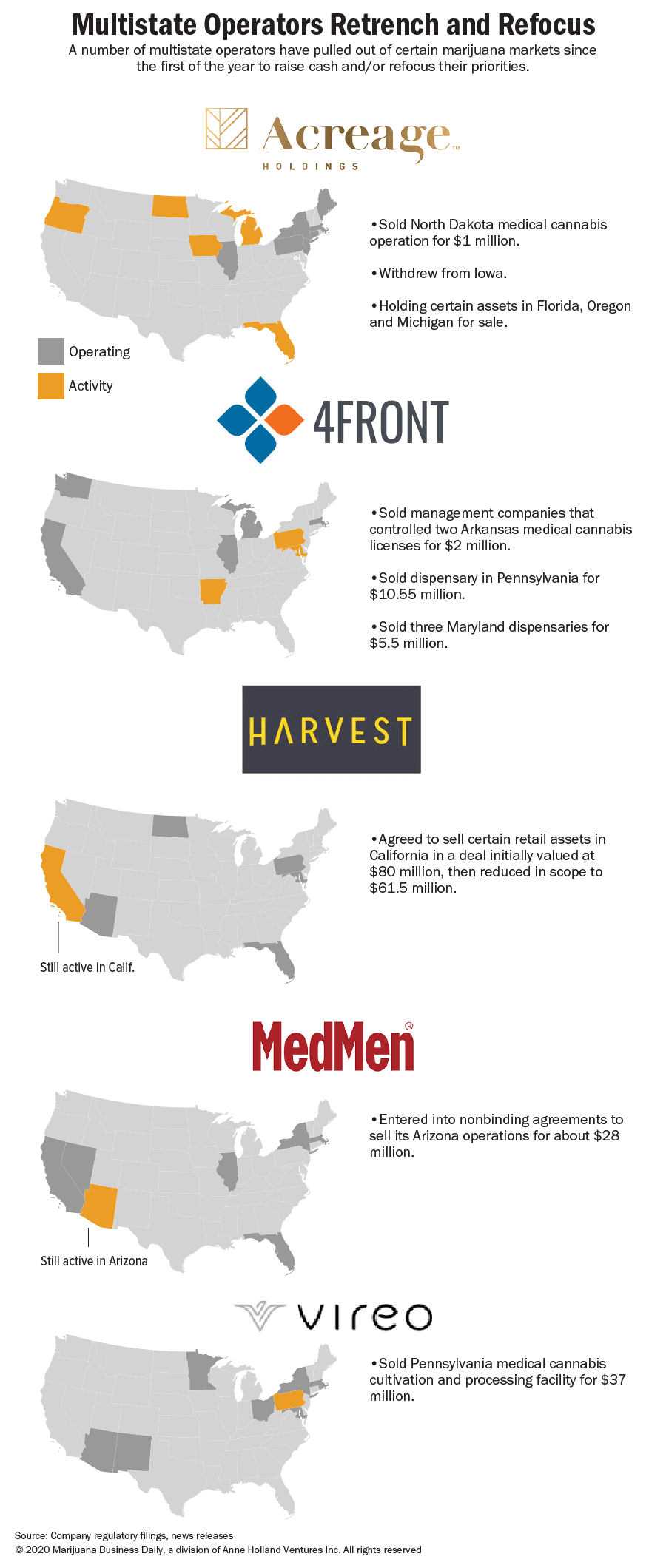 Others also have been active this year in making moves to refocus their priorities and raise cash. (See chart, right).
While it likely was a "difficult pill to swallow," Caltabiano said, "I do think shrinking assets for many of these operators was the right thing to do."
He referred to Minneapolis-based Vireo Health, which in June sold its Pennsylvania cultivation and processing facility to Florida-based Jushi Holdings for $37 million.
Pennsylvania's medical cannabis market is approaching a half-billion dollars in sales a year, and Gov. Tom Wolf is pushing to legalize adult use. But the Vireo facility was losing money, according to a regulatory filing.
Vireo's revenue growth is strong and its long-term debt low, but the company had only $5.7 million in cash on hand as of June 30, according to regulatory filings.
Arizona-based 4Front Holdings, which started the year with only $5.8 million in cash, also was a seller in Pennsylvania – unloading its MMJ dispensary for $10.6 million to Ethos Cannabis, according to regulatory filings.
MedMen signed nonbinding agreements earlier this year to sell its operations in Arizona for roughly $28 million, according to regulatory filings.
It's unclear the status of the deals, but some are in litigation. MedMen lists one dispensary in Arizona as still in operation.
Generally, MSOs with broad versus deep operations across the country have been trying to adapt by focusing on core markets where they are showing the best financial performance.
New York-based Acreage Holdings, for example, sold its medical cannabis operation in North Dakota and withdrew from Iowa – where it had a cultivation and processing license – to focus on more lucrative markets such as Massachusetts, Illinois and Pennsylvania.
"Acreage always had a broad approach, and the industry is too capital-intensive to manage multiple states at the same time and keep an eye on cash," Caltabiano said.
Regulatory filings show that Acreage ended its second quarter (June 30) with only $14 million of cash and an operating loss of $39.3 million for the quarter.
Daunting risks
Capital might have come too easily a couple of years back and some companies might have managed that capital poorly, industry experts said.
But Matt Karnes, founder of Green Wave Advisors in New York, pointed to other factors as well during a webinar last week: the risks of navigating various regulatory environments, including what he viewed as unfair antitrust reviews of marijuana mergers spurred by U.S. Attorney General William Barr.
Some mergers were scrapped and others renegotiated because of falling stock prices. The antitrust reviews were time-consuming and costly for the marijuana companies.
Another example of market risk: An MSO likely wouldn't enter New York just to have a medical marijuana business given the magnitude of illicit sales in the state and a ban on smokable-flower sales.
Karnes characterized such a move as making a "call option on going rec" without knowing how long a business might have to wait (and what losses it might suffer) until the state in fact legalizes recreational marijuana.
The knock on publicly traded marijuana companies – and a huge reason for the plummet in stock prices in 2019 and earlier this year – is that most aren't even positive on an operating basis, much less when interest expenses are factored in.
Now, though, cannabis companies are "beginning to see the promise of all the growth prospects," Karnes noted, aided by the industry being seen largely as "essential" during the pandemic.
Multistate operators generally reported strong revenue in the quarter ended June 30 – although most still are struggling to be profitable.
Raising cash by selling assets is one way some MSOs are strengthening their balance sheets.
But "it's imperative also to reduce operational expenses along the way," Caltabiano said.
MedMen started cutting operational expenses aggressively last year, which included laying off hundreds of employees.
The company had been posting operating losses exceeding $50 million a quarter for some time. For the quarter ending March 28 of this year, however, MedMen reduced its operating loss to $38.3 million.
Still, it's unclear what kind of financial shape the company is in.
MedMen recently delayed reporting its fiscal-year results, ending June 27 until Oct. 15. So more clarity is expected then.
Raising capital, but at what cost?
A recent flurry of funding deals suggests cannabis-related capital is beginning to become more available again.
But the key is the cost of that capital, Caltabiano said.
Acreage raised eyebrows in mid-June when it raised $15 million through a four-month loan at a sky-high 60% annual interest rate that was secured by company operations in Florida, Illinois and New Jersey as well as intellectual property.
Two weeks later, though, Acreage closed on a $10 million deal to acquire a medical cannabis operation in New Jersey, where voters are deciding whether to legalize adult-use in November.
If New Jersey legalizes adult use, that investment could well pay off for Acreage.
Most recently, the cost of capital seemed to be loosening for Acreage.
In late September, the company reported raising $33 million in unsecured debt from an unidentified investor at a 7.5% interest rate. But its third-quarter financials should be telling.
Caltabiano said the details of a capital raise are important, such as whether there are upfront or back-end charges, and whether a company has to include warrants, or securities that entitle the holder to buy the company stock at a certain, fixed price.
Recent MedMen regulatory filings show that the company continues to raise money but through debt offerings that include warrants.
Reflecting an increasing reliance on debt, MedMen's interest expense alone for the 39-week period ending March 28 totaled $37 million, compared with only $7 million for the same period the previous year, according to a regulatory filing.
Ultimately, factoring in eventual federal legalization, Karnes reckons only a few marijuana MSOs will survive as stand-alone operations, while others consolidate or are absorbed into consumer packaged goods companies.
In the meantime, marijuana companies are "getting ready for prime time," he said, which includes the "financial statement cleanup" the industry now is undergoing.
Jeff Smith can be reached at jeffs@mjbizdaily.com