Marijuana Business Daily reporters were on the ground in Canada, providing live coverage of the nation's historic launch of its recreational cannabis market.
Our staff filed updates throughout the day, providing you a front-row seat for the opening of recreational shops and to get insights on sales, challenges, successes and breaking news from the largest country to legalize adult-use cannabis. (All entries are in Eastern Time.)

7:15 p.m. (Nova Scotia)
Nova Scotia cannabis sales were overwhelmingly conducted through stores. As of 4 p.m., the cannabis division of the Nova Scotia Liquor Corp. had recorded 6,940 transactions, while overall sales figures hit 393,000 Canadian dollars ($301,415). Of that, CA$20,450 was from online sales, according to spokeswoman Beverley Ware.
A few stores in the province, which has about 924,000 residents and is Canada's seventh biggest, did run out of some strains, but customers had others to choose from, Ware said.
"We said earlier this week we had less (than) 40% of our supply," she said. "But we had shipments since then and more overnight, so it's quite a fluid situation."
– Omar Sacirbey
7 p.m. (Calgary, Alberta):
A line with an estimated 300 people wrapped around the shopping complex that holds Nova Cannabis, one of two dispensary storefronts open in Calgary.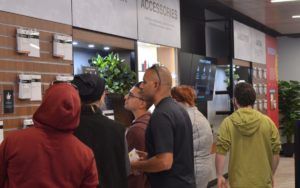 Inside, sales representatives answered customer questions. A mounted computer system also provided product information.
"Things are running smoothly," store rep Shelley Girard said.
"We still have product – we're feeling good about our product supply. We are selling out of certain SKUs, but feeling like we will absolutely be able to accommodate everyone that's in line," she added.
"We placed our second order with the AGLC (Alberta Gaming and Liquor Commission) this morning, so we have another order in queue on its way to us."
Girard noted that "some of our price points that are at the more accessible range have been selling quickly," with flower among the products selling briskly.
– Lindsey Bartlett
6:30 p.m. (Quebec):
Between its online cannabis sales platform and a relatively small number of open cannabis stores, Quebec has been processing about 50 cannabis sales per minute, according to a spokesman for the province's chief alcohol and cannabis regulatory agency, the Société des alcools du Québec (SAQ).
Between when it launched at 8 a.m. and 4 p.m., SAQ's website had processed 18,000 orders, for an average of about 2,000 orders per hour, according to spokesman Mathieu Gaudreault.
Another 6,000 sales were processed in Quebec's 12 cannabis stores between 10 a.m. and 4 p.m. for an average of 1,000 sales per hour, Gaudreault said.
– Omar Sacirbey
6 p.m. (Nunavut territory):
Some cannabis consumers in Northern Canada's Nunavut territory reported problems with their only current source of recreational cannabis, Tweed.com.
The Nunavut Liquor and Cannabis Commission contracts with Tweed to supply the territory with products, but some consumers had problems logging onto the website, according to the Nunatsiaq News.
Regulators told the news outlet they had been in contact with Canopy, which had been trying to resolve the problems. An email and phone call to Canopy were not immediately successful.
About one in three of the territory's roughly 38,000 residents are cannabis consumers, putting it first among Canada's 13 provinces and territories in terms of share of residents who are cannabis consumers.
– Omar Sacirbey
5:20 p.m. (Vancouver, British Columbia):
For many of Vancouver's dozens of gray-market cannabis stores, it was business as usual on legalization day – and some vow to stay that way.
Observers predict it will take up to a decade before the legal market overtakes the illicit, leaving a void for the gray market to fill.
At the same time, other operators are looking for a clear path to stay within the law, even as many are still waiting on license applications to be approved.
"If we're able to, we're willing to adapt to the new regulations," said Sandra (last name withheld by request) of Green Panda Dispensary.
The Ministry of Public Safety is confident most stores will voluntarily shut down or come into compliance – but many operators also expect the province to turn a blind eye to those that continue to operate outside the law.
– Robin Roberts
4:30 p.m. (Alberta):
Demand for legal cannabis in Canada has been "massive and sustained," said Trevor Fencott, CEO of Fire & Flower, a marijuana retail chain that had four locations open in Alberta and Saskatchewan.
Fencott reported lines of more than 200 people at the chain's locations in Alberta, with one store in Edmonton having a line winding around the block.
Consumers have come from all demographics.
"It has always been seen in the research, but seeing this broad cross section in reality is incredible," Fencott said.
Dried cannabis flower accounted for 70%-75% of sales in the first four hours the retail chain's locations were open.
That's higher than sales for dried flower in some U.S. adult-use markets, but it could be the result of Canada not allowing the sale of other product categories – namely concentrates and edibles, Fencott said.
He expected all Fire & Flower locations to have enough supply to stay open until 10 p.m.
– Joey Peña
3:30 p.m. (British Columbia):
Online orders were coming in fast in British Columbia, with BC Cannabis Stores – the province's only government-run online retailer – reporting nearly 4,000 orders as of 10 a.m.
Orders will be shipped from a central distribution facility within two business days of being placed, according to a spokesperson, not "48 business hours" as has been previously reported.
Canada Post will take at least another two days for delivery on top of that.
The province managed to open only one physical store on the first day of legalization, leaving most consumers in British Columbia with the BC Cannabis Stores website as their only option.
– Matt Lamers
3:15 p.m. (Alberta):
After weathering an initial crush of traffic that temporarily brought down Alberta's government-sponsored online cannabis retail portal, AlbertaCannabis.org is back online and functioning properly, according to a spokeswoman for the Alberta Gaming and Liquor Commission (AGLC).
Since 12:01 a.m. local time Wednesday, the site has recorded 5,000 purchases and 61,480 unique visits – 10,816 of which occurred during the website's first hour of operation.
Earlier today, one consumer reported on Twitter that the site had run out of the Kiwi and Northern Harvest strains.
When the Alberta sales portal website opened for business, it experienced higher-than-expected traffic and crashed, according to Kaleigh Miller of the AGLC.
But staff and partners got it back up and running after 20 minutes.
"At its peak, AlbertaCannabis.org saw just over 11,000 people in the queue to make purchases and was able to process about 200 additional customers from the queue every five minutes," Miller said. "By 12:50 a.m., there was no longer anyone in the queue."
The AGLC's call center has also been busy, receiving 425 email and 562 calls, with the average call time being nine minutes.
While the agency seems to have managed its tech issues, it still faces potential delivery issues should Canada Post carry out its threat to strike.
– Omar Sacirbey
2:15 p.m. (Calgary, Alberta):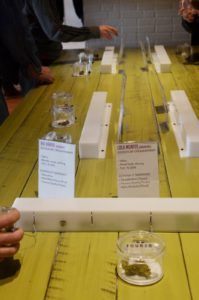 An executive for Four20 Premium Market, one of the two adult-use businesses to open in Calgary on Wednesday, said the business encountered a surprise midnight inspection by the Alberta Gaming and Liquor Commission.
"The AGLC came by at midnight to make sure we weren't selling at 12:01 a.m. We were told specifically that we were not allowed to (open early)," said Mike "Kato" Tomiyama, chief operating officer for Four20.
"It's the province that sets the time (for stores) – for Calgary, that's 10 a.m. to 2 a.m.
"Our inspector said he would also be coming today."
The store's customer count two hours after opening was 374, with an estimated 250 in line.
Tomiyama said Four20's top-selling products were 1-gram portions of Northern Harvest Strawberry Ice and Mango Haze.
"I know because some of the boxes are gone," he added.
– Lindsey Bartlett
1:30 p.m. (Toronto)
On the day recreational marijuana sales began in Canada, Aurora Cannabis – one of the nation's top MJ companies – received the green light to list its common shares on the New York Stock Exchange, according to a regulatory filing released Wednesday.
Aurora will join Canopy Growth, which listed its shares on the Big Board in May, as the only plant-touching medical marijuana companies to list on the NYSE.
– Matt Lamers
1:10 p.m. (Winnipeg, Manitoba):
Supplies at Winnipeg-based Delta 9 Cannabis, one four stores licensed in Manitoba, sold out within hours of opening, according to Global News.
The retailer was selling its product online for 12 Canadian dollars ($9.23) a gram.
Calls to Delta 9's Winnipeg store went unanswered.
Manitoba is one of only two provinces where the private sector handles both online and in-store cannabis sales. The other is Saskatchewan.
– Omar Sacirbey
1 p.m. (Alberta, Nova Scotia, Ontario & British Columbia):
Provincial wholesalers and online retailers of recreational cannabis are lining up new distributors to avert a possible disruption in deliveries if Canada Post workers go on strike next week.
So far, Alberta and Nova Scotia say they have an agreement with Purolator to provide additional support if Canada's main postal company encounters a work stoppage.
Ontario and British Columbia are working on a solution, according to spokespeople, but thus far nothing has been finalized.
British Columbia has only one adult-use retail store open, and Ontario won't have any until next year, so businesses in those provinces would have the most to lose if a disruption in delivery service does occur.
– Matt Lamers
12:50 p.m. (Toronto):
A new poll finds that nearly eight in 10 Canadians are not interested in smoking legal cannabis.
CTV News conducted a survey of roughly 1,000 Canadians before legalization that found 71% of those polled didn't want to smoke marijuana.
Only 11% said they were somewhat interested in smoking cannabis, and 8% said they were interested.
Pollster Nik Nanos told CTV News that the survey results reflect the antismoking culture in Canada. He said the government has campaigned against smoking for decades.
But many of those polled showed an interest in consuming cannabis edibles and infused beverages, which won't be available until next year.
One-quarter of Canadians are interested or somewhat interested in consuming marijuana in an edible form or a drink.
The poll showed that younger people are more interested in cannabis in general, with 31.8% of those between the ages of 18-34 expressing interest, compared with 24.9% of those 35-54 and 22.5% of those 55-older.
– Bart Schaneman
12:30 p.m. (Alberta and Saskatchewan):
Trevor Fencott, the CEO of Fire & Flower, a Canadian cannabis retail chain, said he's confident the four retail stores that just opened in Alberta and Saskatchewan on Wednesday are adequately stocked to meet demand.
But what will demand look like at the country's brick-and-mortar stores on the first day of legal adult-use sales?
"That's the million-dollar question," Fencott said. "Because there will be so few stores open in general – as I understand it, only 17 in all of Alberta – we're expecting a significant volume of people.
"Whatever it is, I think it's safe to say we'll see more people than we anticipated come through the doors."
Fencott said his team used aggregated data on recreational sales in U.S. states found in the Marijuana Business Factbook 2018 to project inventory needs and model store revenue per square foot.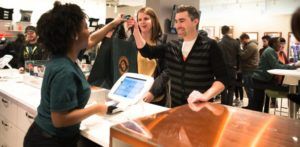 Still, there are unique caveats in Canada; it's only the second market to federally legalize marijuana, and not all product categories are available to consumers. Concentrates and edibles, for example, have not been approved for sale by the government.
Fencott hoped to have Fire & Flower's 15 stores in Alberta open for sales Wednesday, but regulators rescheduled inspections in part so the province's cannabis supply isn't spread too thin.
To start, Fire & Flower's shops will have about a hundred stock keeping units (SKUs) on shelves, said Mike Vioncek, the chain's chief operating officer.
"We understand that it's far better to have three stores that are fully stocked and prepared for the rush than to have 15 stores that are at 20% inventory levels," Fencott said. "We agree that this is the right move for the industry as a whole, because you don't get a second chance to make the right first impression."
– Joey Peña
Noon (Calgary, Alberta):
"Welcome to the end of prohibition."
Four20 Premium Market President Jeff Mooij welcomed customers into his store Wednesday morning, shaking the hands of the first 10 customers inside the space.
The facility is bright and open, with crowds of customers predominantly gathering around the sample jar table.
Mooij declined to offer specific sales expectations for opening day, saying, "We'll be busy. I don't know what it's going to end up being today. No idea. It is what it is right now.
"We won't sell out. That's for sure. We have lots of product here."
A single protestor held court at the store as it opened.
"It's the end of prohibition and we're here," Mooij said. "It's a major achievement for Canada.
"The world is watching. We're going to do things legally and do things right and show the world how to legalize cannabis.
– Lindsey Bartlett
11:30 a.m. (Ontario):
Premier Doug Ford said the Ontario Cannabis Store has received 38,000 adult-use orders since going live at midnight, according to a tweet from Christie McLardie, manager of public and strategic affairs for the town of Ajax.
But not everything is going smoothly on the provincial website, according to other shoppers.
In an email to Marijuana Business Daily, Daffyd Roderick, the director of communications for Ontario Cannabis Store, wrote that the site "is performing well with no issues to report."
– Omar Sacirbey
11 a.m. (Prince Edward Island):
The first legal marijuana sale on Prince Edward Island, Canada's smallest province with about 150,000 people, occurred online shortly after midnight, local time. The province is the Atlantic Time Zone.
The sale was recorded by the local cultivation subsidiary of Figr, a vertically integrated cannabis company based in Toronto. The company's 24,000-square-foot grow facility in Charlottetown on Prince Edward Island is the only commercial cultivation facility there.
Three of the island's four stores are now open and drawing crowds.
"I was at the Charlottetown store at 8:30 and there was already a nice lineup of people there, and the lines were still there when I left around 10 a.m.," reported Volker Lauterbach, president of Figr.
PEI's provincial government handles both online and store sales.
– Omar Sacirbey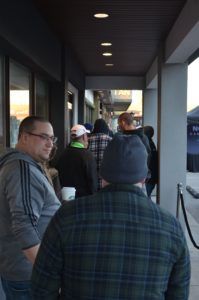 10:50 a.m. (Calgary, Alberta):
The line outside Nova Cannabis continues to grow, with 60 people waiting for the doors to open – even though temperatures hover around 40 degrees Fahrenheit.
"It kind of feels like Christmas when you're younger. It's a whole new experience," said Liam Ferguson, a 19-year-old originally from Toronto. "For me it's more of the convenience."
Tristan Hadley, a 20-year-old from Calagary, skipped school today to "go get pot," he said. "It's not very often you can say you're a part of history."
Down the road at Four20 Premium Market, roughly 200 people are standing in line. About 30-40 people will be allowed into the store at once, according to a store spokesperson.
– Lindsey Bartlett
10 a.m. (Toronto):
The union representing 50,000 Canada Post employees gave notice Tuesday that workers for the nation's main postal operator could walk off the job next week, which would delay recreational cannabis deliveries across the country.
Wholesalers of cannabis – mostly run by the provinces themselves – are currently lining up alternative delivery services, but delays would still be expected if a strike does occur.
– Matt Lamers
9:30 a.m. (Calgary, Alberta):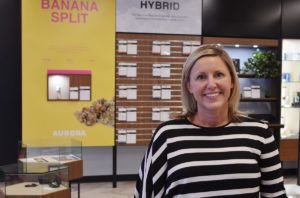 Nova Cannabis, Calgary's second adult-use retailer, had its first recreational marijuana customer in line at 4 p.m. Tuesday. He said he plans to buy oil.
"The customers are going to tell us what the demand is," said Shelley Girard, vice president of brand strategy for Alcanna, which owns Nova.
"The customers are going to tell us what the numbers are, based on their interest. What we're really focused on is making sure that our stores are ready."
Alcanna is a liquor store operator that expanded into marijuana through a partnership with industry giant Aurora Cannabis.
Asked which products that Nova stocked up on, Girard said, "We anticipate flower (purchases). Whether that be for combustion or through vaping, flower will be a fairly high-selling product for us."
Alcanna opens five Nova Cannabis stores across Alberta on Wednesday.
– Lindsey Bartlett
8:30 a.m. Wednesday (Toronto):
Canada will pardon Canadians who have been convicted of cannabis possession of 30 grams or less.
The federal government is set to announce the move Wednesday, The Canadian Press reported.
That means Canadians who had either been barred from participating in the legal cannabis industry, or had at least been under increased scrutiny, will be able to join regulated marijuana companies.
The pardons will not be granted immediately, according to the news outlet, and ministers are going to provide options for people to enter the pardon process at a news conference Wednesday morning.
– Matt Lamers
11 p.m. Tuesday (St. John's, Newfoundland and Labrador):
Online marijuana sales officially started in St. John's, Newfoundland and Labrador, Canada's eastern-most province.
The website of Cannabis Newfoundland Labrador went from a placeholder site to live at the stroke of midnight.
Online sales began at 11 p.m. in New Brunswick and Prince Edward Island, which are in the Atlantic Time Zone.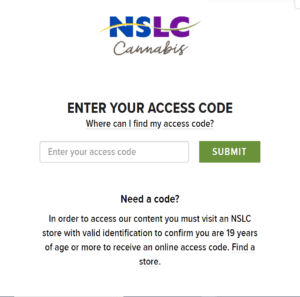 Nova Scotia is also in the Atlantic Time Zone, but the online sales website wasn't expected to go live until 6 a.m., and those online sales likely won't start until around midmorning.
Why?
Nova Scotians who want to buy cannabis online need a card with an online access code, and the cards can only be obtained in provincial liquor and cannabis stores.
"So in effect (consumers) can't place orders until after 10 a.m. when our stores open," said Beverley Ware, spokeswoman for the Nova Scotia Liquor Corp.
– Omar Sacirbey
10:30 p.m. (St. John's, Newfoundland and Labrador):
Canada's first legal recreational sale was made by Canopy Growth's CEO Bruce Linton in St. John's, where retail stores opened at midnight to mark the historic day.
– Omar Sacirbey
10 p.m. (Edmonton, Alberta):
In the weeks leading up to the legalization of adult-use marijuana in Canada, executives at Fire & Flower, a Canadian cannabis retail chain, had to forge connections throughout the supply chain and navigate an entirely new market.
But they said they overcame those hurdles using teams that have experience working through these kinds of hiccups in other industries.
"We're all learning this industry together, and there has been great communication and partnership with our vendors and government organizations," said Mike Vioncek, Fire & Flower's chief operating officer.
Inspections at some locations have been delayed, which means only four of its planned locations will be open Wednesday – three in Alberta and one in Saskatchewan.
"Where there has been some rescheduling of inspection, it has been so that the stores that are up and operating have full inventories that can meet demand," CEO Trevor Fencott said.
Connecting "very, very disparate systems" also required additional effort to ensure a smooth transfer of product and information within the supply chain, Fencott said.
"It's been a real logistics challenge over the last two to four weeks."
– Joey Peña
8 p.m. Tuesday (Calgary, Alberta):
Ryan Kaye is among the millions of Canadians who've been waiting two years for adult-use legalization to arrive. So, Wednesday is likely to be one of the busiest days of his life – perhaps the busiest.
"We're prepared for a lineup of a thousand people," said Kaye, vice president of operations for Four20 Premium Market, one of Calgary's two retail stores set to open Wednesday.
Jeff Mooij, president of Four20 Premium Market, told CBC News that he's ordered 420,000 Canadian dollars ($325,000) worth of marijuana products from as many as 15 licensed suppliers. He reckons the store will ring up CA$100,000 in sales on Day 1.
But that's only a guesstimate, Kaye admitted.
"We sort of have been playing the pick-a-number game for a few weeks here now, and it changes daily. It's really hard to say," Kaye said. "People can buy up to 30 grams. What's the average purchase price? Thirty grams. Ten grams. Five grams. Five grams to 30 grams. That's a six times multiplier on the number."
– Lindsey Bartlett
Have a tip or want to share your pictures from this historic day? Send them to editorial@mjbizdaily.com.