Marijuana Business Daily reporters were on the ground across the United States on Election Day 2018, providing live coverage of the midterms and their significance to the cannabis market.
Scroll down for updates our staff filed from the states voting on cannabis-related proposals, as well as potentially pivotal U.S. congressional and gubernatorial races.
For analysis of notable election results and how they could affect marijuana businesses, click here.
(All entries are in Eastern time.)
1:30 a.m. Wednesday (California)
Lt. Gov. Gavin Newsom – one of the biggest names to endorse full marijuana legalization in California in the 2016 election – became Gov.-elect Newsom.
The state's cannabis businesses almost certainly stand to benefit from his elevation to the state's highest office.
"It's a great night for the industry," said Elizabeth Ashford, a longtime California political operative and principal at Los Angeles-based Ceres Strategies.
Newsom "understands that the biggest threat to the regulated market is illegal operators."
Meanwhile, another closely watched race for the marijuana industry remained up in the air early Wednesday morning.
U.S. Rep. Dana Rohrabacher, who helped shepherd into law the only federal protections for medical cannabis companies – the Rohrabacher-Blumenauer Amendment – was neck-and-neck with Democratic challenger Harley Rouda.
A Rohrabacher loss in his re-election bid would be a hit to the cannabis industry's political clout in Washington DC, according to Ashford.
"I think it's a loss if he doesn't come back in," she said, "because, in Congress, seniority matters. All seats are not equal."
– John Schroyer
12:30 a.m. (North Dakota)
The campaign to legalize recreational marijuana in North Dakota threw in the towel, with The New York Times projecting the ballot initiative will fail.
With 92% of precincts reporting, Measure 3 was trailing by 19 percentage points.
"This is what happens when you're outspent more than 5 to 1, and our opponents are pushing the 'sky is falling message should this pass,' and we don't have the funds to push back. It's inevitably going to be a tough row to hoe," said Cole Haymond, political adviser to Legalize ND.
Haymond said he's not sure yet whether local activists – which were the backbone of the North Dakota campaign – would try again in 2020.
"I haven't taken time to speak to the activists here and see what their next plan is, but I certainly hope they give it another try," Haymond added.
He said the mood at the election-night party in Fargo was "more than solemn," adding that the attitude toward the state's impending medical cannabis industry is not one of optimism.
"It isn't operational, and it's still in limbo," Haymond said. "That was a big impetus behind this effort."
– John Schroyer
Midnight Tuesday (Florida)
It's been a tough night for cannabis in the Sunshine State:
In the governor's race, pro-legalization Democrat Andrew Gillum narrowly lost to Republican rival Ron DeSantis.
Nikki Fried, the attorney and medical marijuana lobbyist who had to contend with two banks shutting down her campaign bank accounts, trailed Republican Matt Caldwell in the race for agriculture commissioner by only 4,200 votes with five precincts still not reporting results, according to The New York Times. A candidate who loses by 0.5% or less is entitled to a recount. (Nov. 17 update: Fried won by 6,753 votes, a 0.08% margin.)
Former Florida governor and anti-marijuana Republican Rick Scott was ahead of incumbent Democrat Bill Nelson by 58,000 votes in the race for U.S. Senate.
Most of the uncounted votes are in blue-leaning areas, according to Associated Press election maps, so the latter two races may still turn.
Florida election rules allow for recounts if the difference between two candidates is 0.5% or less.
– Omar Sacirbey
11:40 p.m. (Missouri)
Missouri became the 32nd state in the country to legalize medical marijuana when voters approved business-friendly Amendment 2, backed by New Approach Missouri.
The measure was leading – 64% to 36% with 49% of precincts reporting – when The New York Times called the election.
Many considered Amendment 2 the most favorable to business of the three MMJ initiatives on the ballot.
Amendment 2 provides for:
A relatively low tax rate of 4%.
A generous number of business licenses.
Physicians' discretion in recommending MMJ.
Voters rejected the other two medical marijuana initiatives on the ballot.
11:30 p.m. (Texas)
A Democrat in Texas has defeated one of the biggest opponents of the U.S. cannabis industry.
Colin Allred, the challenger for U.S. House District 32, unseated incumbent Rep. Pete Sessions, chair of the House Rules Committee.
In recent years, Sessions has used his position to block cannabis reform legislation from moving to the floor of Congress.
While Allred did not run a pro-marijuana campaign, he has been outspoken against his opponent's refusal to hear opposing viewpoints related to medical cannabis and the desire of MJ companies to use traditional banking services.
– Kate Lavin
10:40 p.m. (Colorado)
Democrat Jared Polis, a marijuana advocate, handily won the Colorado gubernatorial race against Republican Walker Stapleton.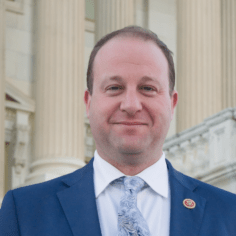 Polis has said he supports two marijuana-related bills that outgoing Gov. John Hickenlooper vetoed earlier this year:
One would have allowed publicly traded companies to invest in and hold a medical or recreational cannabis license in Colorado.
The other would have allowed marijuana tasting rooms.
Several cannabis businesses and industry associations – including the Marijuana Industry Group – have said they believe it's important for Colorado to open up to outside capital to compete with other cannabis markets across the country.
Stapleton was concerned with what he called the "unintended consequences" of marijuana legalization and wanted to tighten some of the state's MJ regulations.
– Jeff Smith
10:30 p.m. (Michigan)
Democrat Gretchen Whitmer, an advocate of adult-use marijuana legalization, won Michigan's governor's race, the Associated Press reported.
Whitmer has been a vocal supporter of the state's legalization initiative, Proposal 1. The initiative is ahead by about 15 percentage points with 44% of precincts in the state reporting, according to The New York Times.
Whitmer defeated former state attorney general Bill Schuette, a Republican who opposed Proposal 1.
– Joey Peña
10:15 p.m. (North Dakota)
North Dakota's Measure 3, which would legalize the possession and sale of recreational marijuana, was trailing by a wide margin.
With 81% of precincts reporting, the no votes were ahead, 61% to 39%, according to the New York Times.
The early results raised doubts about the initiative's future.
Only two years ago, North Dakota voters approved medical marijuana. The market has yet to launch, however.
– John Schroyer
9:45 p.m. (Illinois)
Incumbent Gov. Bruce Rauner conceded to Democratic challenger J.B. Pritzker, according to local news reports, putting a major cannabis advocate in the Illinois governor's mansion.
Just 15% of precincts were reporting when Rauner, who reluctantly inherited the state's medical marijuana program, admitted defeat.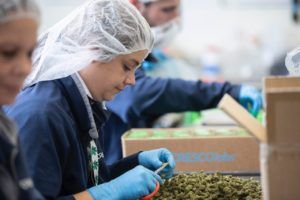 Pritzker campaigned on a platform that included the legalization of adult-use marijuana.
Charlie Bachtell, CEO of Chicago-based, multistate marijuana operator Cresco Labs, said Pritzker's victory "should result in legalization in Illinois," though how regulators will choose to structure an adult-use program won't be determined for months or more.
"That still has to pass in the next legislative session, and then you have regulatory development that has to take place," he said.
For his part, Bachtell said he would like to see a more integrated and inclusive cannabis program, and he looks forward to working with the Pritzker administration to help shape the state's adult-use structure.
"We're big fans of the Illinois market," said Bachtell, whose company recently purchased a dispensary location in Elmwood Park, a Chicago suburb.
"Our expansion in the market is just indicative of our belief in the Illinois market – whatever direction that takes. We wanted to make sure we had as much of a presence as we could."
– Kate Lavin
8:30 p.m. (Middle America)
"Marijuana is going to win big today," Republican strategist Michael McKeon forecast during a segment of Yahoo Finance's "Market Movers" show.
Though marijuana has become widely accepted on the two U.S. coasts, McKeon noted this election is about "Middle America."
"This is not an East Coast issue, this is not a West Coast issue. This is Middle America embracing this industry," McKeon, a partner at global public strategies firm Mercury, said during his "Market Movers" appearance.
He noted recreational and medical cannabis issues on ballots in key states Michigan, Missouri, North Dakota and Utah as well as lesser measures in Florida, Ohio and Wisconsin. All those states, except for Florida, are considered "Middle America," he pointed out.
Marijuana could become an East Coast issue early next year, he predicted.
"Recreational (marijuana) is such a gigantic market," McKeon said on "Market Movers."
"I think you're going to see that in the first quarter of 2019, New York and New Jersey will both be embracing recreational."
8 p.m. (Detroit)
Supporters of Michigan's Proposal 1, the initiative to legalize adult-use marijuana, are optimistic voters will legalize recreational cannabis – but they're anxious to see the results of the state attorney general's race.
The attorney general will play a key part in the rollout of adult-use cannabis if Proposal 1 passes and will set the tone for marijuana enforcement, sources said.
Dana Nessel, the Democratic candidate for attorney general, supports Proposal 1 and has called the war on drugs an "abject failure."
Her Republican challenger, Tom Leonard, opposes Proposal 1. But he told the Oakland Press he'd uphold the law if it passes.
Still, Michigan marijuana business owners and advocates are worried that Leonard's antilegalization views would harm an adult-use program in the state.
Rick Thompson, head of the Michigan Cannabis Business Development Group, said the state's current attorney general, Bill Schuette, "obstructed the implementation of our medical program to the point where current interpretation of the law bears little resemblance to what the actual citizen-directed initiative says."
Schuette is running for governor but trails Democrat Gretchen Whitmer in the polls.
– Joey Peña
7:50 p.m. (Texas)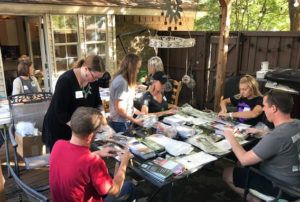 The Texas Cannabis Industry Association (TCIA) hopes to remove one of the biggest roadblocks to marijuana reform in Congress – a development that would be positive news for MJ businesses across the nation.
U.S. Rep. Pete Sessions is one of the cannabis industry's most formidable adversaries. As chair of the House Rules Committee, he decides whether legislation comes to the floor for a vote.
Since he was re-elected with 71% of the vote in 2016, he has blocked 36 cannabis bills from being considered, according to Patrick Moran, TCIA's founding board member.
A Sessions defeat could make it easier to move forward with pro-marijuana legislation that provides federal protections for cannabis business owners.
Sessions, a Republican who has served U.S. House District 32 since 2003, is being challenged by Democrat Colin Allred, a civil rights attorney who worked for the U.S. Department of Housing and Urban Development and as a voting-rights litigator.
Allred has additional star power behind his ticket, having played linebacker for the National Football League's Tennessee Titans from 2007 to 2010.
– Kate Lavin
7:15 p.m. (Florida)
Attorney and marijuana reform activist Michael Minardi was cautiously optimistic cannabis would have a good night in Florida, with the prospect of the state getting a pro-MJ governor who could generate fresh business opportunities for entrepreneurs.
Minardi was making the four-hour drive from his Tampa law office to an election night party in Tallahassee for Andrew Gillum, the Democratic candidate for governor.
Polls suggest Gillum, who favors recreational cannabis legalization, has a slim lead over anti-marijuana Republican Ron DeSantis.
But Minardi, director of Regulate Florida, a group that hopes to get an adult-use legalization referendum before voters in 2020, also worried that many in the state's cannabis community weren't voting for Gillum.
Rather, they were opting for DeSantis because of what Minardi called "anti-Obama, anti-immigration, isolationist" sentiments.
"There's still this divide in the cannabis community where you have people who aren't making this (marijuana) their No. 1 issue," Minardi added.
Should Gillum prevail, he'll still have to overcome a state House of Representatives that Minardi calls Florida's biggest obstacle to adult-use legalization.
– Omar Sacirbey
6:45 p.m. (Missouri)
In the Show-Me State, voters are poised to show which of three competing medical marijuana initiatives they favor the most – with one in particular appearing to promise a more favorable business environment for MMJ companies.
Diane Czarkowski, founding partner of Canna Advisors, an MJ consulting firm, told Marijuana Business Daily that she especially likes Amendment 2 because it calls for a "good number" of licenses – no fewer than 60 cultivation, 80 processing and 192 dispensary permits.
"It also really holds the state to issuing the applications within a certain amount of time. The very latest for licensing would be December of next year," Czarkowski said. "All too often we've seen states stall out in putting together a plan."
Here's what you need to know:
Missourians can vote for one, two or all three ballot initiatives.
Amendment 2 and Amendment 3 are constitutional amendments that would trump Proposition C, a statutory amendment.
Of the two constitutional amendments, Amendment 2 also offers a much lower 4% tax rate and physician discretion in recommending MMJ.
If both Amendment 2 and Amendment 3 pass, the one with the highest number of votes will prevail. Perhaps.
Experts, including Missouri Secretary of State Jay Ashcroft, have predicted potential legal challenges if more than one initiative passes.
There hasn't been much polling in Missouri, but the surveys show a double-digit margin in support for legalizing medical marijuana.
– Jeff Smith
6:30 p.m. (Michigan)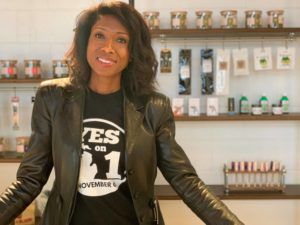 5:30 p.m. (Illinois)
The Illinois governor's election will be a make-or-break vote for the future of adult-use marijuana, according to Jeremy Unruh, director of public and regulatory affairs for PharmaCann, a multistate cannabis company based in Oak Park.
"Everybody in our industry is watching this election right now because we know that if the incumbent wins, it would be four more years of the same stunted and stagnant medical cannabis scheme," Unruh told Marijuana Business Daily.
"If the challenger is elected, we know that he is going to prioritize social justice, harm reduction and an expansion of the economic potential."
Unruh said Republican Gov. Bruce Rauner "is not favorable" toward the state's medical cannabis program. His challenger is Democrat J.B. Pritzker.
Rauner made headlines in August for signing legislation that allows doctors to recommend MMJ as an alternative to opioids. But many in the industry saw the move as a preelection maneuver to appeal to the state's moderate Republicans.
Pritzker, a recreational cannabis proponent, has estimated that legalizing adult use could create state tax revenues of $750 million.
– Kate Lavin
5 p.m. (California)
Although there aren't any statewide marijuana-related measures on Golden State ballots this Election Day, there's still a lot of political activity for cannabis entrepreneurs to keep tabs on.
That includes at least 94 cannabis-related ballot measures at the city or county level, according to tallies shared with MJBizDaily by Ellen Komp, deputy director at California NORML, and Mike Branom, communications director at cannabis business consultancy Agate Biosciences.
It also includes the possible defeat of a longtime congressman who's been a staunch ally of marijuana businesses.
U.S. Rep. Dana Rohrabacher, a Republican incumbent from Orange County who's been in office since 1989, is facing a serious threat from Democrat Harley Rouda, who switched over from the Republican Party two years ago.
The big difference for cannabis companies?
Rohrabacher has gone to bat in the U.S. House for years on behalf of the marijuana sector while Rouda doesn't appear interested in cannabis policy.
Separately, there are scores of local marijuana-related ballot measures, most of which ask voters to authorize new business taxes.
Insiders say that could be the first step toward a regulated market at the local level in California, which means there could be a wave of new marijuana business licensing opportunities, depending on how many of the 94 measures end up passing.
California's polls close at 8 p.m. PT.
4:30 p.m.
The final forecast from FiveThirtyEight.com shows a high probability that the U.S. House of Representatives will flip to the Democrats, which could bode well for federal marijuana reform and, hence, MJ business activity.
Here is the website's final forecast:
Democrats are a 6-in-7 favorite (85.8%) to retake the House, with an average gain of 36 seats. That would make for a House with 231 Democrats and 204 Republicans.
The probability of Democrats also winning control of the Senate was just 1 in 6 (18%).
If Democrats perform better than projected in the Senate, they'll also probably take more seats than expected in the House.
The Republicans maintaining control of the House is about as unlikely as the Democrats winning control of the Senate.
– Jeff Smith
3:45 p.m. (Flint, Michigan)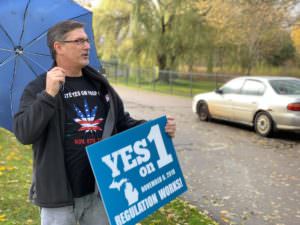 Rick Thompson, a supporter of Proposal 1 – Michigan's voter initiative to legalize adult-use marijuana – was heartened by voter turnout in Flint, despite rainy weather.
Thompson, the owner of Michigan Cannabis Business Development Group, said he's "cautiously optimistic" the initiative will pass.
As he stood outside his polling place, he waved a "Yes on 1" sign at passing cars. A number of drivers smiled and gave him a thumbs-up.
The number of people lined up to vote and steady traffic in the parking lot is a good sign for Proposal 1, Thompson noted.
Preelection polls showed Proposal 1 leading by double digits, but Thompson had been concerned that low voter turnout could spell trouble for legalization.
– Joey Peña
2:55 p.m. (New York, Maine and Florida)
Polls are open in New York, Maine and Florida – states where the outcomes of gubernatorial and state-level legislative elections could have significant impacts on marijuana legalization.
• Maine voters passed a recreational marijuana bill in 2016 and then the state Legislature passed its own, more restrictive version of adult-use legalization this past April. But no steps have been taken to implement the industry.
That situation could change if voters elect Democratic gubernatorial candidate Janet Mills, who supports recreational legalization. In a September candidates forum, she noted that the quickest way to get rid of the black market was with a quick rollout of an adult-use program. Mills' opponent, Republican Shawn Moody, opposes legalization.
Maine's polls close at 8 p.m. ET.
• In New York, a health department report recommended recreational legalization, while Gov. Andrew Cuomo announced a working group to draft tax and regulate legislation. If the group comes up with a bill, whether it passes depends largely on who controls the state Legislature after the 2018 midterms – pro-legalization Democrats or legalization-leery Republicans.
New York's polls close at 9 p.m. ET.
• In Florida, the governor's race may decide the direction of the cannabis industry. Democrat Andrew Gillum has been a vocal supporter of recreational legalization, while Republican Ron DeSantis has said he would continue implementing medical marijuana legislation because it was the will of the people, but he opposes recreational legalization.
Florida's polls close at 7 p.m. ET.
– Omar Sacirbey
1:55 p.m. (North Dakota)
A statewide ballot question in North Dakota – Measure 3 – aims to legalize recreational marijuana and lay the groundwork for what could potentially be an MJ business-friendly market in the state.
But the measure's chances are a big question mark.
Just two years ago voters gave the thumbs-up to medical marijuana in North Dakota.
Polling on Measure 3 has been inconsistent, with one survey in October finding only 26% support among likely voters and another showing 51% back the initiative.
If it does pass, it would leave many details to state officials, because the measure is quite broad.
There are no caps on business licenses, no cannabis taxes, no limit for personal possession and no limit on how many plants a single person can grow at home.
In the words of one supporter, it's "the most liberal recreational (MJ) bill that this country has seen on the ballot."
Although polling and the state's traditionally conservative voter base may make it a tough run for Measure 3, it's possible that voters who turned out in 2016 to back medical cannabis may decide to do so again in support of adult use.
– John Schroyer
1 p.m. (Chicago)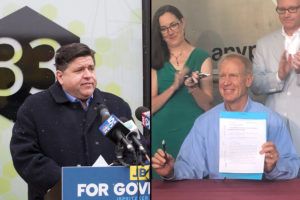 Illinois voters are expected to elect J.B. Pritzker to the governor's office, a development that could help pave the way for the legalization of recreational cannabis.
Pritzker is vying to unseat the current governor, Republican Bruce Rauner. The latest poll from Victory Research predicts Pritzker, a Democrat, will win the race by 16 points.
Illinois lawmakers legalized medical marijuana in 2013.
"Under Rauner, we're never going to see an adult-use bill," said Zachary Zises, owner of Chicago-based Dispensary 33.
By contrast, Pritzker has made the legalization of adult-use MJ a focus of his campaign, saying in January that "our state has waited and watched and missed out on jobs and revenue."
"We are really excited about what J.B. (Pritzker) says when he talks about cannabis under his governorship," Zises said.
– Kate Lavin
11:30 a.m.
Here's a snapshot of what MJBizDaily is carefully monitoring on Election Day and why cannabis companies across the country are as well:
Will the U.S. House of Representatives flip to the Democrats? Industry experts say such a development could significantly improve the likelihood of federal marijuana reform and intensify the spotlight on proposed measures such as the STATES (Strengthening the Tenth Amendment Through Entrusting States) Act. The Senate isn't likely to turn over to the Democrats, but if it does, that could bode well for MJ reform and the business opportunities that could follow.
Will Michigan legalize recreational marijuana? If it does, MJBizDaily projects that could open a massive market with $1.4 billion-$1.7 billion in annual sales within several years of launching.
The following state ballot initiatives also could have particularly huge ramifications on the industry based on MJBizDaily's annual sales projections: Missouri, three medical marijuana initiatives ($175 million-$275 million); North Dakota, adult-use legalization ($65 million-$75 million); and Utah, medical cannabis legalization ($15 million-$25 million).
Successful state ballot initiatives also could put more pressure on the U.S. Congress to reform federal marijuana laws so they are more friendly to MJ businesses, industry experts say.
Marijuana entrepreneurs also will be watching gubernatorial races since cannabis reform and related business opportunities can often be stalled or stunted by state political leaders. Here are some highlights:
In Florida, Democrat Andrew Gillum, who supports adult-use MJ, is in a close race with Republican Ron DeSantis, who has concerns about marijuana.
Illinois Democrat J.B. Pritzker, who supports adult-use marijuana, has a double-digit lead over incumbent Gov. Bruce Rauner.
In Ohio, there's a toss-up race that could significantly affect the future of cannabis businesses in the state. Democrat Richard Cordray said he would support voters' wishes on adult-use legalization, which could be good news for MJ entrepreneurs in the state. Republican Mike DeWine opposes reform.
– Jeff Smith