By Fred Dreier
A growing number of states are implementing strict cannabis laws that limit the number of marijuana businesses, using lotteries or complex scoring systems to determine who gets a license.
Many qualified entrepreneurs have been shut out of the industry as a result. But not all of them have gone quietly into the night.
Unsuccessful applicants in Massachusetts have filed lawsuits challenging state licensing processes, while a handful of entrepreneurs who walked away empty-handed from Washington State's lottery for recreational permits are threatening to take legal action.
The Massachusetts lawsuits are still working their way through the courts, so it's still too early to say whether this type of legal action can help reverse state licensing decisions or lead to an overhaul of the process. Still, licensing lawsuits could become increasingly common around the country going forward, regardless of the outcome.
Marijuana Business Daily spoke with several lawyers for advice on when to pursue legal action and steps you can take to bolster your case.
Sour Grapes, Confusion Not Enough

Whether businesses should sue state agencies has become a polarizing question in the cannabis industry, since lawsuits could bog down the entire process and delay businesses from opening.
In many cases, licensing lawsuits are simply a last gasp by unlucky entrepreneurs who are trying to recoup on their investments, several lawyers said. Others resulted from confusion over application rules – which can be tough cases to win.
"The real culprit was a lack of communication between the state regulatory body, the zoning bodies and the [applicant]," said Ryan Hurley, who represented several clients during Arizona's dispensary licensing process., which involved a lottery. "Unfortunately, once the decisions had been made, it was impossible to go back in time."
Lawyers in Washington State echoed Hurley's opinion. Officials there conducted a lottery for recreational retail licenses in May, and the Washington State Liquor Control Board hopes to approve the first retail licenses in July.
Hilary Bricken, an attorney with Canna Law Group in Seattle, said nothing short of an emergency injunction issued by the state court would delay Washington's licensing process now. Plaintiffs would need to exhaust their administrative remedies in lower courts before getting their case into state court, which would simply take too much time.
"I don't see any of those actions against the board having much traction," Bricken said.
When You Might Have a Case
Entrepreneurs who missed out on a license should consider filing suit in a handful of situations: if they can prove that less-qualified businesses were accepted; if they can prove that corruption, favoritism or gross negligence by officials was at play during the licensing; or if the lawsuit can place the plaintiff back into the pool of applicants.
"My advice to lawyers who jump in is to raise arguments, defend the applicant's rights and demand a fair treatment," said Dick Evans, a Massachusetts lawyer who represented an unsuccessful client. "We're talking about justice here."
Proving this requires extensive legwork. Massachusetts lawyer Bob Carp, who has filed three separate lawsuits against the Massachusetts Health Department, said he required prospective clients to fill out an intake sheet to determine if their case held water.
On the sheet, Carp asked each client to provide their the score card from the health department and from local officials, as well as the score card of the license winner in the same jurisdiction.
The score sheet is just one of the important documents that plaintiffs should keep, Carp said. They should also hold onto emails and letters with officials, as well as lease information or deeds to property.
Carp and his team scanned the documents for inconsistencies in scoring. If the client had a low score, Carp passed.
If he found inconsistencies, Carp proceeded to the next step. He examined the winning application for the jurisdiction and then checked the company's paperwork against the 55-page book of rules issued by the health department.
"In some cases we have very solid documented proof that [the agency] had no idea what they were doing," Carp said. "But to do that we had to go through almost every single application."
Finally, Carp said he only pursued the lawsuit if there was a chance to reinstate his clients into the pool of applicants. A judge recently ruled that Carp's lawsuit could not stop the dispensary licensing process from continuing, however courts have yet to make a decision on the lawsuit itself.
Talk to the Media
Both Carp and Evans stressed the importance of communicating with the media during the lawsuit. Evans said it was the constant reporting on the Department of Public Health's mishandling of the Massachusetts licensing that likely persuaded some plaintiffs to come out of the woodwork.
"There was this constant drip, drip, drip of reporting on the alleged favoritism and what seemed to be a flawed process," he said. "That [information] really called into question the design of the process."
Carp said plaintiffs should keep regular communication going with reporters. His advice is to be "laser pointed" with media communications. Instead of making blanket statements such as "the process was unjust," plaintiffs should give specifics, such as bullet-point guidelines showing exactly where the process went wrong.
"If you can build credibility and explain it in layman terms, the press will be more comfortable with you," Carp said.
Positive media attention could help public sentiment sway in favor of the plaintiffs, which in turn could influence policymakers.
"You want to show that it's not just unhappy applicants," Evans said.
Go it Alone
Entrepreneurs may be enticed to band together in their fight against state agencies and file a class-action lawsuit. But it might be better to stay separate, Evans said.
For starters, filing an individual lawsuit allows you to be more nimble.
"Class action lawsuits can get big and clunky," Evans said. "They are expensive and can last a lot longer."
Carp, who has won class-action suits in the past, agreed. From a strategic standpoint, it is better for multiple parties to file individual suits, versus filing one big suit, because the defendant will be forced to deal with all of the parties individually. That can spread resources thin.
Class-action suits are also considerably more expensive.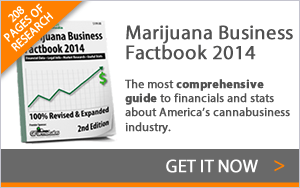 Carp also said class-action suits can be pushed into federal court, which could dismiss the suit because the argument concerns a controlled substance.
"You want to keep [the lawsuit] within the confines of the district court or the superior court because they will work with the statutes that are on the state books," Carp said. "Federal court would dismiss you with prejudice, which would end any hope you have."