Get up-to-date insights on state ballot initiatives and all things Election 2020 for cannabis at MJBizCon. We start with Election Week, Nov. 2-4.
Tuesday's general election could have huge implications for federal marijuana reform, but the biggest business impacts hinge on whether the U.S. Senate flips to the Democrats and former Vice President Joe Biden wins the presidency.
If so – and that's a big if – it's possible that reform would lead to marijuana legalization in some form sooner rather than later.
Without the Senate flipping, the most optimistic scenario for 2021 might be cannabis banking reform – which the U.S. House passed in 2019.
The U.S. Senate has been the biggest barrier to federal marijuana reform, so a change there would be welcome to the MJ industry.
"What has held this (reform) up is the majority leader of the Senate, Mitch McConnell," Timothy Fair, an attorney at the Hoban Law Group, said during an election webinar Oct. 29.
Bobby Burleson, a U.S. analyst with Canadian-based investment banking firm Canaccord Genuity, had a similar take.
"Arguably, just as important to continued cannabis reform as who occupies the White House is which party controls the Senate," Burleson wrote in an election report, adding that the Senate has been the "major roadblock to virtually all of these initiatives."
He also wrote that "we believe a shift to a Democratic-controlled Senate could be a significant catalyst for pro-cannabis legislation on the whole."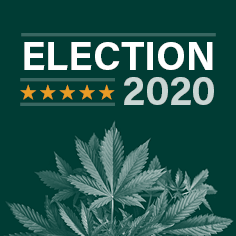 Prospects for Senate flip
Currently, the Republicans hold the Senate majority with 53 seats.
If Democrats – as predicted – lose their current Senate seat in Alabama, they would need a net gain of at least four seats to secure control of the upper chamber.
That said, reform could still stall if the Senate flips to Democrats and President Donald Trump is reelected.
Fair said the most likely seats to go from Republican to Democrat appear to be in Arizona, Colorado and Maine.
According to recent polls, Democrats also could snag a seat in one or more of the close races in Georgia, Iowa, Kansas, Montana, North Carolina, South Carolina and Texas.
Jaret Seiberg, an analyst for New York-based Cowen, wrote in a recent research note that a Biden victory "should bring a Democratic Senate."
In that case, cannabis banking reform is virtually a guarantee sometime in 2021, industry experts said, either as a stand-alone measure or tied to broader federal legalization.
One caveat to reform momentum in Washington DC: A lingering coronavirus pandemic could shift congressional priorities to other matters such as relief legislation; alternatively, timelines could slip.
Democrats, especially progressives, have been moving from the STATES Act to the more comprehensive MORE (Marijuana Opportunity Reinvestment and Expungement) Act.
The STATES Act would allow individual states to decide whether to legalize while protecting such programs from federal interference.
The MORE Act would remove marijuana entirely from the federal Controlled Substances Act by descheduling the plant, thereby legalizing it nationwide.
STATES Act an easier win?
Burleson viewed the MORE Act, with its criminal justice reform measures, as covering more "current event issues," but he predicted that the STATES Act "could be brought back into the spotlight next year."
Seiberg agreed.
"As an interim step, this is easier to pass," Seiberg wrote of the STATES Act. Banks would be able to serve marijuana companies that are in compliance with state laws, he added.
Descheduling, however, is the industry's endgame because it would resolve all of the main issues in one fell swoop:
Banking access.
Limits on raising capital.
280E, the provision in the federal tax code that prevents state-legal marijuana companies from deducting ordinary business expenses.
Marijuana companies would gain greater access to capital markets with the MORE Act passing versus the STATES Act, Seiberg wrote.
A House panel passed the MORE Act in late 2019, and a Democratic-controlled House might well pass it before year-end.
But passage in a Democratic-controlled Senate likely would be tougher sledding, experts believe, although it could help that vice presidential nominee Kamala Harris co-sponsored the Senate bill.
Biden's marijuana view
While Biden has pivoted from his endorsement of the war on drugs in the 1990s, he remains a reluctant marijuana legalization advocate.
The Democratic Party platform, reflecting the recommendations of a Biden-Bernie Sanders task force, reflects a more moderate approach than descheduling marijuana:
Legalizing medical marijuana federally.
Rescheduling marijuana.
Supporting states' rights.
However, many experts believe Biden would sign a descheduling bill if it reached his desk were he president.
A Trump win, meanwhile, likely would mean the Republicans maintain control of the Senate, Seiberg wrote.
But it's still possible that a Republican-controlled Senate could pass cannabis banking reform that's similar to the House measure.
Banking reform essentially would allow financial institutions to serve marijuana businesses in a myriad of ways without fear of being punished by federal authorities.
Before the coronavirus pandemic, Senate Banking Chair Michael Crapo, an Idaho Republican, gave cannabis banking reform some attention but had issues with the SAFE Banking Act passed by the House.
Although McConnell still would be the Senate Majority Leader and presumably a marijuana obstructionist, the changing dynamic with a Republican victory would be that Sen. Pat Toomey, a Republican from Pennsylvania, likely would become the Senate Banking chair because Crapo is term-limited, Seiberg wrote.
And that could be even better news for cannabis banking reform.
Toomey comes from a state that has a fast-growing medical marijuana program and a governor who wants to legalize adult use.
"If Toomey backs the (cannabis banking reform) bill, it may be hard for McConnell to keep it off the floor," Seiberg wrote.
There's another bullish prospect to all of this, even in the event of a Republican win: the continued momentum toward legalization across the country, highlighted this election year with adult-use referendums in Arizona, Montana, New Jersey and South Dakota as well as medical marijuana initiatives in South Dakota and Mississippi.
Saphira Galoob, a veteran DC lobbyist whose clients include the National Cannabis Roundtable, said this to Marijuana Business Magazine: "All of this can add to the pressure points on reconciling federal and state laws."
Jeff Smith can be reached at jeffs@mjbizdaily.com