Medical marijuana entrepreneurs are eyeing central Illinois, and at least two towns are welcoming the businesses.
According to the economic development council in the twin cities of Bloomington and Normal, between five to seven medical marijuana growers and dispensary owners are looking to establish businesses there.
The council appears to be supportive of the marijuana companies. Timothy Bill, the council's project manager, said the group is providing the entrepreneurs with possible locations for their businesses.
The town planner of Normal said officials are trying to be "as helpful as we can" to the businesses.
The news represents a positive step for the cannabis industry, which has traditionally struggled to build support in smaller communities away from large population centers. Marijuana companies have historically gravitated toward bigger cities because the market is larger, but also because the political climate tends to be more supportive of cannabis.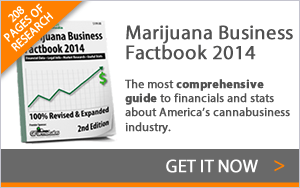 In Oregon, for example, most of the state's medical marijuana dispensaries are located in Portland, Eugene and Bend, while many rural communities have enacted moratoriums on the businesses.
Under Illinois' current regulations, the Bloomington-Normal area will be allowed one dispensary and one cultivation center.
Local officials say a cultivation center could create 30-100 new jobs, and a dispensary could create 10 jobs.