LAS VEGAS – Members of the cannabis industry's brain trust used the first day of MJBizCon to share predictions for 2020 and describe how changing attitudes in the United States might affect future marijuana legalization efforts – plus more coverage from this week's conference in Las Vegas.
In his keynote presentation Wednesday, Chris Walsh, president and incoming CEO of Marijuana Business Daily, reviewed some of the cannabis industry's significant wins in the U.S., Canada and other global markets in 2019 – but also underlined some major challenges.
He said the marijuana sector cannot always expect boom times but was quick to add the industry is on the edge of moving into a bright next phase of long-term growth.
An example of a big win in 2019 occurred when
Illinois became the first state
in the country to legalize recreational marijuana cultivation and sales through its Legislature.
But the news from New York and New Jersey was not as good, as those states did not move marijuana legalization forward.
California marijuana companies also struggled with a very challenging business and regulatory environment, and headlines around layoffs resulted.
The vape crisis also sent sales ripples across the industry, both in the U.S. and Canada.
MJBizDaily takeaway: Walsh made several predictions about what marijuana businesses around the world will watch for in 2020. They included: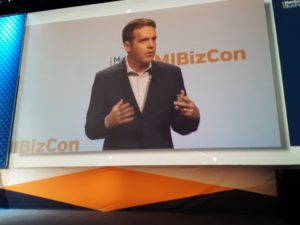 Potential state crackdowns around taxes, corruption and safety.
Headwinds in some international markets – possibly Colombia and Latin America.
The California market could get worse before it gets better.
The Canadian market will stabilize before the end of the year.
Legislators' changing attitudes
The number of Americans in favor of marijuana legalization is five times higher than it was 50 years ago, according to Tom Daschle, a former U.S. senator from South Dakota.
"I'm the personification of that change in attitude," the former senate majority leader told attendees on the opening day of MJBizCon at the Las Vegas Convention Center.
While Daschle said he is not completely in favor of full adult-use marijuana legalization, he sits on the board of Clever Leaves, a Colombia-based cannabis company, and cited the plant's potential to improve quality of life for medical patients, particularly those with seizure disorders and veterans.
MJBizDaily takeaway: Daschle said removing cannabis from Schedule 1 of the Controlled Substances Act is the "single-most important thing we can do" when it comes to expanding cannabis research and opening the industry to traditional financing.
State elections and legalization in 2020
An MJBizCon panel of cannabis industry experts delivered optimistic predictions on 2020 legalization action.
They forecast ballot measures or legislative action on adult-use marijuana in established medical marijuana states Arizona, Montana, New Jersey and New York.
And Steven Hawkins, executive director of the Marijuana Policy Project, said he believes new medical cannabis markets in Missouri and Oklahoma might take action, too.
MJBizDaily takeaway: The panel was bullish on MMJ market development in states that previously seemed unlikely, notably Idaho, Kentucky, Mississippi and Nebraska.
The speakers also agreed there might be greater business motion toward medical marijuana in Virginia.
"Virginia is a really great place for cannabis entrepreneurs," said Adam Goers, vice president of corporate affairs at Columbia Care, partly because of the state's proximity to markets in Maryland and Washington DC.
"I'm putting my money behind Virginia," agreed Linda Mercado Greene, owner and CEO of Anacostia Organics.
'No one knows anything'
Those are the words of Oscar-winning screenwriter William Goldman, but it's also a credo adopted by Marc Randolph, the founding CEO of Netflix and keynote speaker on the first day of MJBizCon.
A successful entrepreneur, investor and mentor, Randolph told attendees that he learned some "simple truths" about innovation and disruption in helping take the streaming service and six other startups to success:
"You don't need to be in Silicon Valley."
"You don't need to have special training."
"You don't need to be particularly smart."
MJBizDaily takeaway: What you do need to have to succeed as an entrepreneur, according to Randolph, are:
A tolerance for risk. "The risk that comes from starting down a trail where you can't quite see around the corner, where you don't know what the future's going to bring," he said. "You've got to be willing to start before you can see because, if you don't, I guarantee someone else will be there before you."
"You need to have an idea … not one idea, not a dozen, not even a hundred. You need the capacity to come up with thousands of ideas. But don't let it scare you. These don't have to be big ideas."
But perhaps the most important thing, Randolph emphasized, is confidence. "You've got to be a believer," he said.