Ohio voters on Tuesday approved legalizing the cultivation and sale of recreational marijuana, paving the way for what is expected to become a multibillion-dollar market in the Midwest.
With about 53% of the votes tallied on Tuesday night, supporters of Issue 2 were winning, capturing 55.7% of the vote versus 44.3% against.
Polls had been closed for nearly two hours when ABC News and NBC called the race over.
Ohio is the 24th state to legalize adult-use cannabis – in addition to Washington DC – after a contentious, yearslong process.
MJBizDaily forecasts adult-use sales could total $1.5 billion to $2 billion in the first year after the market launches and $3.5 billion to $4 billion by the fourth year.
"The results in Ohio show that cannabis legalization can win anytime and anywhere," Matthew Schweich, executive director of the Marijuana Policy Project, told MJBizDaily via email Tuesday evening.
"To achieve victory in a non-presidential year in a red state shows just how strong public support for legalization has become."
The Washington DC-based cannabis advocacy group was among the largest financial backers of the yes campaign in Ohio.
Industry executives and advocates nationwide will no doubt relish the key ballot victory in the Midwest, particularly after voters in Oklahoma decisively rejected a similar legalization measure in March.
However, the will of Ohio voters might be tested.
Lawmakers in the state's Republican-dominated General Assembly have vowed to make changes – and they have the authority to alter or even repeal any voter-approved initiatives.
Polling indicated a solid majority of Ohioans supported legalization and adult-use sales leading up to Election Day.
Democrats in the state led mail-in balloting by a wide margin as voters also weighed in on a constitutional amendment on abortion and reproductive rights.
Ohio is the third state to legalize possession and recreational sales in 2023, following Delaware and Minnesota, which approved adult use through their legislatures.
Bipartisan support for marijuana reform in Ohio provides some industry momentum heading into the new year.
Vertically integrated multistate operators such as Acreage Holdings and Cresco Labs welcomed passage of adult use in Ohio – and the prospects of hundreds of thousands of new local customers and out-of-state shoppers.
Ohio has nearly 12 million residents – about three-quarters are older than 21 – so the legislation will vastly expand access to consumers beyond the 180,000 existing medical marijuana cardholders.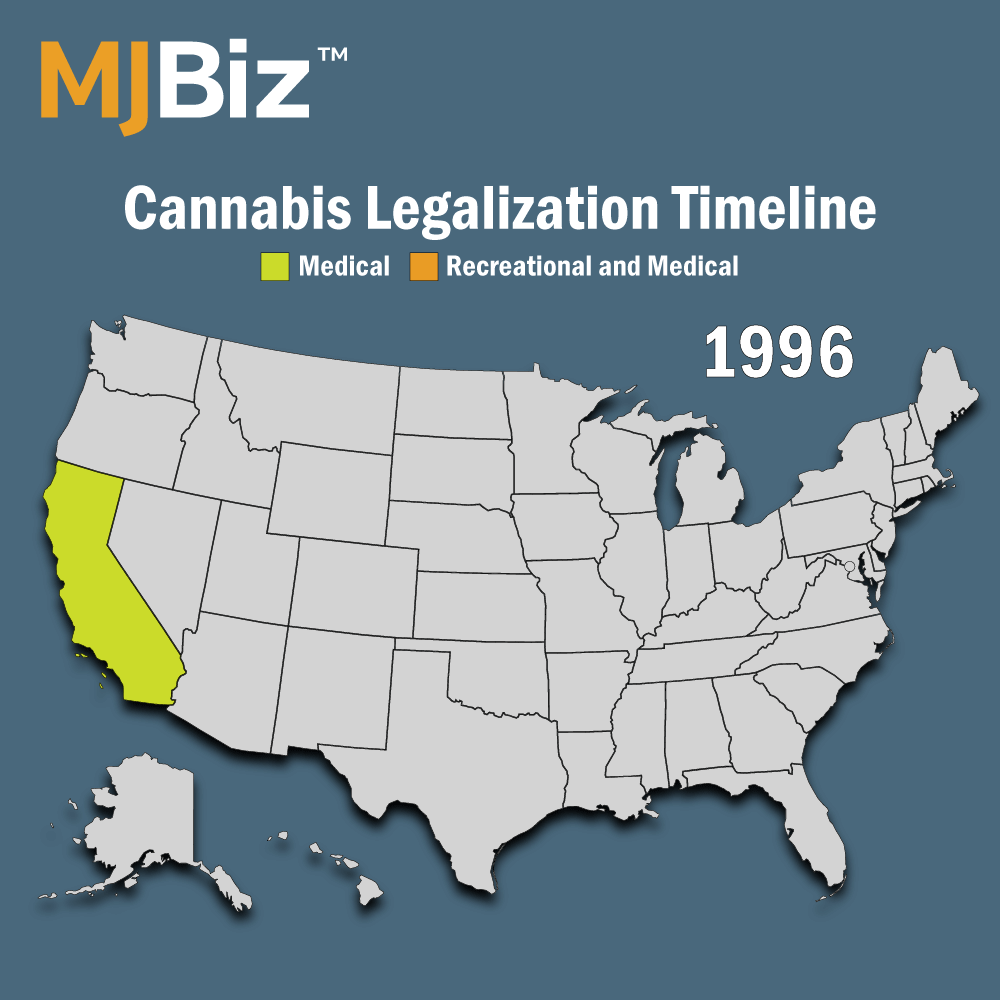 Ohio also borders five states, and of those, only Michigan has a recreational retail market.
Neighboring Indiana and Kentucky are among a handful of states currently without a medical marijuana program; Kentucky's MMJ law won't take effect until 2025.
West Virginia does have an MMJ program, but it's very restrictive.
"We have been evaluating plans to ramp up production in our manufacturing facility as well as expanding our retail footprint in the state and now we'll begin to put those wheels in motion to be ready for the launch," Cresco spokesperson Jason Erkes told MJBizDaily via email.
The Chicago-based MSO operates five MMJ dispensaries under its Sunnyside brand in Ohio, the existing maximum.
"Today marks a significant turning point for Ohio and for the cannabis industry as a whole," Acreage CEO Dennis Curran told MJBizDaily via email.
"This milestone vote is a testament to increased acceptance of cannabis use and the dismantling of long-time stigmas surrounding the plant.
"Acreage has successfully transitioned to adult-use sales in past new markets and looks forward to providing high-quality cannabis to medical and adult-use Ohio consumers alike."
New York-based Acreage also operates five dispensaries in Ohio under The Botanist brand.
Issue 2 allows the state's largest vertically integrated license holders – referred to as Level 1 operators – to add an additional three stores.
The law also allows:
Level 1 and Level 2 marijuana license holders to expand cultivation and manufacturing operations.
Adults to possess marijuana 30 days after passage.
Home cultivators to grow six plants but no more than 12 per household.
Adult-use sales are subject to a 10% excise tax in addition to an existing 5.75% sales tax.
While Ohio has yet to develop a social equity program, Issue 2 mandates a portion of cannabis tax revenue earmarked to create opportunities for disenfranchised applicants.
"With stipulations to use marijuana-generated tax revenue to fund a social equity program, the passage of Issue 2 will have a lasting impact on disadvantaged groups in Ohio," Curran added.
The measure also creates a state agency to develop and oversee recreational marijuana rules and regulations, which must be crafted within nine months.
Issue 2 was opposed by several Ohio business organizations, including the Ohio Chamber of Commerce, the Ohio Business Roundtable and the Ohio Manufacturers' Association.
The trade groups voiced concerns over workplace safety and the ability to find workers who could pass drug tests.
Republican Gov. Mike DeWine also opposed the measure.
The yes campaign, the Coalition to Regulate Marijuana Like Alcohol, reported nearly $1.2 million in contributions before the final votes were cast.
Other big donors included New York-headquartered MSO Curaleaf Holdings and FarmaceuticalRX, a vertically integrated cannabis company with operations in Ohio and Pennsylvania.
Chris Casacchia can be reached at chris.casacchia@mjbizdaily.com.