(This story is featured in MJBizDaily's recently released report, "Diversity, Equity & Inclusion in the Cannabis Industry." The free report can be downloaded here. The story was updated to correct that the Nuggets Dispensary opened four years after the state approved recreational sales.)
Arizona, Illinois and Michigan were among a handful of states over the past year where Black entrepreneurs opened marijuana stores in key markets.
In March, Nuggets Dispensary became the first Black-owned business with a marijuana social equity retail license to open in Detroit, four years after the state approved recreational cannabis sales.
Later that month, High Profile Cannabis Shop, a majority-Black-owned, adult-use marijuana store, also opened its doors in the Motor City.
Despite state and local jurisdictions earmarking more licenses for social equity applicants, success stories within this industry segment remain elusive.
But there are exceptions, including Annu Khot of Illinois and Alicia Deals of Arizona.
In September, Khot opened Sociale Dispensary in the Chicago suburb of Park Ridge.
Its designation as the suburb's only operational cannabis retailer, as well as its proximity to O'Hare International Airport and other public transportation hubs, has led to strong sales in the early going.
"It's exceeded our expectations," said Khot, who immigrated to the U.S. from India in 2008.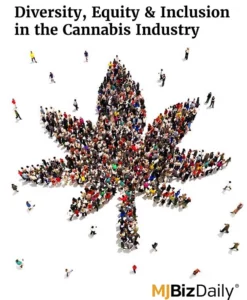 The entrepreneur qualified as a social equity applicant because more than half of her 25-30 employees come from communities disproportionately affected by marijuana arrests and incarceration.
Khot's experience in business, real estate and fundraising helped secure a prime store location and capital, two of the biggest hurdles for social equity operators nationwide.
Khot raised $3 million from friends, family and private investors to open Sociale's first location and is planning another funding round to expand storefronts.
Despite the early success, missteps occurred along the way, including challenges of securing and purchasing property for the store.
"It was a very steep learning curve," Khot said.
"We definitely made a lot of mistakes, but we learned from them, and I think when we open our second dispensary, we're going to be so much better."
In several ways, she has already defied the odds.
In Illinois, only 18% of retail outlets were majority-owned by women in 2022, and about 11% were majority-owned by nonwhite operators, according to an annual industry report from the Illinois Department of Financial and Professional Regulation.
Of the 185 social equity retail licenses Illinois issued in July 2022, roughly 40 are open for business and another dozen or so are in the pipeline, according to research from Ananda Strategy, a Los Angeles-based consultancy.
"While the pace of store openings has been slow, it is important to note that over the past three to four months, the pace at which these social equity stores in Illinois have opened has increased considerably," said Hirsh Jain, Ananda Strategy's founder.
Finding a way
In June, Deals became the first Black social equity lottery winner to own and open a marijuana store in Arizona.
"It was more than survival of the fittest," said the entrepreneur, who partnered with California cannabis brand Cookies to open her store in Tempe.
"I was fortunate enough to partner with some big guys that didn't want to take advantage of me."
According to internal research, cross-referenced with industry sources and databases, MJBizDaily in February reported that fewer than 20 of the nation's 10,000 or so medical marijuana dispensaries and adult-use stores were Black-owned – a major underrepresentation in an industry with social equity touted as a tenant.
That number has increased modestly since then, according to industry insiders as well as reporting by MJBizDaily and other news outlets.
Deals, who left nursing school to pursue an opportunity in the cannabis industry, is busy working on another passion project.
She wants to establish a law firm that specializes in expunging marijuana-related criminal records and helping free those with MJ offenses from incarceration.
The issues hit home for the Phoenix native.
Her father is in prison serving year 12 of an 18-year sentence for marijuana-related charges.
"I plan to be a force for change," Deals said. "I'm here to bridge the gap between those who have duly suffered and those who have benefited from cannabis."
A difficult journey
Madison Shockley's tortuous route to opening a marijuana store in Los Angeles took five years, months of litigation and more than $1 million in investments.
His store, Off the Charts, held a grand opening in early August at its 3,400-square-foot space in South L.A.
When Shockley secured the property, he thought it would take three months to get through building and safety approvals.
"It took almost three years," said Shockley, whose lawsuit challenging the Los Angeles lottery and licensing process resulted in the issuance of 100 more retail licenses, including his own.
His arduous journey has inspired dozens of other social equity applicants in L.A. and elsewhere.
"It's been crazy because I've been getting a lot of calls from my fellow social equity entrepreneurs," he said.
"A lot of them have let me know this is a moment for all of us."
While L.A.'s Department of Cannabis Regulation has issued more than 400 social equity businesses licenses, including more than 80 for retail – among the highest totals in the country – getting those licensees up and running has been extremely difficult.
Only a handful of social equity retailers such as Off the Charts are operational in Los Angeles today, as capital shortages and securing approved real estate remain perennial challenges.
Test cases
Maryland and Missouri both launched recreational sales this year with zero social equity license holders, instead giving existing medical marijuana operators the first crack at participating in the new adult-use markets.
Each state, however, has earmarked a certain number of licenses for social equity applicants in upcoming licensing rounds.
Maryland regulators in September released guidelines for social equity applicant eligibility and information for an online-verification portal to assist prospective applicants.
The first round of licensing for standard and micro cannabis growers, processors and retailers will be exclusive to social equity applicants.
Under Maryland law, the first batch of new adult-use licenses must be awarded before Jan. 1, 2024.
In late July, Missouri opened its application window for the state's first lottery for microbusiness licenses.
Applicants do not have to be Missouri residents, although majority owners must meet at least one eligibility criteria such as having a disability connected to military service, having been convicted of a nonviolent marijuana offense or residing in a qualifying ZIP code.
The validity of numerous qualifying ZIP codes provided by the Missouri State Highway Patrol – including those encompassing government buildings, post office boxes and affluent suburbs – have been criticized and questioned by social equity advocates, including the local and state chapters of the NAACP.
The microbusiness licenses were designed to allow "marginalized or under-represented individuals to participate in the legal marijuana market," according to an April news release issued by the Missouri Department of Health and Senior Services (DHSS), the state's cannabis regulator.
The DHSS awarded the first 48 of 144 total microbusiness licenses in early October.
Three lottery rounds will be spread over 18 months.
The New York experiment
Unlike Missouri and Maryland, New York went all in on social equity – and the results have fallen far short of expectations nearly one year after the state launched recreational sales in December 2022, industry insiders contend.
Conditional Adult-Use Retail Dispensary (CAURD) license holders and applicants, New York's version of social equity, have taken on multiple challenges from the start, despite lofty promises from the state's top politicos.
New York planned to establish a $200 million social equity fund administered through the Dormitory Authority of New York to help fund startup costs, find rental properties for entrepreneurs and establish "turnkey dispensaries."
The fund finally secured an investor in late June, while the latter two goals haven't fully materialized.
Lawsuits challenging local residency requirements for licensing and the state's overall licensing process – particularly reserving the first 150 adult-use retail licenses for social equity applicants – have delayed license issuance, processing and approvals for months.
And a policy shift in September by the state's Office of Cannabis Management (OCM) effectively wiped out the first-mover advantage that CAURD licensees and applicants hoped to enjoy.
The OCM voted to allow the state's medical marijuana operators to apply for adult-use retail licenses, effectively opening the gates for vertically integrated multistate operators to enter the largest potential market on the East Coast, likely by year-end.
The CAURD program has been a devastating disappointment, said Jayson Tantalo, a social equity applicant hoping to secure a license for Flower City store in Rochester.
The city is located in the state's Finger Lakes region, an area that was shut out of initial licensing rounds until late May after regulators settled a major lawsuit that prevented permits issued in the largely rural area.
"The program seemed like a dream come true, as the state promised to provide us with a turnkey dispensary and even allocate a suitable location if we qualified," said Tantalo, who helped establish the New York CAURD Coalition for licensees and applicants.
"However, it quickly became apparent that this was nothing more than a massive bait-and-switch scheme."
As of press time, fewer than 30 regulated cannabis retailers are open in the state, but as many as 2,000 unlicensed sellers are operating in New York City alone.
Social equity in Washington state
In May, Washington Gov. Jay Inslee signed a law requiring the state to issue up to 52 marijuana retail licenses under its newly developed social equity program, but the timeline is a long one.
The licenses will be issued between 2024 and mid-2032.
The Washington State Liquor and Cannabis Board (LCB) could increase that number, but that would require legislative approval.
The LCB planned to issue about 46 retail licenses this year to social equity applicants harmed by the government's war on drugs.
Chris Casacchia can be reached at chris.casacchia@mjbizdaily.com.