By Chris Walsh
A bank indicates it will roll out the welcome mat for medical marijuana businesses, Nevada's largest county reveals a "Shark Tank"-esque process for evaluating MMJ applicants and the Securities and Exchange Commission warns investors about cannabis stocks.
Here's a closer look at some notable developments in the marijuana industry over the past week:
Banking on the MMJ Business
Despite the industry's well-known banking problems, numerous financial institutions actually do work with medical marijuana businesses. They just keep it under wraps, so as not to draw the attention of federal financial officials.
In fact, we're not aware of even one traditional bank that openly accepts business from dispensaries, cultivation sites and infused products companies.
Until now. The chief executive officer of a bank in Nevada – where dispensaries are scheduled to open in the near future – reportedly indicated it will do business with the industry.
"Frankly, I didn't personally follow any of this until about two months ago… (but then) we began to get phone calls from attorneys, and they represented some very influential people in Las Vegas with a long history of being strong supporters of the city," John Sullivan, president and chief executive officer of First Security Bank of Nevada, told KNPR in an extensive interview that aired Monday. "These are not the sort of people that are in dark shadows or they're coming in from somewhere else…these are local people who have spent their life here and they have an unblemished reputation in all ways."
Sullivan said and he and the bank's board of directors were hesitant at first. But after reviewing the situation, examining medical research on cannabis and analyzing the recent banking guidance issued by the federal government, they ultimately decided to move forward.
"It became clear that the attitudes of the federal government – both the bank regulatory agencies as well as the Department of Justice – are quickly changing," Sullivan said.
When asked if he felt the recent guidance suggests the government wouldn't go after the bank, he replied "absolutely, yes." You can listen to the interview in its entirety here.
This could be a turning point for MMJ banking, one way or the other.
If First Security follows through with its plans and is able to serve the industry without interference from the government, it could convince other community banks across the country to do so as well. On the other hand, if the bank gets in hot water with federal regulators or the FDIC, already-skittish financial institutions that work with cannabis businesses under-the-radar could back away from the industry.
Pitch Session

Speaking of Nevada, Clark County unveiled a key aspect of its process for awarding MMJ business licenses in unincorporated areas of the region (including areas around the Strip).
Each applicant will have to give a six-minute presentation pitching their idea to county commissioners and the public. Neighborhood residents will have several minutes to express their concerns, and then the applicant will have three minutes to respond.
All 81 groups that have applied for dispensary, cultivation and producer licenses will present in the span of just three days, starting June 4. Commissioners will then select 18 finalists and forward them on to the state for final approval (which is no guarantee).
One county commissioner said she won't make up her mind until all groups have presented, while another said he wants applicants to focus on "what sets them apart and makes them special," according to the Las Vegas Review-Journal.
Newer medical marijuana states are experimenting with different ways to award licenses, with some using lotteries and others employing complex scoring systems. But requiring applicants to stand in front of local officials and plead their case, and then respond to concerns from locals, is unusual – at least on this scale. It's an extra layer of scrutiny that seems to make a lot of sense.
As in other states that dole out a limited number of MMJ business licenses, however, the process could lead to lawsuits from those who don't get selected.
SEC Warning
Is the Securities and Exchange Commission finally launching a much-needed crackdown on questionable cannabis stocks? We wouldn't call it a crackdown, per se, but the agency is certainly scrutinizing the industry more closely and at least acknowledging that something foul could be afoot.
After temporarily halting trading of five cannabis-related stocks – including several prominent names – the SEC issued a warning to investors about the potential for fraud in the sector. The agency said it has seen an increase in complaints by investors regarding marijuana-related stocks.
The move comes as the number of publicly traded cannabis companies skyrockets. A year ago, there were maybe a dozen publicly traded companies in the marijuana space. Now, by some estimates there are over 100 – many of them upstarts or small firms that were struggling in another industry and then repositioned to tackle the cannabis market.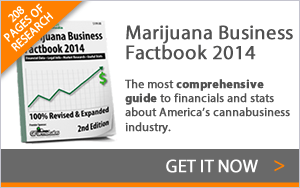 To be sure, not all publicly traded cannabis companies are sketchy, so it's unfair to paint them with the same broad brush. Several are run by executives who are trying to build legit businesses and bring professionalism to the industry.
But many have been accused of misleading investors, issuing fuzzy financial numbers and employing questionable business practices (to put it nicely), earning the group as a whole a bad reputation.
Increased interest in the sector by the SEC should be welcomed – the sooner it weeds out the bad apples, the sooner the industry will be taken seriously by stock investors.