How much money have retail marijuana shops in Colorado generated since recreational sales began Jan. 1?
It's the billion-dollar question, the answer to which will give us the first real indication of the recreational market's potential – both in Colorado and in future states that legalize.
We don't have that answer yet. But there are several recent indications that demand has held up since the phenomenal first few days of sales:
– Earlier this week, NBC reported that 18 retail shops it surveyed paid more than $1.2 million in taxes to the state through Jan. 27, which amounts to millions of dollars in sales. Those figures don't include the other couple dozen shops that opened throughout the month, and some stores surveyed didn't begin serving recreational customers until later in January. So actual sales for the month likely topped $10 million and could come in much higher when the dust settles.
That's only the tip of the iceberg. Based on responses from shop owners, demand continues to grow. NBC put together some very back-of-the-napkin estimates that the state could collect roughly $100 million in cannabis taxes in 2014, which would equate to hundreds of millions of dollars in sales.
– At a National Cannabis Industry Association reception in Denver this week, I spoke with several dispensary owners about their initial recreational sales. One told me his store – which started serving the rec market two weeks ago – has seen sales rise 300% vs. medical marijuana revenue prior to the transition. Another owner who began serving the rec market on Jan. 1 said the shop is now only open a few days a week because inventory is almost out, yet revenue for January rose nearly tenfold vs. its medical sales before the transition.
You read that right: A nearly tenfold increase, despite being closed for several days each week.
Of course, the information dispensary owners shared with me this week is simply anecdotal. Dispensaries in small mountain areas are likely bringing in much less revenue, and the initial rush of customers could ebb as the newness wears off.
And the NBC survey is a very, very rough estimate. The piece contained confusing information. It also lacked important details, such as exactly what questions owners were asked and whether the figures reflect just state sales tax or also include excise and local taxes.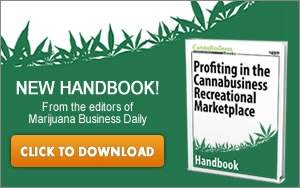 However, it certainly seems feasible that the Colorado recreational marijuana market could approach $500 million the first year – which was our original estimate in the 2013 Marijuana Business Factbook – if demand continues to grow and eventually hit $1 billion. (We're now working on the 2014 edition of the Factbook, so check that out for updated estimates.)
And don't automatically write off every projection: They're all we have at this point. At least they offer a window into what's going on, even if it's a bit foggy.
The state will release official tax collections data in March for the first few months of rec sales, which will allow us to accurately pinpoint revenue numbers. Until then, expect plenty of back-of-the-napkin calculations as we all try to quantify the size of the industry.
Chris Walsh is editor of Marijuana Business Daily