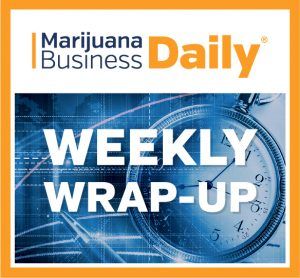 Two ancillary marijuana companies announce huge fund raises, Maryland approves 12 more medical cannabis dispensaries, and Alaska regulators shut down an edibles company.
Here's a closer look at some notable developments in the marijuana industry over the past week.
Sign of the times?
Significant capital raises by a pair of cannabis-focused technology companies portend what should be greater growth and investments in the space in 2018:
Baker, a marketing automation software company serving marijuana dispensaries, secured $8 million in Series A funding. The Denver company now has total capital raises of $11.75 million.
Springbig, whose software helps marijuana retailers implement customer relationship and loyalty strategies, raised $3.2 million. The Boca Raton, Florida, firm has now raised $6.3 million.
"It's a sign of the maturing of this industry," said Morgan Paxhia, a managing director at San Francisco-based Poseidon Asset Management.

"As operators in cultivation, retail, product manufacturing get bigger and more established and more competitive, they're seeking solutions that will help them be more competitive, more informed, and better operators."

Early on, few marijuana businesses were sophisticated enough to appreciate the value of paying a monthly fee for a solution that would generate a higher return on investment.

Software-based market solutions are common in almost every other industry, Paxhia noted.

Though ancillary companies won't put up big top-line numbers like plant-touching companies, he added, their scalability costs are much lower.

For example, a grower seeking to operate in several states can expect to spend several million dollars for each build-out, not to mention hiring and other costs.

But a technology company can scale across several states rapidly and at a fraction of the cost of a grower or other plant-touching business. And once the firm has scaled, top-line numbers grow fast.

While companies like Baker and Springbig currently have significant market share, the hundreds of stores they contract with are only a fraction of the businesses currently operating and those that will exist in the future.

"There's a lot of room for growth," Paxhia said, "but the more time these guys (Baker and Springbig) are in operation and gaining customer loyalty, it does get harder for new entrants to compete."

Either way, the cannabis tech space will continue to see more – and bigger – investments, Paxhia said.

Supply on the way in Maryland

The number of dispensaries approved to sell medical marijuana in Maryland nearly doubled, from 12 to 22, but it will be months before the supply is ample.

"It takes months, not days to bring that crop to harvest," said Jake Van Wingerden, chairman of the Maryland Wholesale Cannabis Trade Association. "Everybody's in different stages."

The first round of harvests that provided flower to the newly opened dispensaries was just the "tip of the iceberg," added Van Wingerden, owner of SunMed Growers, a Warwick-based cultivation facility.

That initial supply didn't last long, as the first group of MMJ shops ran out of supply in a few days.

But at the time, only one cultivator, Curio Wellness, was supplying cannabis.

Fourteen cultivators have been approved this year, and now a handful of the growers have product ready for market.

"Everybody's at different phases," Van Wingerden said, "but we all received our licenses at about the same time."

SunMed Growers received its license in August, and Van Wingerden expects his product to be harvested in about three weeks.

The growers he's spoken with are in the middle of their crop cycles and working out the kinks in their systems.

"They're all anticipating that they'll have the first harvest and product available first quarter of next year," he said. "I anticipate by the summer the pipeline will be full."

He expects there will be more than enough growers to supply the Maryland market.

"But we're in mile three or four of a marathon," he said. "We're going to need a year to let the marketplace catch up to demand."

Alaska's cautionary tale

The premier marijuana edibles maker in Alaska lost its permit, which likely will lead to a short-term supply shortage of infused products.

Frozen Budz was one of the state's few edibles manufacturers in operation until regulators alleged the company was selling moldy goods and decided to revoke its license.

"There's nobody else, really, as big as they had been," said Cary Carrigan, the executive director of the Alaska Marijuana Industry Association.

He predicted an edibles shortage that will likely last at least two months – until other edibles makers can ramp up to fill the supply void left by Frozen Budz.

Carrigan said Frozen Budz is planning to appeal the revocation, but he believes the company faces an uphill battle in its bid to get its license back.

In the meantime, there appears to be an opportunity for operators like MoMo's Bakery in Anchorage to seize more of the edibles market share.

Carrigan doesn't believe Frozen Budz's situation foreshadows a larger problem for MJ businesses in the state.

Most cannabis companies, he pointed out, are fastidious about complying with state law.

"I think this is an isolated incident," Carrigan added, "because most everyone who works in Alaska really works to try and shore up the industry and do as much right as they possibly can."

Omar Sacirbey can be reached at [email protected]

Bart Schaneman can be reached at [email protected]

John Schroyer can be reached at [email protected]