Energy could quickly become a major issue for cultivators in recreational cannabis markets.
Neither Colorado nor Washington State has devoted much time to figuring out how to satisfy the huge power needs of the rapidly expanding recreational marijuana industry, according to the news site Environment and Energy Publishing.
Utilities officials in the two states are reportedly concerned about violating federal drug laws if they work with the industry to lower energy use, fearing they could lose millions of dollars in grants as a result.
So they're hesitant to offer rebates and other perks to cannabis growers for energy efficiency.
The recreational marijuana industry's energy needs are substantial. Most cannabis cultivation in Colorado and Washington is done indoors and therefore requires a constant flow of electricity for lights and climate control systems.
"This has become a major issue with most of the regional utilities, now that we have legalized the recreational use of cannabis in [Washington]," Kurt Nielsen, who works for a nonprofit organization focused on commercial and industrial lighting, told E&E Publishing. "There is a huge new industry that's popping up, grow operations. They're getting as much as 200 watts per square foot of lighting power density, which is astronomical. How are they going to handle and manage this industry?"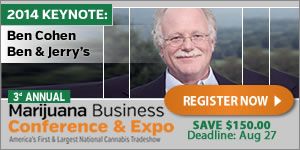 Washington alone has already granted licenses for 1.2 million square feet of indoor marijuana cultivation space, with an eventual goal of 2 million square feet, perhaps more.
In Colorado, 279 recreational marijuana cultivators have been licensed since the end of 2013. Some smaller grow operations in Denver have reportedly blown out transformers just by turning on their grow lights.