Canada's medical marijuana sector is continuing its blistering pace of growth, bringing with it more jobs and higher, more competitive salaries.
The industry could add another 150,000 jobs over the next couple of years, according to one estimate, and a recent survey showed that salaries are more mainstream than ever.
And while rising wages are helping some well-capitalized companies lure people from mature industries, the pace of hiring is expected to create growing pains for other businesses.
Hiring is picking up speed because Canada's licensed producers are scaling up their operations to supply the medical cannabis market and prepare for the launch of next year's recreational market.
"As an industry, we're not only in a growth phase, but we're also scaling up for legalization in the middle of next year," said Cam Battley, executive vice president of Aurora Cannabis.
"I expect employment in this sector to increase extremely rapidly over the next 12 to 24 months."
Aurora employed fewer than 10 people at the beginning of 2015. It now has over 300 employees in its fold, and that could more than double over the next 12 months.
The company's market valuation recently surpassed 1 billion Canadian dollars ($822 million) on the Toronto Stock Exchange.
Rising salaries
As employment rises, so do salaries.
"Leading companies in our sector like Aurora are no longer startups. We're in a growth phase," Battley said. "As a result, salaries for our companies are becoming competitive with other leading industries such as biotechnology and pharmaceuticals."
A survey by Calgary, Alberta-based staffing firm Cannabis At Work demonstrates as much. It found that the average maximum base salary for five of the highest-paying jobs in the industry were:
Marketing manager (CA$110,000)
Senior accountant (CA$98,340)
Quality assurance person ($90,750)
Human resources manager (CA$87,057)
Cultivation manager (CA$87,050)
The survey involved companies that are worth a combined CA$3 billion and employ over 700 people.
It also found the average maximum base salaries for cultivation technicians, processing assistants and administrative assistants were CA$42,800, CA$46,000 and CA$51,000, respectively.
Industry executives say the salaries are an indication people are joining the medical marijuana sector from a range of mature industries.
"What surprised me the most was how mainstream the salaries seemed," said Alison McMahon, Cannabis At Work's founder and CEO. "The salaries are comparable to roles in other industries."
McMahon expects the cannabis industry to add 150,000 jobs over the next couple of years.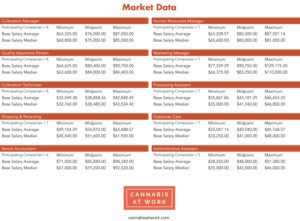 In-demand jobs
Analysts see employment opportunities in every aspect of the industry, but they expect demand will be especially high for professional services such as marketing, accounting, branding and cultivation.
"A position we see a lot of demand for is quality assurance person," McMahon said. "When you're putting in an application to be an LP, you have to have your QAP on the file from Day One.
"The challenge with that is initially there's not a lot of work to be done until the company gets its cultivation license (which takes two to four years). That's a challenging role for companies and will continue to be that way."
More jobs will also be available at companies in the ancillary market, particularly those supplying equipment and technology to licensed producers.
"We're going to see a lot more growth in ancillary industry employment opportunities as we get more clarity from the government and as consumer trends develop," McMahon said.
Anyone with marketing and branding experience in the tobacco industry could be highly sought after, suggested Hugo Alves, president of Toronto-based Cannabis Wheaton.
Other candidates who might command higher salaries are those with experience in a professional environment in a highly regulated industry.
"There's going to be undersupply (for those roles)," Alves said. "The people who have that experience are going to be very highly sought after. It's starting to happen.
"You also need the operational employees who make all of these new facilities work properly," he added. "Growing cannabis in a regulated environment is not easy when you have to do it consistently and at scale. You need qualified people to run a facility efficiently and profitably."
Growing pains
Giving a boost to job growth is soaring demand for marijuana, which could total roughly 150,000 kilograms (330,693 pounds) next year for medical and recreational cannabis.
Licenses are being issued to new producers faster than ever, and well-capitalized companies have used a funding windfall to undertake massive facility expansions.
"Licenses are being granted more frequently," said Alves, "and companies with expansion plans, where they're growing 10 times on their production capacity, are going to encounter operational issues unless they can also scale their skilled labor force."
The rapid growth brings up a number of key questions for companies, he said. Namely:
Are you taking on people who are going to align with the company's professional environment?
Is there going to be high employee turnover?
To what extent can your quality assurance people ensure that a large, new, workforce follows standard operating procedures?
"Onboarding a large number of people in a short period of time is always going to be a challenge for any rapidly growing sector," Aurora's Battley said. "In addition, we have a wide range of areas of expertise we need to fill out, from cultivation, to high-end scientific positions, to management roles.
"I don't think that leading companies like Aurora are going to have any difficulty finding talent," he added. "This is a very exciting industry right now and perhaps the fastest growing in Canada. It's attracting the curious, the talented and the bold."
Matt Lamers can be reached at mattl@mjbizdaily.com
To sign up for our weekly Canada marijuana business newsletter, click here.