The number of patients in Montana with medical marijuana cards rose by just five last month as tighter regulations enacted in 2011 continued to put a damper on the MMJ industry.
The latest statistics from the Montana Department of Health & Human Services show that 8,849 patients are currently enrolled in the state's medical marijuana program, up from 8,844 in July.
The increase is miniscule but signals that the free-fall in patient numbers is likely over. Montana's MMJ registry hit a peak of around 30,000 in June of 2011 but then dipped rapidly after the introduction of new regulations that make it harder to get a medical cannabis card. Patient numbers fell to 18,000 by the end of last year and hit a low of 8,681 in June of this year before rising slightly in July.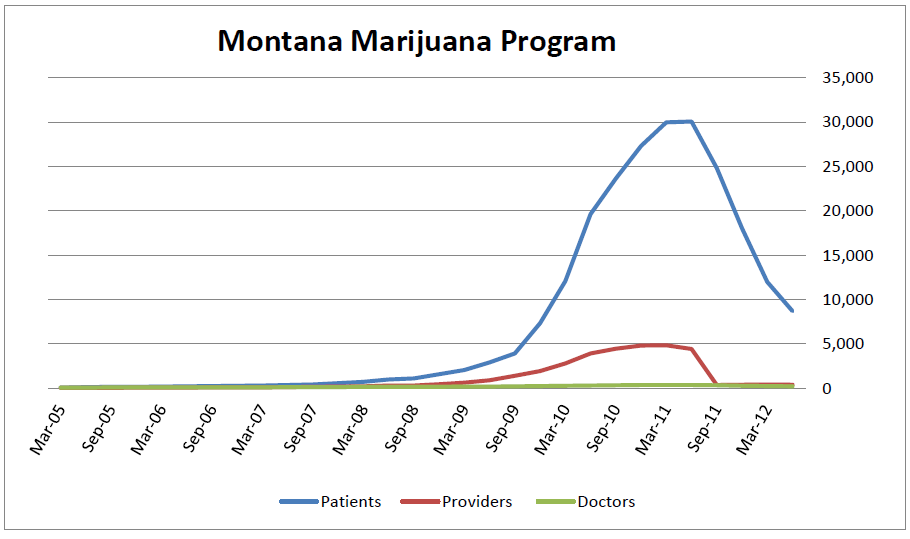 The future of medical marijuana in Montana is up in the air at this point. Many dispensaries have closed over the past year amid federal pressure and a diminishing market. The state Supreme Court is set to rule on a lawsuit over Montana's MMJ laws soon, and voters will decide whether to keep or throw out the current regulations in November.
Other highlights from the latest registry data:
– The average age of registered MMJ patients in Montana is 46
– The largest group of patients (30%) is between the ages of 51 and 60
– The No. 1 medical condition listed by MMJ patients is "severe or chronic pain," followed by "intractable nausea or vomiting"
– There are 395 providers associated with at least one registered patient, down from 399 in July
– The majority of providers (65%) have between 1 and 10 patients, while one provider has as many as 360 patients
– There are 219 physicians associated with patients currently enrolled in the MMJ program, down from 224 in July
Graphic credit: Montana Department of Health and Human Services