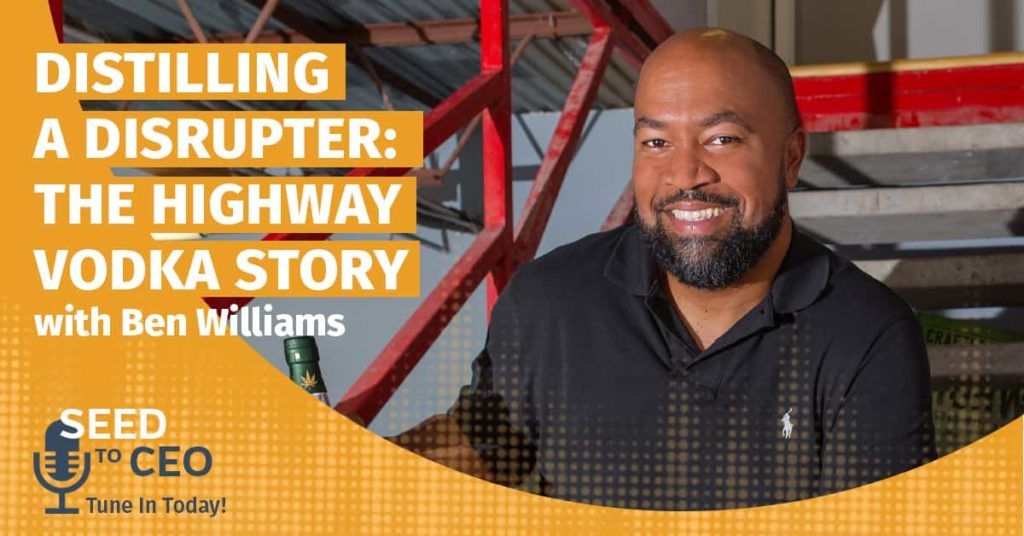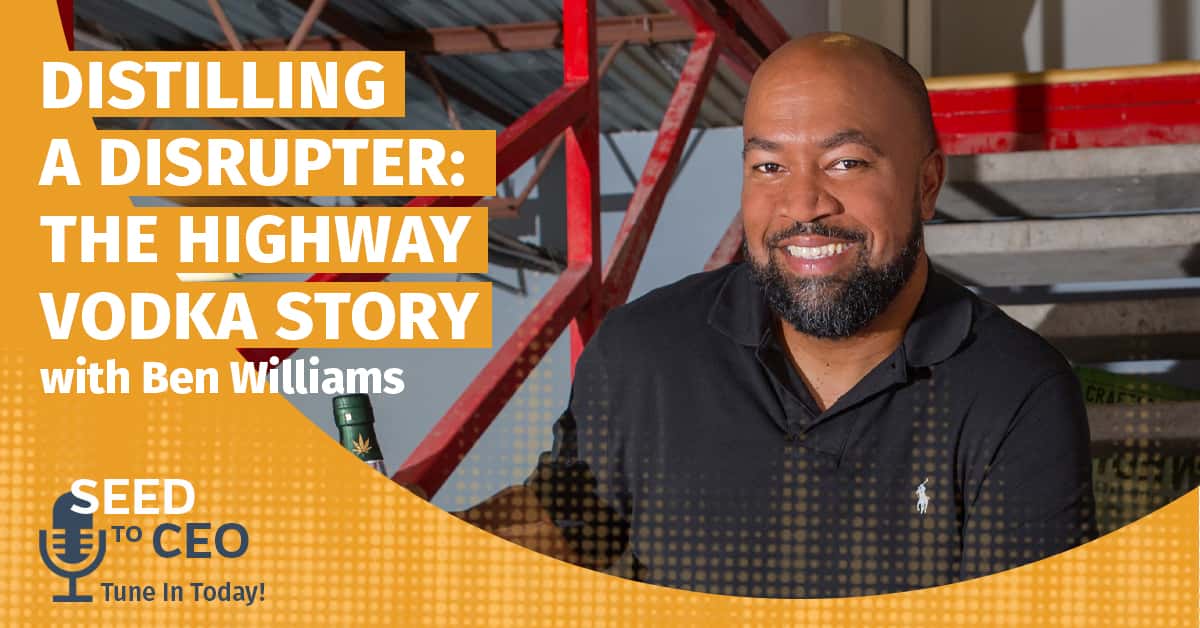 In this episode of Seed to CEO, MJBiz CEO Chris Walsh talks with Ben Williams, co-founder and owner of Highway Vodka, about how his hemp-based vodka put him on the path to disrupting an established industry. His story also highlights how he was able to forge a new path into the cannabis industry – one that didn't rely on the obvious paths that include THC and CBD.
Ben shares his thoughts on:
The importance of experimentation when creating a new product – and how it can provide unexpected results.
Why persistence and passion are key traits to have when starting a new endeavor.
The need to understand what really sets your product and brand apart from the rest of the market.
Episode Transcript
Chris Walsh
Welcome to Seed to CEO the podcast about making your way in the cannabis business. I'm your host Chris Walsh, the CEO of MJBiz.
My guest in this episode is Ben Williams, the owner and co-founder of Highway Vodka, which launched in 2019 and became the first black-owned distillery in Houston. As you can probably guess, the company makes vodka. But this isn't just any vodka. It's made with hempseed.
Ben's an example of an entrepreneur who is tapping into the legal status of hemp to disrupt a traditional industry. And he did it by thinking beyond the typical CBD approach many companies are taking. He's also an example of someone who turned a hobby into a full-time business, like many in cannabis have done before him.
We're going to talk today about how he came up with the idea after visiting a dispensary in California, how he and his partner tested and refined it, how they solicited feedback and ultimately how they launched what has become a successful hemp-based product.
Before we dive in, a quick word from our partner Headset.
Promo: Headset
Chris Walsh
Welcome back to Seed to CEO. I'm here now with Ben Williams, the co-founder of Highway Vodka. Ben launched several businesses in Houston, including a restaurant, before opening a distillery in 2019. Highway Vodka makes vodka, of course, but it has hemp as its main ingredient. It's now distributed across Texas and in several other states with more on the horizon.
Hello, Ben. Welcome. And thank you for joining us.
Ben Williams
Hey, how's it going, guys? Thanks so much for having me. Appreciate it.
Chris Walsh
How's everything going out there for you in Texas? Coronavirus didn't exist there, right?
Ben Williams
Nah, it's not even a thing, apparently. So I've heard. Yeah, hey, we're not alone, man. I went to Georgia, it was pretty much the same.
Chris Walsh
But you've had your own ample supply of vodka along the way throughout this whole thing, which I'm sure helped.
Ben Williams
Yeah, makes it a little easier.
Chris Walsh
Well, we're going to talk today about how you're using hemp to disrupt an established industry, in this case alcohol, of course, and some of the business lessons you've learned along the way. I want to start with the beginnings of your idea. Now you're fortunate enough to have turned a hobby into a business, which is something many people in the cannabis industry can relate to and have done themselves. Talk to us about what led you down this path.
Ben Williams
Yeah, so like you said earlier, I owned a couple of bars and restaurants. And really, man, just kind of picked it up as a hobby. I don't know exactly what the a-ha moment was, but I just found myself kind of looking into books about distilling and stuff like that. And next thing, you know, I was just online looking for equipment.
I always used to visit distilleries and stuff, just kind of interested in the process and how things are made. So found a still online, you know, bought a little 13-gallon reflux column still and started piecing together little pieces of equipment here and there. And just having fun with it, man. And next thing you know, it became my primary hobby.
Chris Walsh
Right. And where you started this, it was a former barn, is that correct?
Ben Williams
Yeah. So how that happened was I had the still set up at my house in the garage and doing a run one day. And the cops drove by my house, and he just stopped and he's like, "Yeah, you know, that's illegal, right?" And I was like, "Oh!" I mean, I didn't think it was a big deal, kind of like homebrew. And he was like, "Yeah, no, you can't do that."
So that's when I called up my partner, I knew he had a big horse barn. So called him up and moved everything over to the barn, so we wouldn't have any problems.
And then we would just sit there together, just doing runs. He'd take a turn creating a mash. I'd make a mash, and we come and run them. Fast forward and the barn actually became a big blessing, because when I when it came time, when many years later, when we decided to take this thing seriously and give it a shot, it served as our site for our facility, which you have to have before you even apply for a manufacturer permit, which was interesting.
So yeah, it all kind of just worked out, you know.
Chris Walsh
Yeah, and I'm going to want to dive into that a little bit and how you navigated that permitting process, because in the cannabis industry, it's the same thing in a lot of states, where you have to apply and sometimes you need to already have your real estate lined up. And then that process can take forever, and you're sitting there paying the rent or mortgage on a property and you don't even know when you're going to get a start selling your product.
You know, sounds like you went through that on the on the alcohol side, when at this stage that we're talking about, this was what maybe maybe 10 years ago?
Ben Williams
About eight years ago.
Chris Walsh
Eight years ago. So at that time, doing it in your house, cop comes by and said "Hey, you can't be doing this," you weren't involved on the hemp side, you were just distilling vodka at that point?
Ben Williams
Yeah, at that time, I was totally brand new. Like, I'm doing sugar washes, just sugar and water stuff. Nothing intense. Just trying to learn the process and how and what and just kind of messing around. I'm talking about a straight from the bottom, you know. I'm just reading every book I could find and watching literally every YouTube video I could find and trying what I see there.
Then we move over into the barn, and like I said, it's the same thing. My buddy, he would come with some crazy stuff, like because he had all these rosemary plants growing around his house. And so next thing you know, he'd come with a mash with corn, sugar and rosemary. It was just weird stuff. It didn't even matter. If it was fermentable, we'd try to run it. And just kind of messing around like that.
So yeah, I mean, it was it was totally just hanging out, you know, making stuff that you couldn't stomach.
Chris Walsh
Just seeing what's around the house and throwing it in?
Ben Williams
Yeah, yeah, yeah.
No, it's fine, because the kids were helping, my kids were helping, his kids were helping. You know, "Stir this every 10 minutes until I get back from the store, I forgot this." I joke with my girls. I'm like, "You guys don't know, but you're kind of like bootleggers because you guys know how to make this stuff."
Chris Walsh
I have a family in our neighborhood and the daughter, who's 11, she's learned how to make cocktails. When they asked them, you could take any class online you want, she said I want to try this mixology thing. So every Friday, she makes the neighborhood cocktails. Kind of strange, but fun.
Yeah. So talk to us about how hemp came into the picture. You went to California, and you had a friend who ran a dispensary. Is that correct?
Ben Williams
Yeah, yeah, yeah. So just going out there to see what he had going on, was just amazed at that whole thing. You know, it just kind of started opening up, and I couldn't even wrap my brain around sitting in a room full of weed and it'd be okay, you know.
So yeah, he introduced me to some friends of his that were doing some distilling. And by then, I had kind of gotten a little acclimated with the process, so I knew enough about it to notice what people were doing and how they were doing it. And he had some friends that were doing some distillation stuff with marijuana, and so I was noticing, like, what it looked like during the fermentation period and stuff like that. And I was just intrigued by it.
And I wanted to try it when I got home. But obviously, I couldn't experiment with that plant in my state. So that's when the hemp thing just came in. I was like, well, the next best thing is hemp, right?
So I started … I can get my hands on that. So just literally started buying every part of the plant I could find. I'm talking about from the hurd to the stalk to flower to whatever I could get my hands on. To shelled seed to, you know, hulled seed. Just anything that I could just get. And we would just do runs with it and introduce it to different mash bills we were messing around with.
And then obviously, it always comes back to the first thing that you ever found, and that was the seed – the easiest thing to get your hands on, the food grade.
Chris Walsh
Just let me back up for a second. In California, these people who were experimenting with cannabis and vodka, did you try it when you were there?
Ben Williams
Oh, it was horrible.
Chris Walsh
It was nasty?
Ben Williams
Yeah, it was nasty. It tastes horrible. And yeah, it wasn't cool to me. Now, that's just for me. Like, I wouldn't recommend it. The vibe wasn't cool. I just felt confused. That's the only way I could describe it. It was like … it was the most confusing buzz I'd ever had. Like, it was like, I didn't know if I wanted to relax or run out the door, you know.
But I did like the viscosity of the liquid and stuff like that I thought was interesting. And the lack of burn and stuff like that. So I was just like, it's pretty cool, the other parts of it, you know what I'm saying?
Chris Walsh
So it didn't taste great; in fact, tasted terrible. But you noticed some other attributes about it that you said, hmmm, it's smoother. Maybe I should tinker around with this. And I'll do hemp because I can't use marijuana in Texas. And so you bought every part of the plant and started experimenting, and you kind of came full circle with the seed.
But I imagine that process, though, was beneficial, rather than if you just started with the seed because now you know that, hey, at the end of the day, I explored all parts of the plant. And this was the key one.
Ben Williams
Oh, yeah, man, I mean, again, it was just fun messing around. At the time, because this was a lot of years ago, it wasn't as easy to obtain. And so you'd have all these websites and stuff, and then you get burned a lot. Nothing shows up, you paid your money and, you know, stuff like that. So it was kind of a different time for it.
And I was then that's, like I said, that's what kind of drove it to the seed. Because you could readily get your hands on that.
But yeah, we went through everything. And what's weird is there are no books or nothing. So some of the stuff that I just think back on is just stupid. Like you just take some hurd and just literally just throw it in the pot with the corn. And you're like, OK, maybe this will give that kind of thing that we were getting out there. And nah, it wouldn't.
When it came down to the seed, it was like an epiphany moment because as soon as it got into the fermenter – well, not soon as but a few days in – you started to see what was happening.
The cool thing that we noticed too is, like, from the first run, we got a larger yield of alcohol than we normally would get. And upon reading and you know, came to find out that the amino acids and stuff like that in the hempseed act as like a nutrient for the yeast that we were using. Fermentation is just, ugh, it is the worst. You just gotta sit around and wait. So you look for things to accelerate it all the time.
Now it (the hemp) didn't accelerate the time, but it actually increased the yield of alcohol and …
Chris Walsh:
Stronger vodka?
Ben Williams:
Well more vodka than what we would typically get from a run without it … with just letting the yeast do its thing. So basically we found a super-nutrient for our particular yeast that made the yeast live longer and turn more sugar and alcohol, so better yields
Chris Walsh
What else did you find out about using hemp for this?
Ben Williams
So boom, introduced the seed, you know. Find the seed, do that, make that first run. Automatically the best stuff we had ever made. Like right there, just using nothing but hempseed, corn and water, right? That was our mash bill. Of course they're, you know, weird ratios of each but can't give away the secret recipe.
We hadn't gotten into the viscosity and stuff like that just yet because … OK, so like, you throw that stuff in the fermenter, and then what you have is … it'll look like oatmeal with water, and then olive oil on the top. So it didn't look very good. So we would rack the liquid off from in between the oil and the grain, trying not to get the oil into the still – and we were already making better stuff than we had ever made. And that was backed up by the fact that … again, I'm always taking samples of what we make around in Mason jars and letting people taste it and going up to the bars and restaurants that we owned and letting regulators kind of taste stuff, see what they thought.
And so one day just out of being lazy, because racking liquid is a messy, sticky process, and it's tedious, said, ah man, let's just throw it all in there. You know, the oil, the grain, the liquid. Who cares, right?
Chris Walsh
You just dumped it all in?
Ben Williams 
Yeah, just dumped, just turned it in. And it was the easiest thing. You just turn it over and dump it in there, as opposed to siphoning.
Chris Walsh
How many drinks had you had at that point, where you're just like, we're throwing everything in?
Ben Williams
No, I think that … none at that point that day. It was just, it was hot. That's the best way. And the barn at the time had no AC. Normally it'd be like, you know, when it came time to rack the liquid off, that's when you kind of conveniently walk away and find something else to do. And "oh, go ahead and get it you know, I'll be over … I gotta grab this," you know, like that kind of thing. And so neither of us was like, "Nah, I'm not. Nah you do it. I don't feel like it, nah you do it."
"I mean, let's just throw it all in there. Who cares, right?"
Boom, threw it all in there. And man, that stuff came off, we could tell by the smell as soon as it started producing. And we made our cuts, man.
The smell was different. And we're just like, that smells like really good. And then we're just like, wow. Then boom. And that was the best stuff that we had ever made. And from there on, we committed to distilling on the grain and with the oil and everything.
And the viscosity thing that I was mentioning to you was finally there. Because what happens is you throw all this stuff in the still and that oil starts floating on top of the still. It acts as the first layer of filtration for those vapors. Kind of like Poo-pourri functions, right? It's the oil in Poo-pourri that keeps the stuff down. Well, like as this vapor starts to come through, that kind of finds that the first layer of filtration and before it starts hitting those copper plates, you know, on the way up to be distilled six times.
So when that comes out, and we noticed that the viscosity difference was there, the burn was gone –  well after you filter it and all that kind of stuff.
Chris Walsh
And that just, really quick just to clarify, you were talking about Poo-pourri, which has never come up in a discussion here, but I know what it is. Google it if you don't. But you're not talking about potpourri?
Ben Williams
Yeah, Poo-pourri. Yeah, THAT stuff.
But anyway, yeah, boom, that came out. Man, we took our first sips of that stuff, no burn, had a nice sweet, kind of like kick to it, you know what I mean? And just easy drinking. And we sat there, and we just drank that whole thing straight, room temperature, no problem. And we're just clearly out of our minds by the end of it, but it was it was fun. And it was easy to do.
And then we felt OK in the morning, because of only collecting the hearts of the run, which is the purest part. I have to believe in, like, a lot of the properties transferred over just from testimonials that I hear from people that drink it, and they say the same thing. It's like, it feels a lot better in the morning. And I got to believe that some of the antiinflammatories must carry over because it's a really interesting thing. It's an easier drinking spirit than anything that we have made.
And so we just kind of stuck it there, man, and then from there just kind of kept honing that process, honing that process, and really coming up with our final recipe.
Chris Walsh
And you talked about in California that the experimentation that was going on there tasted bad. This doesn't taste like cannabis or hemp or anything, correct?
Ben Williams
No.
We used to wonder, would that be a thing or whatever? But no, it doesn't. It doesn't. It's not. And when people say why hemp and all that stuff, and it's like, "Oh, you know, is it for the flavor?" And I was like, "Nah, you know, 'cause hemp kind of tastes like oatmeal. Nobody's really into drinking that."
No, it's about what it does for the process. Like every step from the time it enters that pot with the corn and the water, it starts doing stuff to the fermenter to when you're running it in the still, you know, all that.
So it's really about the enhancements to the product that we make. And it's not about flavor, it's about all the cool stuff that is doing to make this end spirit, in our opinion, a lot better than what's currently out there. And easier to drink and doesn't beat you up as bad and stuff like that. So it's not all about hemp flavor or trying to you know … since then, you know, I get calls or emails from different folks offering us terpenes and stuff like that. And it's like, I'm not really interested in the fact that … so making this smell like OG Kush, or whatever, right? It's not, that's not what it's about for me. For me, it's like what it does for the process and making a really unique cool spirit.
Chris Walsh
Yeah. So when did you first start thinking that this could be a business?
Ben Williams
So I would do blind taste tests at the bar. Alright, what's your favorite vodka? And like old school Pepsi challenge, short straw, long straw, switch them around. Alright, choose. And man it just kept winning. Like, one after the other winning, winning, winning, winning, winning, winning, you know.
And then I'd take it to parties. I remember one time, I was in L.A. for a Grammy party. I took some Highway out there in a Mason jar, a big ol' mason jar. They have this party, it was sponsored by some company with these beautiful bottles and blah, blah, blah. And I just went up to the bartender and was like, "Well here, you know, if anybody wants this, this is a hemp-based vodka I make in Houston."
Chris Walsh
How'd that go over?
Ben Williams
When I think about it, I mean … oh, everybody was cringing at first, you know, when I just whipped out this big 32-ounce Mason jar, man, but they tasted it. They're like, Yo, this is, this is good.
Chris Walsh
Brave souls.
Ben Williams
Yeah, really, though. And it was funny because we were actually staying at the house where the party's  at. or whatever. And so like, man, I come back around. Bartender is seeking out: Do you have another one of those Mason jars? Man, they killed it.
And so I'm … obviously, I don't know anybody at this party. I'm just kind of walking around listening. And people are just like, "Did you get that stuff outta that Mason? I mean, that stuff is good." So all those kinds of experiences, you know, and I would come home and tell my partner like, "Yo, man, I think we might have something kind of cool because people like it."
And that that time, like I said I owned a couple bars and restaurants, talking to liquor reps, and from the big distributors and stuff, kind of telling them what I'm working on, getting ideas, asking questions about how does distribution work, all that kind of stuff. And they're kind of giving me confidence of like, "Well, yeah." And I'm letting them taste it and stuff like that.
Of course, all those conversations went absolutely nowhere. But they made me believe they were going somewhere at the time. So yeah, just finally decided, man, take a stab at it, go for it and started looking into how to file for the permits. And that's when that whole thing started.
Chris Walsh
And we'll get to that in just a second. So this is still a hobby, and there wasn't an a-ha moment with this either of like, "We're gonna turn this into a business." It sounds like it was more of a slower roll. And then eventually you said, alright, let's do this.
Ben Williams
Yep, exactly. Because we know it's hard, man. Like, I mean, why any business? I don't care what it is. They're all saturated. You know what I'm saying? There's a thousand of everything.
I'm just a cautious guy. And like, I didn't know anything. And that's another thing. I had zero mentors. You know, I go to distilleries, and I had no idea – and my partner either because he was in construction. And so we had no idea on you know how to do this, on this side of it. It took a lot of time to build the confidence. Like, you know, what, I think we're at a point where we can try to give it a go. And, it wasn't like a hard go, it was just like, yeah, let's just try, you know, see what happens.
And like I said, the entry point because the barrier of entry was lowered with the bar already being owned outright. So it wasn't like we're about to incur a bunch of costs while we are waiting two-and-a-half years to get the permit, not knowing that we are going to get it at all, though.
Chris Walsh
Well, that that resonates a lot, as I said earlier, with people in cannabis. Two-and-a-half years. And this was … What led to these delays and this lengthy process? Was it just the alcohol portion? Or was it the hemp side, too, that extended this?
Ben Williams
The hemp, the hemp side extended it all the way out.
Chris Walsh
How long does it normally take?
Ben Williams
You know, I've heard stories of people saying like six to eight months. Some people have said four; I don't believe them. If you're doing different stuff, maybe? Maybe it is, but man, all I know is it took us two-and-a-half years.
The process is very meticulous. Your application and stuff can get rejected behind a typo. And then the turnaround of correcting that mistake. You make the correction, you resubmit, and you know, it's like two months until you get your next issue. And your blah, blah, blah … And then it didn't help that that was around government shutdown time when it shut down back then, and so that drew it out. So then the lead times were backed up and blah, blah, blah.
So it was crazy. It got to the point to where I even tried to go up there. I went to DC, because I went to school in DC and my brother, my older brother, still lives there. So I went up there hanging out or whatever. And I'm like, I'm gonna go stop by this office to kind of see if I can find out anything. And then they don't even let you in there. I thought you could just go by like any other office.
Chris Walsh
Just walk in …
Ben Williams
Yeah, like, well I'll wait, I have nothing to do today. I'll just hang out and wait in line and talk to someone about my application. It doesn't work like that. And I did eventually stumble across somebody, and they kind of gave me a little, not anything particularly about my particular case, but just kind of how it goes.
I did eventually change agencies that were helping me with the process and got someone new. And I don't know, that guy, he was really, really on it. And so he kind of helped us get over the hump there.
Chris Walsh
What did you do throughout this period? You were fortunate enough to have other business endeavors that you can rely on, you didn't pump all your money into this. Like we see in cannabis, if this is the thing you're doing and the only thing you're doing and then there's a big delay, that's obviously very difficult to navigate through. So how did you spend this time, this unknown period, when you didn't know it was gonna end? Were you refining the product? Were you doing more taste tests and market research?
Ben Williams
Yeah, man, it just kept rolling. Because like I said, it wasn't like … I wasn't on a "do or die" kind of mission. Well, I will say this, that time came and went. Because when you when you gear up to apply, in my brain, we're about to go for it. And so you do start kind of mentally reorganizing things to launch a new endeavor, whatever it is, right? But then when it didn't come back in a few months, it almost is kind of like, it went away, in a sense. And so, you keep trying, keep paying attention to it, but you can't just sit around, you know what I'm saying?
So, in the meantime, yeah, we're constantly messing with it, because it just stayed in hobby space. More blind taste tests and stuff like that. And really got a little bit more intentional about my conversations with potential distributors and people that work with different distributors and stuff like that. So those conversations went up some notches, because now I'm actually in the process of … now I'm really kind of feeling now for some distribution, like when this happened. But at the same time, still constantly honing the product, testing it out there, just still doing what we do with it.
But like I said, just getting a little bit more serious with my conversations with distributors.
Chris Walsh
You talked to distributors, you did blind taste tests. Are there other steps you took to really understand, a) if there was a market here and what it what it was?
Ben Williams
To be honest, me and my partner, we'd sit around, and this is after countless conversations just sitting around while you're doing this stuff. Can we do this? Because I mean, there's 8 million vodkas out there on the market. In my little journeys, I've met people that have raised upwards of $12 million to launch a brand that went absolutely nowhere. And I don't have $12 million.
So we looked at it, right, like with any business. Do we have any differentiating factors? And then the boom, it just came out. Well, yeah, there's not really any hemp-based vodkas. And if it weren't for that, I think it would have stayed a hobby. But the fact that we did have an element that was unique in the space is really what gave the confidence to go ahead and go forward. Because trying to find your differentiating factor in any business is pretty much the key. Like, yeah, there's a million of these, but they don't do this. But that was really it.
So again, it comes back to the plant and the plant basically gave us the confidence to move forward because there weren't a lot of people doing what we do. A lot of spirits come from one of four very large manufacturers, and they just kind of blends. And they do all this white label and stuff. But there's nobody that makes what we make. So we can't even outsource it. We have no choice but to make this stuff.
And that was exciting. You know what I'm saying? Like really doing something like from scratch.
Chris Walsh
Yeah. And I like how you use blind taste tests too. You know, if you go to just your Aunt Matilda or your mom, they're always gonna say, "Oh, this is fantastic." So you had a layer of … you had some controls in there. So you were accounting for that. I understand you did a blind taste test with a big beer distributor there too. Was that a pivotal moment?
Ben Williams
Ah, dude, that was THE moment. So like I said, all those conversations I was having with various distributors, by the time the permit finally came back, I guess they never thought I'd get it through. That's when they started basically turning me down left and right. Saying the threat cannabis poses to the spirits industry, blah, blah, blah. They didn't want any part of it. I was like, that's not what you told me like two months ago, but whatever.
Basically, they just crush all your dreams and tell you how it's not going anywhere. And maybe you could get a broker and put your little product in a store or two and have fun with it. And I literally left that last meeting … I was gonna buy the guy lunch at our place and then I just got up and I was like, "They'll bring you your check." I just walked out, called a buddy of mine just to rant. "I can't believe this. Like these guys kind of have me in a whole different direction here" and I'm …
Chris Walsh
Shattered your dreams.
Ben Williams
Attempted to. 'Cause it was kind of rude how he carried it to be honest.
But anyway, when I talked to my buddy, he's like, "Let me call a friend of mine." And that friend turned out to be the VP of this very, very large beer distributor down here in Houston, which actually is the largest one by volume in the country. And he said that "Hey, we're about to look into distributing spirits. Let us take a look at it." And they set up the meeting. Blind tasted those guys, like three of them. I picked two other brands, threw Highway in there, you know, medium straw, long straw, short straw. [swishing sounds] That's me like mixing them around.
Chris Walsh
I like that. You should go into sound effects.
Ben Williams
And boom unanimously won. And that was it. They picked us up. We became the very first spirit they ever distributed. And from there, man, they started handing me off to other Budweiser distributors around the state. And it just started rolling.
Chris Walsh
I think these are good insights into what it takes in one industry to use hemp or cannabis in products, again, to disrupt them, as we said before. And so while you're not technically in the cannabis industry, a lot of what you're experiencing is the type of challenges that the increasing number of companies coming into the industry and trying to tackle a mainstream customer base are experiencing. So I appreciate you sharing all this.
I want to talk a little bit about the hempseed. Where did you source that in the early days? And how is it different now?
Ben Williams
Without giving up my source totally … The first started off at Whole Foods.
Chris Walsh
Just walking in and buying it?
Ben Williams
Yeah … just because again, I was just in hunting for anything hemp to try. So that'd be shelled seed to – we would even take shelled seed and spread them out on a baking sheet, lightly toast them and just all kinds of stupid stuff. Just we didn't know, just try whatever. And then kind of settled in on the whole hemp seed.
And from there, when we kind of got really serious about it, it started getting hard, because you go to Whole Foods, you couldn't buy enough bags. It'd be out. And this was still a hobby stage, you know. Then we started trying to find some guys that we could buy a little bit more in bulk and experiment with their stuff and kind of finally found a vendor that we like and that can supply us what we need.
And then I didn't even realize there was variance to the oils that we're producing. We found somebody that has a really good product and kind of been sticking with them.
Chris Walsh
And you're trying to source from Texas, though, going forward, right?
Ben Williams
Yeah, I'd love to, I'd love to do that. Just because then all my grains would be locally sourced. It would just be kind of cool from a marketing standpoint, I guess, to be able to say that. And then just to work with local folks. It's just cool and be able to go and maybe even see their field and maybe have some insight. Like, hey, maybe play with some different strains and stuff like that.
But currently what I'm noticing, in Texas anyway, since it's so new, most people are devoting most resources into developing smokeable products and stuff like that more. So industrial food-based seed, I just haven't found anybody that's into it yet.
Chris Walsh
Do you have any advice for others who are looking to source, like what was the due diligence is or that process as you kind of evolved through this from whole foods to a different distributor?
Ben Williams
Man, the only thing is trial by fire, dude, trial and error. You just got to order from here, run it through, see what it does. Go on to the next one, see what it does. Then sometimes pricing becomes the issue. So I really like this product, but it's kind of expensive. And then, you know … so it's just this whole huge sifting process to finding what you can work with and what you want to work with.
I wish there was something else but when I tell you I've ordered that stuff everywhere from so many people on Amazon to, like I said, Whole Foods or like food stores like Sprouts, wherever. You know, trying those brands. And then just get outside of the Amazons and stuff just into the raw Google searches. Just companies and all that kind of stuff. … I've been through dozens to say the least, trying to find someone that that was a good partnership and fit for us.
Chris Walsh
Now this doesn't taste like hemp as we talked about before. So when you talk about marketing and customer education, what's the biggest challenge you have?
Ben Williams
Ah yeah, the easiest thing is, is there any THC in it?
Chris Walsh
That's what everyone wants to know right away?
Ben Williams
If there is a question, that's the first question. It's like, well am I gonna pass a drug test? Um, dude, we're standing in the middle of a Total Wine in Texas. You know, I can see it if we were around the corner in the alley somewhere but like no …
Chris Walsh
With your Mason jar?
Ben Williams
Yeah, exactly that. Now you can question, I understand. But we're standing in the middle of a big corporate chain store. But yeah, that's the biggest thing, is just education of people.
It's interesting. It depends on what part, especially in Texas, because you have all this energy stuff going on and lots of drug testing. And they're like, "I cannot risk it, we get tested all the time. Blah, blah, blah. Just have to ask, you know." I get it, but yeah. No man, there's no THC in here.
And just understanding the lack of THC in the hemp plant versus the marijuana plant, so education on that end is a big thing. Just letting people know that just because it's that that familiar leaf doesn't mean that is THAT leaf, you know what I mean? Yeah, the other leaf.
Chris Walsh
Do you do that through your marketing efforts? Or how do you educate the customer on this?
Ben Williams
On our stuff, it doesn't have emblazoned across it, like no THC or something like that. It just has … 'Cause it is kind of fun though to leave it out there for those that want to interpret their own buzz. I've heard that before. People like, walking around. This happened to at that party in L.A. Guys walking around and like, "Yeah, and it's like, it's different because you know, you kind of like, high and drunk." Like yeah, okay, whatever.
But no, there is no marketing on that aspect of it to just flatten it out because … I don't know. I just didn't think to put it on there. And it wasn't required by the government or whatever. But there's just so many other positive things about what it does for the process that excite me. I mean, if you want to go do that, go do that. You know what I'm saying? But like, it doesn't have to be here.
Chris Walsh
A lot of people focused on CBD and this doesn't have CBD in it, correct?
Ben Williams
Yeah, because it's illegal to manufacture spirits with CBD present, plus, being packaged in the clear glass, you know, fluorescent light, blah, blah, blah, pretty much, you know, knocks all that out.
Chris Walsh
How has the traditional alcohol industry responded to this?
Ben Williams
So far, so good. I mean, like, curious, interested, a lot of people pat you on your back for trying to do something different. Other people might scowl and be like, what a novelty. So I mean, you know, it varies, but by and large, it's been all good so far as what I could say.
Chris Walsh
Have you already started thinking further down the road in terms of … you know, the big beverage companies are getting involved in cannabis now. Major brands are developing CBD drinks, they're exploring a lot of different areas of how to tap this fast-growing industry. So if this takes off for you, and hemp spirits have a big, big market, and these big guys come in, do you know how you'd compete in that environment? Is that on your radar now? Or are you just kind of doing the day-to-day and you'll tackle that down the road?
Ben Williams
Man, I don't even let that bother me. Because the fact of the matter is that I'm competing against Tito's. So like, it doesn't get any bigger than that. And I understand what you're saying, but I'm just saying if Tito's turned around one day and said, "Oh, hemp vodka, boom, it's over." No it's not. Because if that's the case, then don't ever open another restaurant again, don't do another podcast again, don't do anything. Because there's always going to be that. If you let that scare you, or hold you back rather, yeah, you're not built for entrepreneurs, you know what I'm saying?
Because the reality of it is, there's always going to be that bigger entity that can definitely do what you do, and throw more money behind it and probably make more money than you would with your whatever. But if your product is honest, and you're honest about what you're doing, and you're working hard, you can carve out a niche. And you can have a good life. And you could do what you need to do if you're serious. So I don't let that bother me at all.
Chris Walsh
Yeah, that's a great point. The more I've been involved in the business world, the more it kind of goes against conventional wisdom. When you first come into it, shirts or shoes or whatever has existed for forever. That doesn't mean that market is tapped and there are no opportunities. In fact, there usually are huge opportunities that are being overlooked.
Ben Williams
Exactly. Because what happens is that everybody's just doing the same old thing. Like, take a look at tequila, for instance. I love going down the tequila aisle, because what tequila has turned into more than anything, it's not even what's in the bottle, man. It's what the bottle looks like. Next time you're in a liquor store go down tequila aisle, and you will see the most amazing bottle art in the whole store. That's what has become as all these fancy, amazing bottles.
Chris Walsh
Just like wine.
Ben Williams
Yeah. And that's, I mean, like, that's cool, right? And I guess it makes for a good Instagram post or whatever. But what's in it? I'll put what I make up against any product that's in the same lane out there. Because I know that, I feel that this is a very quality, very good product. And I'm not scared. … I'll blind taste test anybody as long as I have that confidence in the product. Let's go.
Chris Walsh
Well, on that note, we're going to wrap up. But I did want to ask you for one last piece of advice. We have a lot of listeners who are trying to make their way in this industry. They're looking at opportunities, whether it's the THC side, whether it's CBD, whether it's hemp, and whether you'd even classify it in this industry versus what you're doing, where you're using this plant and this ingredient in different industry. What general advice would you give them about your experience?
Ben Williams
Man, my biggest thing is that if you don't love it, and if you're just looking at it from a money side, don't even do it. If your passion isn't in there, and it's not something you just enjoy doing. Because this is some tough waters to navigate. And oftentimes, if it weren't for the fun of being in it and doing it, you would definitely ask yourself, "Why am I doing this?" Because you'll have plenty of those moments and the only thing that's going to get you through those is, "Oh, because I enjoy doing this, man." It's passionate in there. And if it's not an idea that just kind of keeps you awake at night or wakes you up, like thinking about, like, "How can I do this or that or whatever?" then yeah, it's probably not the right thing.
And I see people, like I said before, in this industry, particularly, that have more money than who knows what and just figure that that's all they need. Now, that's not it. I've seen those guys come and go. And I'm still growing here. And I didn't have any of the resources that they had.
The only thing I can say, it's quality product, I believe in my product, and I love what I'm doing. And therefore, I'm just going to keep going. Fortunately, it's been working out great.
Chris Walsh
That's great advice. I couldn't agree with you more. And I think a lot of people would have given up in that two-and-a-half year permitting process.
So you have to have that passion. And we see that time and time again as the leg up you can get as an entrepreneur, whether it's in cannabis or any other industry.
Thank you so much for joining us, Ben. I really appreciate it. I know that you're … I think you've purchased some land behind the barn for seven and a half acres of tasting room and entertainment. You're coming out with a whiskey as well, correct?
Ben Williams
Yep. That's all true. And I look forward to all of it. More fun.
Chris Walsh
I look forward to it too, and seeing where you go – and trying both the vodka and the whiskey.
Ben Williams
It's pretty much everywhere in Texas and Georgia and Southern California, Florida just got there. But you can also get it directly. Just come onto the website HighwayVodka.com. That'll take you over to Reserve Bars where you can order it and it comes straight to the house.
Chris Walsh
Excellent. Thank you very much, Ben. We'll talk down the road.
Ben Williams
Thank you, sir. Appreciate it.
[Music]
Chris Walsh
And that's a wrap for my conversation with Ben Williams of Highway Vodka. So what can we learn from Ben's story?
While the cannabis industry itself is seen as a disrupter, entrepreneurs still often try to stick with the obvious routes – and by that I mean THC or CBD. That doesn't have to be the case. There are many different business opportunities that revolve around cannabis as Highway Vodka has shown.
You also need to understand where exactly you fit in a market if you have any hope of disrupting it. Ben noted that there are 8 million vodkas out there. So how could he find a spot in such a crowded market? It started with developing a hemp-based product. But that wasn't enough to move it beyond the novelty stage. It's about what the hempseed does to change the vodka, from the mouthfeel to the aftereffects to the yields. Make sure you identify what sets you apart. For Ben, hemp is what moved this from a hobby to a business because it allowed him to find a differentiator.
He also underscored the importance of experimentation. He used every part of the plant in the distilling process to see what worked best. In the end, he found that hempseed, which was the easiest part of the plant to get and perhaps the most obvious, was the ideal choice. But this process wasn't a waste of time, it allowed him to better understand the plant and ensure he did all his due diligence to figure out the best way forward. This spirit of experimentation also led to his "happy accident," which was born out of a little laziness, that led to the perfect recipe.
As I noted earlier, the regulatory delays Ben experienced are quite common in the cannabis industry. There's often a significant gap between when you apply for a license to when you receive approval to when you can actually launch. Ben used the time during the delay he experienced to further refine his product, to conduct more taste tests and have more meaningful conversations with distributors.
Lastly, persistence and passion are key, especially if you want to be a disruptor. As an entrepreneur, it's harder to weather the tough times without those traits, like those two-and-a-half years it took Ben to get his permit because he's using hemp as an ingredient. Companies with more resources have come and gone because they don't have that same passion.
Thank you all for listening to this episode. Please share it with others and post a review on whichever platform you use to listen to podcasts. You can also follow us on Twitter. Our handle is @MJBizDaily.
Next week I'll be speaking with Mason Walker of East Fork Cultivars out of Oregon. We're going to talk about how you can build a successful cultivation business centered around CBD while also growing high THC cannabis.
Until then, make sure to check out MJBizDaily.com for the latest news and analysis on the cannabis industry. And be sure to sign up for our newsletter while you're there. Take care and see you next time.