By Chris Walsh
A notable television ad, the end of a dispute between two well-known cannabis companies and controversy over edibles in Colorado.
It was an eventful week in the cannabis industry, with several business-related developments arising that are worth exploring further. Here's a closer look at three of them:
Blumenauer boost
When was the last time you saw a TV ad by a United States congressman focusing solely on the need for marijuana reform and offering strong words of support for the cannabis industry?
Likely never…until now.
Rep. Earl Blumenauer, a Democrat representing Oregon, is running local television ads urging the federal government to butt out and let states decide whether to legalize marijuana and related businesses.
Blumenauer has long been a public supporter of the cannabis movement, backing numerous measures in recent years that would help the marijuana industry. This takes that a step further. In fact, having a sitting federal lawmaker run such a marijuana-specific ad as part of a campaign is unprecedented – and it could open the door for other officials to promote pro-marijuana views as well.
"To the best of my knowledge, this is the first time that a member of Congress has used campaign funds specifically to produce an ad that is solely related to their support for marijuana policy reform," said Morgan Fox, communications manager for the Marijuana Policy Project. "This is certainly indicative of a shift occurring among lawmakers who see the growing public support for making marijuana legal and realize that they don't have to be afraid to tackle this subject anymore. "
Partnership peters out
Dixie Holdings and Medical Marijuana Inc. made waves in 2012 when they teamed up to sell infused products and develop a national brand, one of the first high-profile corporate partnerships of its kind in the cannabis industry.
But the relationship soured, and the two sides eventually became entangled in legal issues. This week, they ended their dispute and agreed to terminate the partnership.
It's unfortunate the deal didn't work out. But business breakups like this are quite common in any industry, and it's a positive sign that the two companies came to a resolution on their own.
What's particularly notable about this situation, though, is the structure of the agreement: Both companies will retain rights to sell and develop products bearing the Dixie name – even though the businesses won't be working together anymore.
Dixie Holdings will have control of Dixie Elixirs and Edibles – which focuses on THC-infused offerings – while Medical Marijuana Inc. will produce and sell Dixie Botanicals, a line of CBD-based products derived from hemp.
Medical Marijuana Inc. said it "invested a considerable amount of resources" in building the Botanicals brand and has gained traction in the market, hence its desire to keep the product line.
If either company has huge successes – or high-profile failures – with their Dixie-branded offerings, it could affect the other business, as consumers might lump together the two product lines. That could present a marketing and branding challenge.
But both companies feel confident that the brands are unique enough – and have a high level of recognition among their respective target customer base – that it won't be an issue.
"This decision was in the best interest of all parties and was made amicably," said Michelle Sides, chief executive officer of Medical Marijuana Inc. "We will continue to educate the community on our products."
Edibles elevated to center stage

Pay particularly close attention to what's happening with edibles in Colorado, as it could spill over into other states.
This week, a working group set up by the state met to discuss changes to edibles regulations in the recreational market, while a leading law firm announced its support for a new approach to infused products as well.
At the same time, a Denver TV station aired a report showing employees of several retail stores recommending that customers take more than the standard serving size of edibles. That isn't a concern in itself – everyone has different tolerance levels, and the actual THC content in edibles is often lower than the amount listed on the package. But the report further fuels the debate over edibles and the responsibility of retail stores to educate their customers.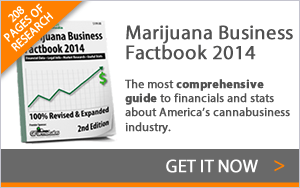 The developments come amid increased scrutiny on edibles in Colorado after two incidents involving people who consumed infused products.
Edibles are largely unregulated in many states. Even in Colorado, which has an extensive set of regulations in place, unique challenges are cropping up. There's a good chance the state will revise it rules surrounding edibles, particularly those tied to packaging, labeling and THC content.
As we've seen in the past, the regulations Colorado ultimately develops for edibles could serve as the blueprint for other states with marijuana laws.