Bolstered by the Farm Bill's passage, U.S. hemp companies are starting to flex their fundraising muscles.

Advertisement

For their part, marijuana entrepreneurs are paying attention to these kinds of raises because the Farm Bill's passage could offer new legal business opportunities for MJ companies that want to diversify into a new plant.

Investors are taking note as well – boosted by the protections afforded by hemp's new federally legal status.

Below is the latest data on cannabis investment activity and M&A, along with key takeaways, analysis and trends from Marijuana Business Daily and Viridian Capital Advisors.

The data, provided by Viridian, is through the week ended Feb. 1.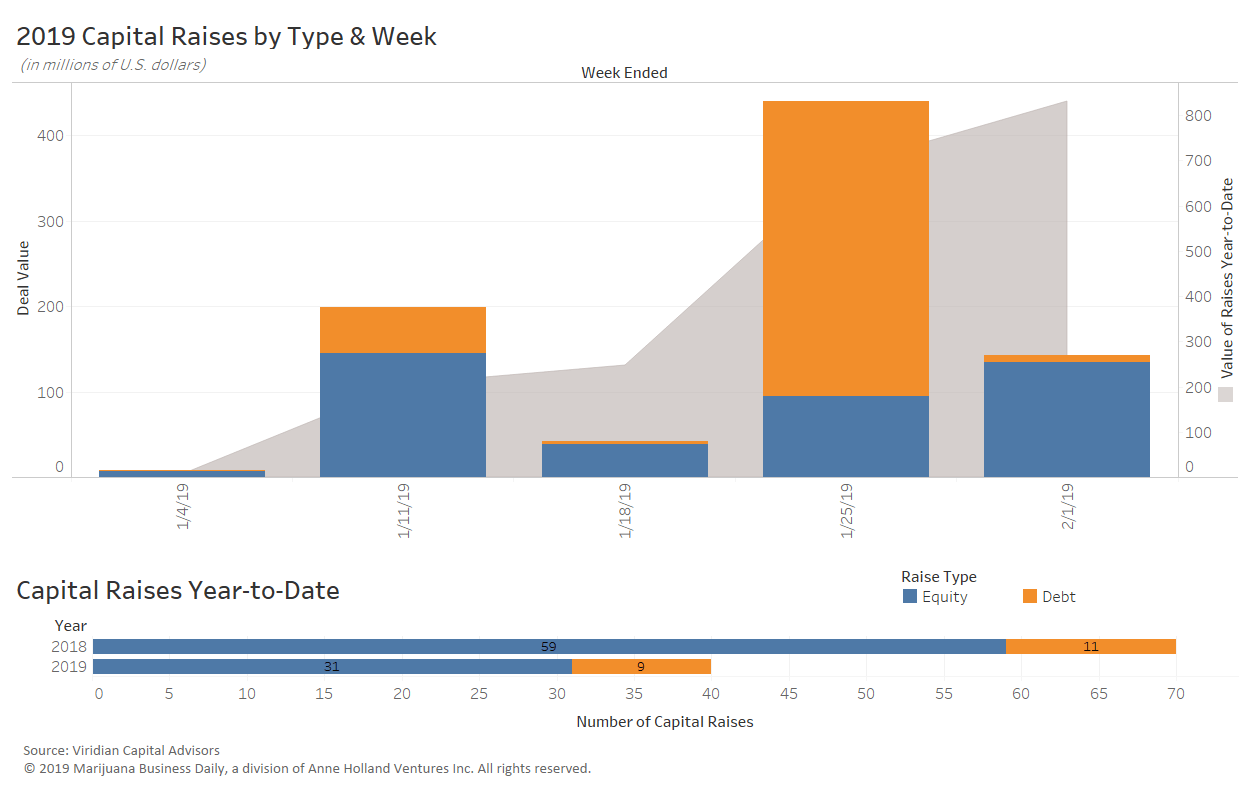 Key highlights among capital raises:
Hexo Corp. (TSX: HEXO; NYSE: HEXO), a licensed producer of cannabis based in Quebec, Canada, raised 57.6 million Canadian dollars ($43.7 million) after closing its offering of common shares. The company plans to use the proceeds to expand in Canada and internationally. CIBC Capital Markets, BMO Capital Markets and Oppenheimer & Co. served as co-lead underwriters for the offering. "The Canadian LPs not only continue to attract more capital – and larger raises – but you're starting to see more significant financial firms involved," said Harrison Phillips, vice president of Viridian Capital Advisors. "With larger deal sizes comes greater interest from larger financial institutions."
After the passage of the Farm Bill, U.S.-based hemp companies are racing to raise capital – and finding success. Oregon-based Socati Corp. closed a $33 million funding round, capital the hemp producer plans to use scale its manufacturing operations. The funding round followed an earlier raise of $9 million.
North Carolina-based Lazy Gator's Hemp Farm secured a $165,000 raise. While the round was small, the company has been approved to raise up to $30 million. "We're starting to see more and more interest in these hemp farms because they are pretty well defended now thanks to the Farm Bill," Phillips said.
Top M&A takeaways:
Consolidation among cannabis operators continues in Canada with Calgary-based Westleaf (TSX: WL) closing its acquisitions of Canndara Canada in a deal valued at more than CA$48 million.
Massachusetts-based TILT Holdings closed a $40 million deal to acquire Standard Farms, a vertically integrated operator in Pennsylvania whose products are carried in 95% of dispensaries in the state. "U.S. operators continue expanding into new states to develop infrastructure footprints," Phillips said.
Viridian Capital Advisors is a financial and strategic advisory firm that provides investment banking, M&A, corporate development and investor relations services to emerging growth companies and qualified investors in the cannabis sector.