Fundraising among North American cannabis firms has yet to outpace levels logged this time last year, but the size of the average capital raise is steadily climbing, according to the latest data.

Through the fourth week of January, public cannabis companies have raised $394.1 million, with an average funding round of $24.6 million, according to data tracked by Viridian Capital Advisors.

Advertisement

That's up nearly 45% from the year-ago figure of $13.7 million. For private firms, the average raise is ringing in at $20.9 million, up from $17.6 million last year.

All told, public and private cannabis firms have raised $686.8 million, down from the $820.6 million during the same time in 2018.

"While we're seeing capital being raised with less frequency, we are seeing larger significant tranches of capital being raised, especially among the Canadian (licensed producers) as they expand in Canada and internationally," said Harrison Phillips, vice president with Viridian.

The data below, provided by Viridian, offers additional highlights on investment and M&A activity through the week ended Jan. 25.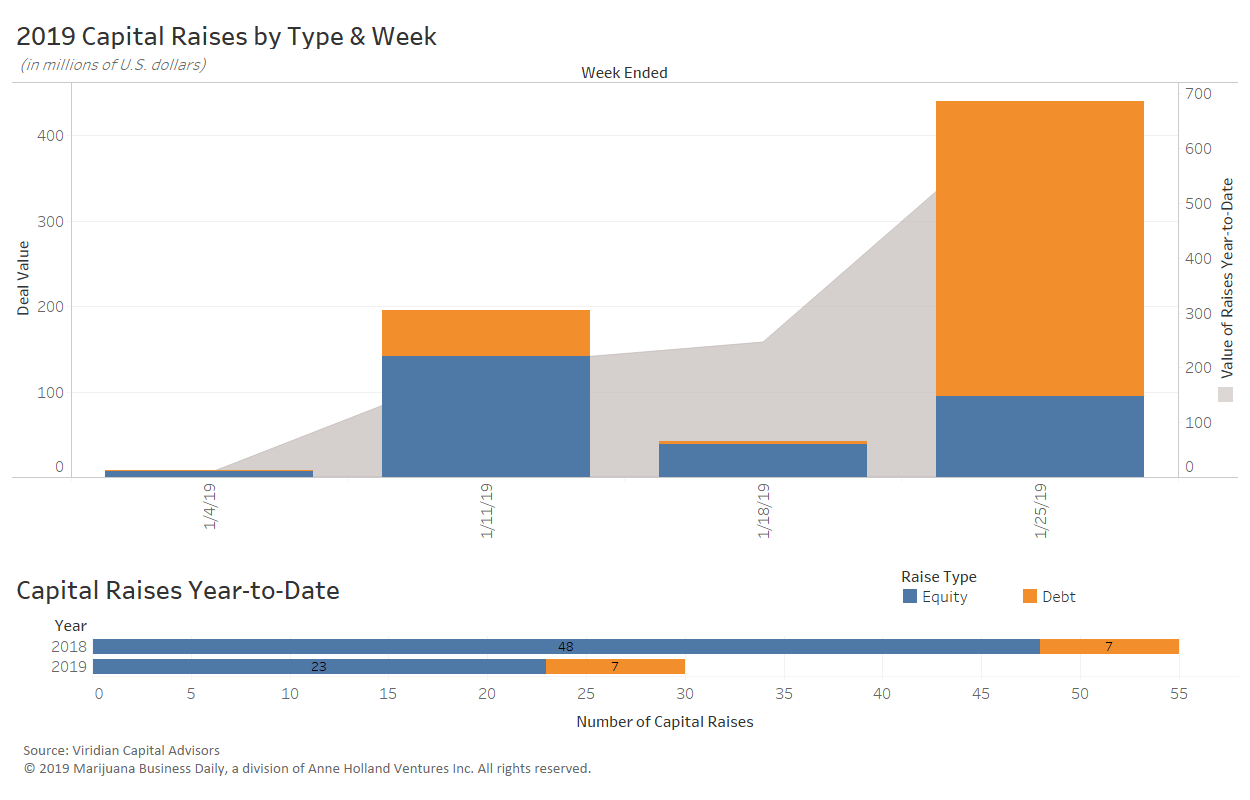 Highlights from last week's capital raises:
Canadian licensed cannabis producer Aurora Cannabis (NYSE: ACB; TSX: ACB) closed a $345 million convertible debt offering – capital the firm plans to use for domestic and international expansion. The deal underscores the continued "land grab" underway as Canadian producers rapidly scale their footprint, Phillips said.
California-based Caliva, a vertically integrated cannabis company based in California, closed its first round of funding, snagging $75 million the firm will use to expand its product offerings as well as its retail footprint in the Golden State. Former Yahoo CEO Carol Bartz and NFL Hall of Fame quarterback Joe Montana were among those participating in the funding. Bartz will serve on Caliva's board. "California – because it's the single-largest market in the world – continues to be the market everyone is focused on," Phillips said.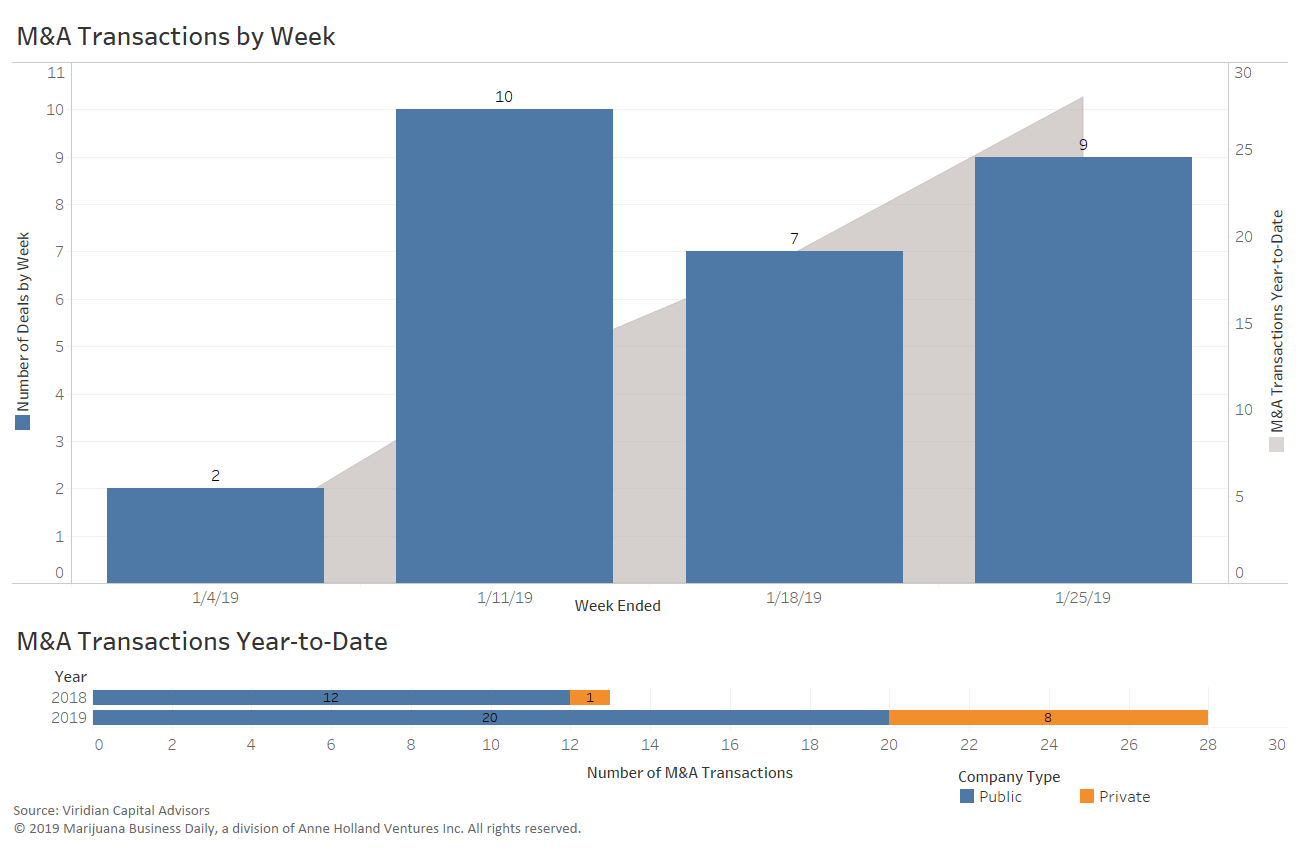 M&A highlights:
GrowGeneration (OTC: GRWG), a publicly traded hydroponic and organic garden center chain, acquired the assets of Chlorophyll Inc., a Denver-based cultivation supply store. The value of the deal was not disclosed. The acquisition highlights the "continued aggregation of mom-and-pop businesses around cannabis, particularly cultivation supply stores, as cannabis cultivation – both commercial and at home – provides demand for these products," Phillips said.
EMMAC, a European medical cannabis company, acquired a majority stake in Medalchemy, a GMP-certified cannabis extraction lab in Alicante, Spain. Financial terms of the deal were not disclosed. The company has experience producing active pharmaceutical ingredients – a key component needed for research involving cannabinoid therapeutics, according to Phillips.
This weekly series from Marijuana Business Daily and Viridian Capital Advisors provides the latest data on cannabis investment activity and M&A, along with key takeaways, analysis and trends based on recent market moves.
Viridian Capital Advisors is a financial and strategic advisory firm that provides investment banking, M&A, corporate development and investor relations services to emerging growth companies and qualified investors in the cannabis sector.