Last week was one for the record books, to say the least.
Just days after the most important election in history for the cannabis industry, nearly 400 professionals gathered in Denver for what turned out to be the largest business-focused MMJ event ever held in the US: The National Marijuana Business Conference 2012.
The energy running through the crowd was palpable. The election results galvanized a beleaguered industry facing challenges on all fronts, and many attendees left with a renewed sense of optimism about the future of the cannabis business.
Those gathered at the conference weren't your run-of-the-mill 20-something potheads wearing tie-dye shirts and sandals. The crowd consisted primarily of middle aged professionals – hailing from 27 states, DC and Canada – donning button-up shirts, ties and suits.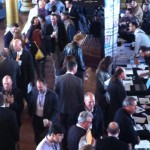 Many of the local, national and international TV reporters scurrying about seemed surprise by the professionalism of the attendees and the exhibitor booths; some even remarked that it could have been a gathering of CEOs in any industry. Best of all, there weren't any bikini-clad kush girls roaming around wielding bongs and pipes (see picture at left and click here for links to the extensive media coverage).
The conference – hosted by MMJ Business Daily – featured a diverse lineup of 40 speakers, from Steve DeAngelo of Oakland-based Harborside Health and Colorado MMJ accountant Jim Marty to Arizona attorney Ryan Hurley and Eapen Thampy of Americans for Forfeiture Reform.
Much of the buzz surrounded election-related developments, most notably legalization in Colorado and Washington (the audience erupted in applause every time a speaker mentioned it). But a fair share of chatter involved other issues including the government crackdown, banking, taxes and financial issues.
It's impossible to highlight all of the advice offered up at the event. But we've compiled a list of the top 36 business takeaways, tips, lessons and key points from the show (check MMJ Business Daily for updates about the 2013 event):
TAXES/FINANCE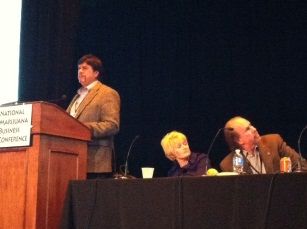 #1. The federal tax situation is the biggest threat to MMJ businesses and could push the entire industry underground. Cannabis organizations and industry leaders are pushing for federal changes that would allow dispensaries and growers to claim common business tax deductions. But they face an uphill battle, and the situation may not change in the foreseeable future. "It's looked at as a tax cut for drug dealers," Aaron Smith of the National Cannabis Industry Association (NCIA) said.
#2. The banking problem is spreading to companies that don't deal directly with marijuana, such as businesses that provide packaging. Even the Marijuana Policy Project and NCIA have run into challenges setting up accounts and accepting contributions recently. Also, many landlords in legal states have gotten their mortgages revoked due to hosting dispensaries (Wells Fargo was named by two people as a particular problem). Bottom line: Ancillary companies are feeling the heat, too.
#3. So what can dispensaries without banking accounts do? Lance Ott of Guardian Data Systems recommended cashless ATMs and other "closed-loop" systems. But be careful: Payment processing companies are trying to come up with new solutions and workarounds – many of which are questionable legally. And steer clear of offshore cash processing services.
#4. What will change the banking situation? Hilary Bricken of Canna Law Group pointed out that there's no law stopping banks from doing business with MMJ companies – they're just risk averse. To convince financial institutions to take on these lofty risks, the industry needs to make a lot more money, said Shawn Coleman, who previously worked with a bank trying to tap the MMJ market. Another suggestion offered up at the show: Find a landlord ready to go all the way legally to fight a bank that's trying to foreclose on an MMJ property.
#5. Don't join the race to the bottom in terms of marijuana prices. If you continually advertise that your pot is the cheapest, consumers will begin to assume you sell lower-quality products. And then you will be forced to do so due to lack of funds to provide premium marijuana.
INVESTING/M&A

#6. The best path to securing money for dispensaries is to hit up friends and family, but make sure they can a) afford it and b) know all the risks involved. Companies that provide ancillary products and services have the best shot at getting funding from angel investors – and the best chance to cash out one day via an acquisition. These companies face reduced risk, lower competition and less red tape, said Troy Dayton of The ArcView Group.
#7. Consider crowdfunding options if you can't raise the money you need to start or expand an MMJ business. This option is still in its infancy as far as the cannabis industry is concerned, but it could become a bigger part of the MMJ world. The government might relax laws on this funding method soon, so keep abreast of the latest developments, said Khurshid Khoja of Greenbridge Corporate Counsel.
#8. If you're thinking about buying a dispensary or grow operation, make sure you know all the local and state regulations – especially those tied to the transfer of licenses, MMJ attorney Charles Houghton advised. Also, don't take the owner's word for it: double-check to make sure they have all the required permits and are in good standing with their landlord.
#9. If you want to invest in MMJ opportunities on the East Coast, consider a multi-state model that will allow you to capitalize on all the activity in the region, Erik Williams of Connecticut NORML said.
OPERATIONS/INSURANCE
#10. Inventory problems are rampant, and dispensaries frequently run out of marijuana. Develop a system to work around chronic inventory shortages. One solution: Start asking patients to place orders ahead of time, and then focus on fulfilling those advance requests and directing overflow customers elsewhere. This should help with inventory issues and ensure you service your best, most loyal patients.
#11. Insure your dispensary or grow for 80% of peak inventory to stay safe. To cut down on insurance premiums, get a panic code on your entry security system and hire unarmed dispensary guards employed directly by you, Doug Banfelder of Premier Southwest Insurance Group advised.
MARKETING/ADVERTISING
#12. Advertising has become crucial for success. "It was easy money before. But now you have to compete. Too many people say 'we don't advertise, we let our product speak for itself.' But if you don't advertise, people won't know your product exists, so they won't ever try it to find out how good it is," said Derek Lebahn of CannaLine.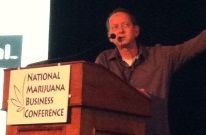 #13. If you only have time to focus on one type of online marketing strategy, try getting your dispensary into AppleMaps. It may very well be more important than SEO, Andrew Shotland of Local SEO Guide advised.
#14. Stop marginalizing/objectifying women: The whole "babes & bongs" ad strategy turns off adult women who are a key target market for cannabis wellness products, Betty Aldworth of Evolution Consulting said. These ads are one reason why millions of potential consumer dollars are being left on the table by the industry.
#15. It's OK to use words like "weed" and "pot" in website tags for SEO purposes, but avoid using them in advertisements and visibly on your website, Micah Johnson of Cannapages.com recommended.
LEGAL
#16. Here's what to do if the police raid your business (courtesy lawyer Henry Wykowski): Ask who's in charge, ask to see a warrant and ask what agencies are involved. Ask for permission to video record the raid, and ask to call your lawyer. Ensure you have encrypted files backed up offsite. Most importantly, keep cool and stay calm.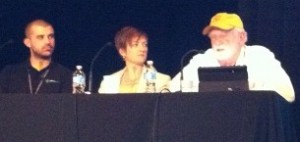 #17. If you're going to risk spending the rest of your life in jail, enter the MMJ industry for the right reasons: "You believe in the power of cannabis to help people, you want to serve patients and you want to make money," said Len Goodman of New MexiCann Natural Medicine. Yes, making money is an important part of the equation. "If you don't want to make money, you won't run a good business and won't be able to support your patients."
#18. Don't get lulled into a false sense of security, as the personal and professional risks in MMJ remain significant. Montana attorney Chris Lindsey – who co-owned a dispensary that was raided last year – spoke about how he faces 20 years in prison and the possibility that he may be disbarred even though he was following state medical cannabis laws.
PROFESSIONALISM, POLITICS, & POSITIONING
#19. Professionalism is absolutely critical for the success of the MMJ industry. "Be impeccable about how you present yourself. You're laying the foundation for the industry. We owe it to ourselves. The 420 rally here in Denver is our counter-culture at its worst. It feeds the stigma," said Kayvan Khalatbari of Denver Relief.
#20. MMJ businesses must get involved in the political process to help the industry solve its many issues and gain clout in Washington. You can do this by joining/contributing to local, state and national cannabis industry organizations (or forming your own).
#21. Get to know your neighbors and position your business in a positive light. Don't rely on patients or the media to educate residents and the community at large about MMJ, Amanda Reiman of the Drug Policy Alliance advised. That's your responsibility. Reach out to vets, seniors and churches, in particular.
COMPETITION
#22. If one of your competitors is operating in a "gray" area – putting you and others at a competitive disadvantage by engaging in illegal or unethical behavior – push local official for stricter regulations and licensing rules.
#23. As James Slatic of MedWest noted, every grower thinks they're "the best damn grower" in the world. Forget hubris: Be realistic about your strengths and weakness. Otherwise, you can't accurately evaluate your quality, and therefore you can't position yourself against the competition, let alone consider what needs to be improved for better sales.
#24. Offering a rewards program increases patient loyalty and gives you a leg up on the competition. "If you're running a loyalty card program, it's really more powerful to give a small free gift on the second visit rather than making customers wait longer for a big gift," said Amy Poinsett of MJ Freeway.
EDIBLES/ANCILLARY
#25. Non-intoxicating cannabis wellness products (in other words, those that ease pain without the "high") will be huge mainstream offerings in the near future.
#26. Edibles manufacturers need to learn all they can about local regulations, especially those tied to food in general, as they often vary from city to city, Ralph Morgan of Organa Labs said.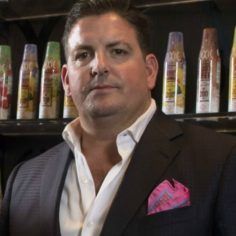 #27. Want to build a successful edibles company? Focus on brand management, quality products and sound business strategies. Most importantly, said Tripp Keber of Dixie Elixirs, go out of your way to try to understand what patients want (rather than dictate what you think they will want).
TESTING
#28. Patients want marijuana, edibles and other cannabis offerings that are tested and labeled for quality. MMJ Business Daily presented the findings of an exclusive study that found more than 70% of patients deem testing and labeling "very important." If the industry continues to grow, the government will likely step in and require testing. "Regulation of the industry will bring labeling requirements," predicted Donald P. Land of Halent Laboratories. "You can't label if you don't test."
#29. The highest THC level doesn't necessarily mean the "best strain" for patients, said Sytze Elzinga of The Werc Shop. On the same token, "indica vs. sativa" is not the right way to talk about medicine, Gennifer Murray of CannLabs said. Instead, the discussion should focus on the ratio of cannabinoids.
FUTURE
#30. Legalization in Colorado and Washington could create a host of new opportunities for businesses that sell everything from hydroponics equipment and fertilizer to paraphernalia and power, attorney Robert J. Corry Jr. said. How legalization will affect existing dispensaries is anyone's guess. KC Stark of the MMJ Business Academy argued that legalization could harm existing businesses because of the increased risk and uncertainty. Lawyer Brian Vicente, however, said that the feds don't have the resources or desire to aggressively intervene, adding that legalization will be a boon for the MMJ industry. Just as importantly, general legalization legitimizes the medical and wellness uses of marijuana and takes the stigma away, attorney Christian Sederberg said.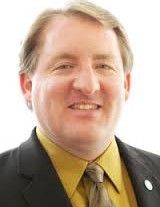 #31. The next state to legalize marijuana for recreational use could very well be Rhode Island, according to Rob Kampia of the Marijuana Policy Project. Strong contenders for MMJ legalization? New York, Illinois and Idaho.
#32. The electoral mandate for legalization could provide cover for Obama to make positive changes in the government's approach to medical cannabis and ease the crackdown, Steve DeAngelo remarked.
#33. Arizona dispensary hopefuls, take note: The permitting process allowed some bad actors to enter the market, so be prepared to counter the bad press that will result from their missteps, Kris Krane of 4 Front Advisors advised.
#34. For Washington DC's medical marijuana program to really take off, it's critical to expand the extremely limited list of qualifying medical conditions for patients, attorney Jason Klein said
#35. If Massachusetts issues rules on MMJ by May, we could see licenses awarded by summer and dispensaries open by the end of 2013. That's the most optimistic scenario, according to attorney Richard Evans, but it will likely take longer than that to play out.
#36. Mass product technologies, improvements in supply chain processes and more cannabinoid products are on the horizon as the industry evolves, said Angel Stanz of BG Medical Technologies.
Many questions remain about what's next for medical marijuana and the cannabis industry in general. It's unclear if the Obama administration will continue its crackdown on dispensaries, and we still haven't heard from the federal government about its take on legalization.
Regardless, it's an exciting time to be involved in the cannabis business, and the industry's potential is as great as it's ever been. The next year will bring many more changes, challenges and – most certainly – successes. We're already starting to plan the 2013 conference – which will we held in Seattle – to help you navigate this difficult landscape. We'll begin lining up speakers shortly. Sign up for our conference alerts to stay in the loop. We promise that next year's event will be bigger and better as we head into a new era for MMJ and cannabis business.