The cannabis industry descends on New Orleans to explore emerging trends at MJBizConNEXT, Oregon lawmakers pass a bill that would empower it to make agreements with other states for the transfer of marijuana, Nevada creates a cannabis control board and says no to social use licensing for now – plus other important news from around the industry.
MJ business leaders take first line in Big Easy
The cannabis industry's top executives and thought leaders flocked to New Orleans this week as Marijuana Business Daily lifted the curtain on a forward-looking conference intended to educate attendees about trends, emerging markets, investments and innovations.
MJBizConNEXT organized application-only events for executives, cultivators and extractors, with speakers including Jay Czarkowski of Canna Advisors, Kris Karlson of KO Acquisitions and Kara Bradford of Viridian Staffing.
Meanwhile, Hemp Industry Daily debuted a three-day event dedicated to hemp and CBD – a separate conference that's running in tandem with MJBizConNEXT.
MJBizDaily takeaway: Speaking about a future in which hemp and marijuana products are sold at big-box stores, keynoter Anat Baron encouraged hemp and marijuana business owners to "think about it not as something that is adjacent but as something that is mainstream."
That idea fit in well with one of the conference's overarching goals to provide MJ businesses tools to prepare for the future as the industry moves closer to mainstream acceptance and federal legalization.
Oregon preps for MJ interstate commerce
The Oregon Legislature passed a bipartisan bill to position the state to begin shipping marijuana across its borders as quickly as possible once federal cannabis reform arrives.
The measure was sparked by Oregon's cannabis supply glut, and policymakers are looking to find legal outlets so the extra product doesn't get diverted to the black market.
MJBizDaily takeaway: While the move does provide a light at the end of the tunnel for growers that haven't been able to unload wholesale cannabis at rock-bottom prices, the big caveat here is that Oregon will have to wait for the federal government to authorize interstate commerce for marijuana before the bill will have any effect.
And that wait could be years, despite the hopefulness of some state lawmakers that change could arrive quickly.
So far, not a single substantive marijuana reform bill has made it all the way through the U.S. Congress, and the most probable victories at the federal level before interstate commerce will be states' rights on MJ regulations, banking reform and other issues that don't come anywhere close to letting Oregon ship cannabis out of state.
Nevada puts brakes on social use venues
As expected, Nevada Gov. Steve Sisolak signed a bill into law creating a state Cannabis Compliance Board.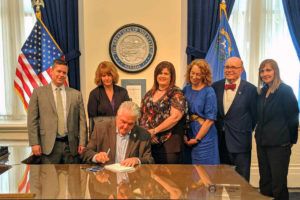 The legislation also restricted local governments in the state from licensing marijuana social consumption businesses at least until July 1, 2021, when that provision expires.
MJBizDaily takeaway: The social use ban came as particularly bad news for Las Vegas cannabis businesses that had cheered their City Council in May as it voted on an ordinance to create a new business license and land-use regulations for social consumption venues.
That could have opened up new business opportunities in Las Vegas and was expected to increase revenue for licensed marijuana retailers.
Las Vegas cannabis companies that invested a good deal of time working with the city toward the social use ordinance will now have to wait out the state ban for up to two years.
New Jersey gov calls for changes in MMJ bill
Reform-minded Gov. Phil Murphy in New Jersey has long wanted to expand his state's marijuana industry, but he's still haggling with lawmakers on just how to do it.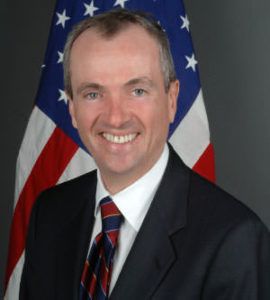 Since a recreational MJ legalization bill died earlier this year, the best hope for boosting the industry in the state might be by expanding the medical cannabis footprint.
There's a bill in the works to do so and Murphy's own administrative plan to issue more licenses directly through the state Department of Health.
The main question at this point seems to involve which of the two plans will end up enacted, and with what provisions.
MJBizDaily takeaway: This is a win-win for New Jersey MMJ business stakeholders.
Either Murphy's expansion through the health department or the state Legislature's bill would be an improvement on the current system, with more licenses and business opportunities available as a result.
Murphy is still pushing for a bigger expansion than it seems most lawmakers are comfortable with, since he wants 36 more licensed growers instead of the 23 that are so far allowed in the latest version of the Legislature's bill.
There are plenty of other details, but the high-level question is really just how good the news will ultimately end up being.
Chinese firm plans Asia's first e-commerce CBD platform
A company based in Hong Kong and backed by Nuuvera co-founder Lorne Abony and United Kingdom billionaire Jim Mellon plans to roll out an e-commerce platform to tap the growing CBD market in China.
Their company, Regent Pacific, said it is putting the finishing touches on a $15 million all-stock takeover of the online retail platform Yooya.
Initially, Yooya would start as an e-commerce, business-to-business platform connecting overseas Chinese with companies selling CBD products in the jurisdictions where they live.
After that, the company expects to establish a "significant" presence in mainland China.
MJBizDaily takeaway: This development means opportunities may be available for CBD suppliers and retailers where Yooya's consumers will be located.
Asia's fast-growing CBD market is attracting a lot of capital, so expect business opportunities as well as mergers and acquisitions to expand in countries where CBD is federally regulated.
Also, growth is going to accelerate as more CBD companies list on the Stock Exchange of Hong Kong.