By John Schroyer
Though the market for edibles has soared in recent years, many producers of infused products have had a hard time keeping up with the cost of doing business.
Edibles companies often face new expenses tied to ever-changing regulations handed down by government agencies concerned with public safety and consistency, and the price of cannabis and oils used in making infused products has risen dramatically because of increased demand.
As a result, edibles manufacturers in states with heavy regulations have some of the thinnest profit margins in the cannabis industry.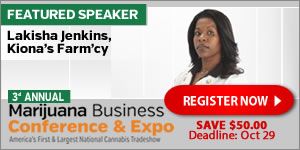 "Everybody's like, 'Oh, you're all millionaires.' No. It's the most difficult business I've ever been a part of," said Bob Eschino, co-founder of the Colorado edibles company Medically Correct, which produces the popular Incredibles line of marijuana-infused chocolate bars. "There are so many variables that need to be managed, and they change daily."
Eschino estimates that costs have risen 500%-600% at Medically Correct over the past year, in part because Colorado has implemented a host of new requirements for edibles companies.
This trend is playing out in other markets, too, as lawmakers tighten regulations on infused products.
"We've got new tags and labels. We've got new testing. We've got new child-resistant packaging coming up," Eschino said. "Costs for us are not going down. They're skyrocketing."
Against this backdrop, Marijuana Business Daily asked Eschino and Julianna Carella – co-founder and CEO of the San Francisco-based Auntie Dolores line of edibles – for some strategic cost-saving methods they've used to succeed.
Here are their top tips:
#1. Consolidate suppliers, and grow your own
Many edibles companies struggle to source the marijuana they need to make their products, and they wind up having to use many different suppliers. This increases the potential for volatility and boosts uncertainty, making it hard to control costs.
Eschino said his company has established strong relationships with a few key suppliers. "We have been able to keep them because of our volume," he said.
Eschino added that it's best to cultivate at least some of your own cannabis if possible under local regulations – despite the initial expenses of starting a grow.
Medically Correct, for instance, has established it own cultivation center that produces about 15% of the company's needs.
#2. Hire wisely

Carella is very particular when it comes to who she puts in her company's kitchen.
"You're dealing with more expensive ingredients, so the people you hire have to be more meticulous than most kitchen staff usually have to be, and that comes with a higher payroll rate," Carella said.
The key is to bring in good managers with solid experience in the food industry and a strong focus on the bottom line, she added.
"Hire very precise workers that are going to hold to your recipes and formulas and execute them in the way that is expected," Carella said.
Eschino agreed, saying that hiring the right people and investing in training can keep costs down.
"These aren't normal products," he said. "If they don't meet standards and specs, they're trash. So if you're not paying attention to all of those things, you're throwing money away."
#3. Research packaging options
Packaging regulations for marijuana-infused edibles vary by state.
But an increasing number of markets are instituting new rules that require more sophisticated packaging, which introduces new challenges and can boost expenses considerably.
Minimizing these costs requires a lot of due diligence but can be done, Carella said.
"Setting up relationships with printers early on and working on price to get a really professional packaging that is affordable is going to take some research," Carella said. "Usually there's minimums involved, so you have to weigh it out."
If you get printed bags, for instance, you might need at least 10,000 units per design type.
"If you have five products, and you want to get printed bags for all of them, you're going to usually have to buy 50,000 bags, and not all small companies are ready to purchase that many bags," Carella said.
#4. Keep an eye on ingredients
"If you're not doing that, you shouldn't be in business," Eschino said. "If you're not watching the nickels and dimes and weighing everything, you're wasting money."
Carella went even further, saying good edibles managers should keep close track of the potency ratios compared to other ingredients.
"Manage the cost of the cannabis so that you get your milligram price down to a manageable cost, so that when you're deciding how many milligrams you're going to incorporate into each product, then you haven't exceeded that cost," Carella said.
#5. Be flexible
For some companies, the profit margin is so slim that just figuring out how to keep the business afloat is the top concern.
To make it through the rocky periods, it's important to be flexible – which is true for every type of business in the cannabis industry.
"You can't predict anything in this industry, so it's more about how adaptive you can be," Carella said. "This industry, you can only go by what you think might happen. Sometimes we're right, and sometimes we're not and we have to change direction, but that's kind of what makes this fun and interesting."