San Francisco's "green zone" of medical marijuana dispensaries could be about to grow.
The city's Planning Commission recently voted to shrink the buffer zone between marijuana businesses and schools from 1,000 to 600 feet. The move could allow more businesses to open outside of the quadrant of southern and eastern San Francisco called "SoMa," where 28 businesses currently operate.
When fully implemented, the new zoning laws could allow dispensaries to open into more residential areas of the city, such as Sunset and Richmond. Advocates believe that medical marijuana patients in these areas do not have adequate access to dispensaries, and are forced to travel to SoMa for their medicine.
The rule also eliminates the ban on marijuana clubs within 1,000 feet of playgrounds and youth facilities.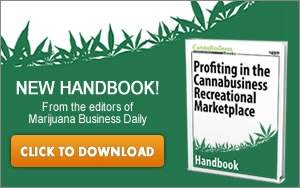 Whether San Francisco's adjustments spread to other major cities could impact the industry. The 1,000-foot "buffer zone" has become a regulatory standard, but some advocates believe the buffer is too restrictive in densely populated areas.
Advocates in Chicago, for example, believe the 1,000-foot buffer zone between shops and residential areas could push dispensaries out of town entirely.