Good news for Colorado cannabis businesses: Demand for marijuana in the state is much higher than previously estimated, according to a new report.
The Market Demand Study – released by Colorado's Marijuana Enforcement Division – estimates that adults who live in the state will consume 121.4 metric tons of cannabis in 2014, while visitors 21 and over will use 8.9 tons of marijuana.
The overall consumption estimate of 130 metric tons is 31% larger than a recent Department of Revenue assessment and 111% larger than a study conducted by the Colorado Center for Law and Policy.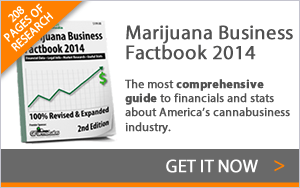 The report is based on a survey of cannabis consumers during the first three months of 2014. It covers total consumption of cannabis obtained by any means, including medical marijuana dispensaries, recreational stores, caregivers, home grows, unlicensed vendors and the black market.
Some other highlights of the study:
– Overall consumption in 2014 could range from a low of 104.2 metric tons to 157.9 metric tons.
– 485,000 residents – or 9% of Colorado's population – consume cannabis at least once a month. Another 201,000 adult residents – or nearly 4% of the population – used marijuana at least once during the last year.
– The top 21.8% of the state's marijuana users generate 66.9% of demand. By contrast, consumers that use cannabis less than once a month – which is nearly a third of total users – account for just 0.3% of total demand.
– Tourists account for 44% of recreational sales in Denver and a whopping 90% of sales in mountain towns.