Not every cop has a problem with marijuana.
In Delaware, a company headed by a former state trooper has been awarded a two-year contract to launch the state's first medical marijuana dispensary — set to open in early 2015.
The ex-trooper, Mark Lally, serves as president of First State Compassion Center, which will establish the lone dispensary currently allowed in Delaware. Lally is also a lobbyist and former Sussex County director for U.S. Sen. Tom Carper, D-Del.
The dispensary will be located at the northern tip of the state just west of Wilmington, and MMJ growing operations are set to begin this fall.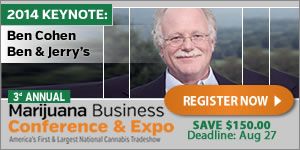 Though things are looking bright for Lally, he's still dealing with a lawsuit filed against him by a former city councilman claiming breach of contract.
Ex-councilman Judson Bennett, from the town of Lewes, alleges that he hired Lally to help him win the state contract for the first MMJ dispensary, but Lally was secretly working on First State Compassion Center.
A judge has yet to rule on the case.