Banking guidelines handed down by the Obama administration earlier this year are "having the intended effect" of encouraging more financial institutions to do business with the cannabis industry, according to a key government official.
Jennifer Shasky Calvery, head of the U.S. Treasury Department's Financial Crimes Enforcement Network, told The Washington Post that there are now 105 banks and credit unions working with state-legal marijuana companies.
It marks the first time an official has put a concrete number around cannabis banking activity.
Banks have traditionally shunned the industry because of risks tied to the fact that marijuana is illegal federally.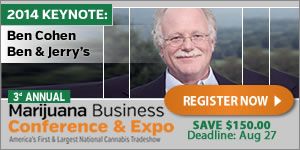 The federal government attempted to ease the situation in February by releasing guidance on how banks can work with cannabis businesses. That guidance "is facilitating access to financial services, while ensuring that this activity is transparent and the funds are going into regulated financial institutions," Calvery said.
Calvery said the banks and credit unions working with marijuana retailers are scattered through more than a third of the country, but she declined to name the financial institutions.