When Los Angeles passed a measure banning most dispensaries in the city last spring, the few MMJ centers allowed to remain open expected to see rapid growth, increased pricing power and a more stable business climate.
But none of the expected benefits of the new law – called Proposition D – have materialized. If anything, these dispensaries are in a worse position than before the measure passed.
The reason: Only a handful of their illegal competitors have closed due to sporadic enforcement. In fact, new ones are opening every day, and some of those forced to close simply open up days later elsewhere.
At the same time, many dispensaries allowed under the law have been forced to relocate, spend tens of thousands of dollars to modify their new space and then rebuild their patient base all over again in another part of the city to comply with the new regulations – steps their competitors haven't taken.
It's a sobering lesson for cannabis entrepreneurs. Legislative wins don't always turn out as expected, and in some cases they can backfire.
"Honestly, I'm experiencing huge depression," said Yamileth Bolanos, who runs a dispensary in Hollywood and is president of the Greater Los Angeles Collective Alliance (GLACA), a group of dispensary owners that lobbied in favor of Prop D. "I was so excited after the law passed. I felt like we deserved to stay open, not all these other dispensaries that popped up and set bad examples in the community. But nobody is closing. The city isn't doing squat about it, and my business is suffering."
Limited Enforcement
Voters passed Prop D in May, with the city pitching it as a way to rein in an industry that had experienced rapid growth in an unregulated market.
Under the measure, only about 135 dispensaries that registered before a 2007 moratorium took hold can stay in business, provided they are not within 1,000 feet of schools or 600 feet of other dispensaries and parks. They also must abide by restrictions on operating hours and pay a higher tax on medical cannabis sales.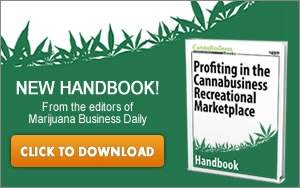 All other dispensaries are deemed illegal under the measure and must close.
The city has trumpeted several efforts to enforce the new rules since the law passed, in some cases targeting dispensary owners and in others going after landlords.
But officials have actually only forced about 70 dispensaries to close so far. While some other dispensaries shut down on their own to avoid legal troubles, most did not. That means at least 700 – possibly more – illegal shops are still open.
"What happened is that we're really trying to put a band-aid on some crazy open wound, and it's not big enough to stop the bleeding," said Adam Bierman, who runs the consultancy MedMen. "Prop D as a concept is half decent, but there's really no way to enforce it. "
Big Business Headaches
Legal dispensary owners are facing huge challenges:
– Many have had to scramble to find new storefronts to comply with the location restrictions, which can cost a lot of money and disrupt business. Buds and Roses, for instance, spent upwards of $50,000 finding a new building, renovating the space and moving, owner Aaron Justis said. While these dispensaries knew they would have to move when they voted for Prop D, it's been immensely difficult because their competitors haven't closed as expected.
– There are very few available, compliant spaces that aren't too close to schools or parks. Some dispensaries therefore had to move far from their original locations, meaning they had to rebuild their patient base in a completely different part of the city. Bolanos, for instance, had to relocate to a building five miles from her initial store. Most of her long-time patients can't make the commute and have sought out closer alternatives.
– A fair share of illegal dispensaries are operating in some of the only available space in the city that legal centers can move to under the new law. Some have been taking advantage of the situation, offering to give up or transfer their lease to desperate legal dispensaries for as much as $150,000.
– Many of the dispensaries open before the 2007 moratorium have since closed. The owners still hold the piece of paper that gives them the right to continue operating, and that certificate has become extremely valuable. Some of these former owners entered questionable deals to reopen with partners or to effectively transfer the license to someone else, in some cases operators of illegal centers.
"It has been very, very frustrating for the Measure D clubs, which have gone out of their way to be in complete compliance, and it has cost them a pretty penny," said Sean Donahoe, deputy director of the California Cannabis Industry Association. "Keep in mind that many of these (Prop D) folks raised significant campaign funds to win at the ballot box, anticipating that their…competitors would be swiftly shut down."
Preparing for the Long Haul
Dispensary owners say they have tried to alert city officials to illegal operations, attended council meetings and take other actions to help get illegal dispensaries to close, to no avail.
Many are now preparing to do business in these conditions for the long haul, hoping that California legalizes recreational cannabis and sets up a completely new framework. Others are hoping state lawmakers finally push through comprehensive MMJ business regulations, though they have failed to multiple times in the past when given the opportunity.


Some owners are turning to their communities for help.
Justis, of the dispensary Buds and Roses, is attempting to get his neighborhood council to help identify these dispensaries and then pressure city officials to close them down.
He is somewhat optimistic that the city is starting to step up enforcement.
"In some cases officials are going after the real estate agents, which I see as a good sign," Justis said. "Real estate agents are part of the problem, because they are helping these owners find new locations, even though it's illegal.
Even in a best-case scenario, however, the situation will likely remain unstable until the state either legalizes marijuana or approves MMJ regulations.
"I honestly think we'll be back where we were last year for the most part," Bierman said. "There will be selective enforcement based on bad actors and complaints, but otherwise it will be business as usual."