Taxing recreational marijuana sales is a tricky business, as a Denver judge pointed out in an initial ruling against activists who contend that having to pay taxes on a federally illegal substance is unconstitutional.
The activists, represented by longtime cannabis attorney Rob Corry, argue that paying taxes on recreational marijuana in Colorado is a violation of the Fifth Amendment and the right to protection from self-incrimination, given that the federal government still has marijuana listed as a Schedule I narcotic.
Denver District Court Judge John Madden disagreed – at least for now.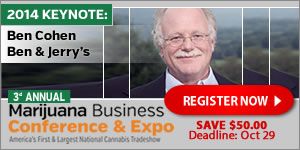 He denied the advocates' request for an injunction, which means tax collections on recreational cannabis sales will continue. But the case will go on, and Madden will hear further arguments in the coming months about the overall constitutionality of the taxes.
Colorado has a 10% marijuana sales tax on top of the standard 2.9% sales tax and a 15% excise tax.