Nevada's recreational marijuana sales have largely recovered, having slumped in the spring from some of the strictest coronavirus shutdown measures in the nation and dwindling numbers of tourists visiting Las Vegas.
Industry officials link the rebound to robust demand from local residents and improved business practices that arose as a necessity during the shutdown, including online ordering and discounts.
At the same time, purchases of flower have picked up and now account for a larger portion of overall sales, reflecting local consumer preferences and a shrinking tourist base.
The sales recovery stands in marked contrast to March and April, when the COVID-19 pandemic halted travel to a tourist market that received nearly 50 million visitors last year. In-store marijuana sales were banned.
By May, however, Nevada's adult-use retail sales resumed growing, thanks to looser in-store restrictions. And by June, sales returned to year-over-year increases, even though tourist traffic remained down.
By August, sales hit $62.8 million – more than double the level recorded in April.
"The retail stores were shut, but our retailers were able to find innovative and safe ways to serve customers," said Layke Martin, director of the Nevada Dispensary Association. "After that initial slump, things are doing OK."
In fact, the market's resilience through the pandemic has spurred Marijuana Business Daily to revise its projection for recreational sales for 2020 upward, to $600 million to $675 million. That's flat to slightly higher than 2019.
The original 2020 forecast called for $475 million to $625 million in sales.
Initial sales slum – now optimism
Here's how the sales numbers played out for the first months of the pandemic, according to state tax revenue reports, with percent change from the previous month followed by the percent change from the same month in 2019:
March: $41.7 million, -10.2, -22.2%.
April: $30.1 million, -6.3%, -21.1%.
May: $46.1 million, 18.1%, -9%.
June: $56.5 million, 22.5%, 7%.
"The data reflects that, after the shutdown, we saw a slump in March, April and May," Martin said.
The first state-mandated shutdown rules implemented in March allowed delivery-only sales, which killed foot traffic to stores and froze sales.
Then, curbside was allowed at the beginning of May, which helped a little but not enough to replace in-store sales.
When in-store sales resumed May 9, capacity was limited to only 10 shoppers at once or 50% of allowed occupancy based on fire code, whichever was a smaller number.
Now, the state allows a store to operate at 50% capacity.
To adapt to a sudden lack of visitors, cannabis businesses pivoted to cater to local shoppers through promotions, sales and loyalty programs.
The other sales tools the companies developed – delivery, curbside, online ordering – have also helped boost revenue.
Mark Russ, president of the western region for multistate cannabis company Curaleaf, agreed the Nevada market was one of the worst hit by coronavirus regulations.
"It kind of shocked us they went to the extremes they did shutting down the whole industry," he said.
But overall, Curaleaf is "very optimistic about Nevada."
The company has two stores in Las Vegas and recently opened its third store in Eli, Nevada.
"We expect next year to a be a growth year (in Nevada), and not a small growth," Russ said.
Aggressive pivot
For an operation such as Las Vegas' Planet 13, the first round of shutdowns could have been crippling.
The company is vertically integrated, with a 112,000-square-foot facility that Planet 13 claims is the "world's largest dispensary."
David Farris, vice president of sales and marketing, said when Planet 13 received short notice it had to shut down the sales floor, the company "pivoted aggressively to the online ordering systems we had put in place."
Planet 13's approximately 300 employees, many of whom were helping with the retail operation, transitioned to help with customer service, filling orders and other jobs.
The company expanded its delivery fleet to roughly 30 vehicles.
Despite the nimble response, the bulk of the company's customer based disappeared overnight. According to Farris, before the outbreak, about 90% of its business came from tourists.
That's mostly been replaced by local shoppers, and the average ticket amount has remained around $110-$120, which Farris says is strong.
The company runs a "We Love Locals" campaign that offers a daily deal or discounts of 20%-30% off some products.
Even without the tourists, Farris is bullish on the market.
"We're very happy with what we're doing currently," he said.
The company has added 40 new points-of-sale and an expanded retail floor that now totals 23,000 square feet.
Another pivot
The Source, a Las Vegas-based vertically integrated cannabis company, rode the same roller coaster as its rivals.
Shoppers started stocking up in March and there was a surge in buying, but that fell off, according to Brandon Wiegand, regional general manager for the company.
Wiegand said the business "limped back to normal" after the shutdown period. He described the first few months of the shutdown as "tumultuous, sporadic and challenging."
During survival mode, the company furloughed 95 employees.
"We shut down anything that wasn't crucial to keeping the store operational," Wiegand said, with the remaining employees working to keep the business running so those furloughed workers could come back.
When cannabis was allowed to be sold curbside, his team shopped at mainstream companies to see how they were conducting business.
That clearly helped.
"We're coming out of the woods," Wiegand said.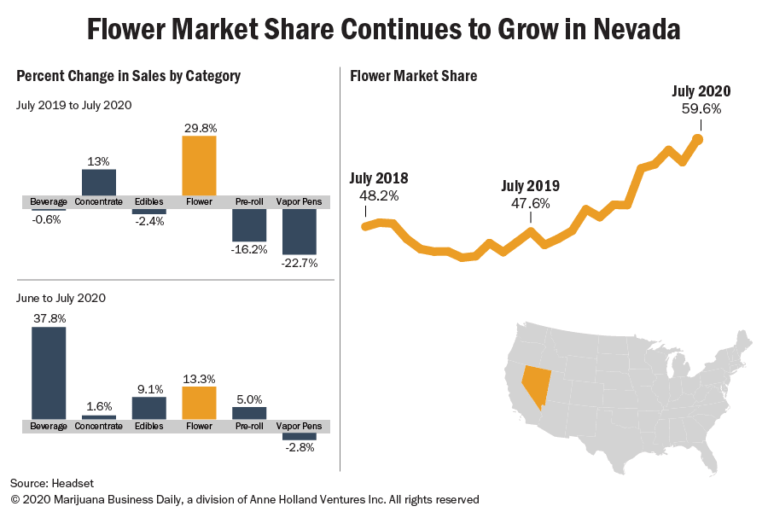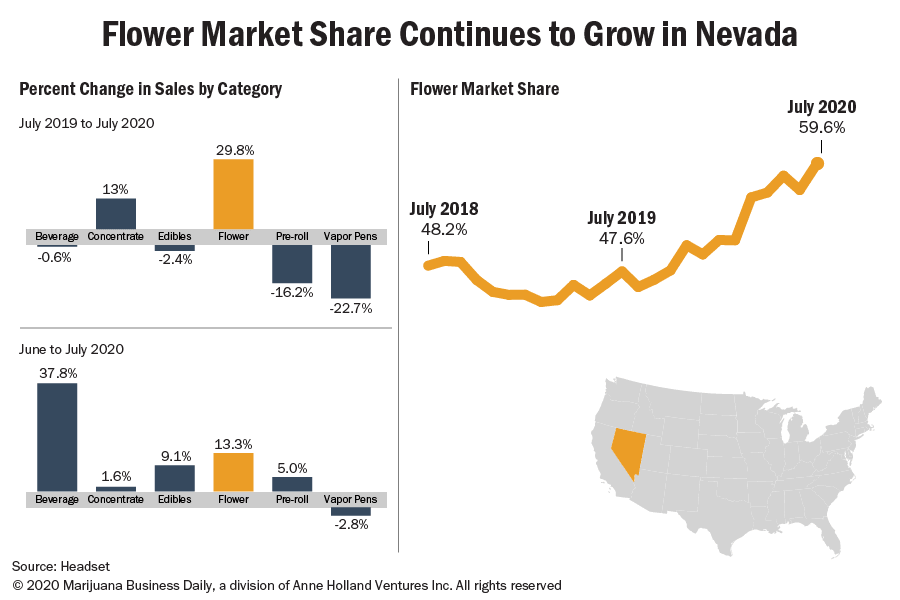 Changing customer preferences
Meanwhile, customer product preferences in Nevada have been changing amid the pandemic.
Flower purchases as a percentage of overall sales are on the rise, reflecting the increasingly local customer base.
According to Headset, flower sales in July 2019 made up 47.55% of the market and increased 12 percentage points to 59.59% by July 2020.
A couple of theories explain this:
Tourists visiting Las Vegas preferred to buy more discrete cannabis products such as edibles or vape pens, because consumption is banned in hotels and casinos, and smoking flower is easy to detect. Locals don't have that problem, however.
With people avoiding gatherings because of COVID-19 concerns, the need for discrete products is diminished, and flower is viewed as a high-value product that locals can consume easily at home.
At Planet 13, Farris reports consumers are purchasing more flower, which he attributes to locals' different consumption habits.
And at The Source, Wiegand said his business has always been focused on a local customer base, so it hasn't had to pivot as hard as other cannabis companies that relied more on tourism.
But the store did offer specials and deals for people in the community, including $100 ounces of flower.
Right now, a pound of flower on the wholesale market is selling for around $1,000-$1,600 for lower quality.
On the higher end, a pound of flower sells for $3,000 or more. That's a couple of hundred dollars more than last year, according to Wiegand.
"Flower has always been king," Wiegand said. "But it became more of a king."
Bart Schaneman can be reached at barts@mjbizdaily.com.