This weekly series from Marijuana Business Daily and Viridian Capital Advisors provides the latest data on cannabis investment activity and M&A, along with key takeaways, analysis and trends based on recent market moves.
The data below, provided by Viridian Capital Advisors, is through the week ended Jan. 11.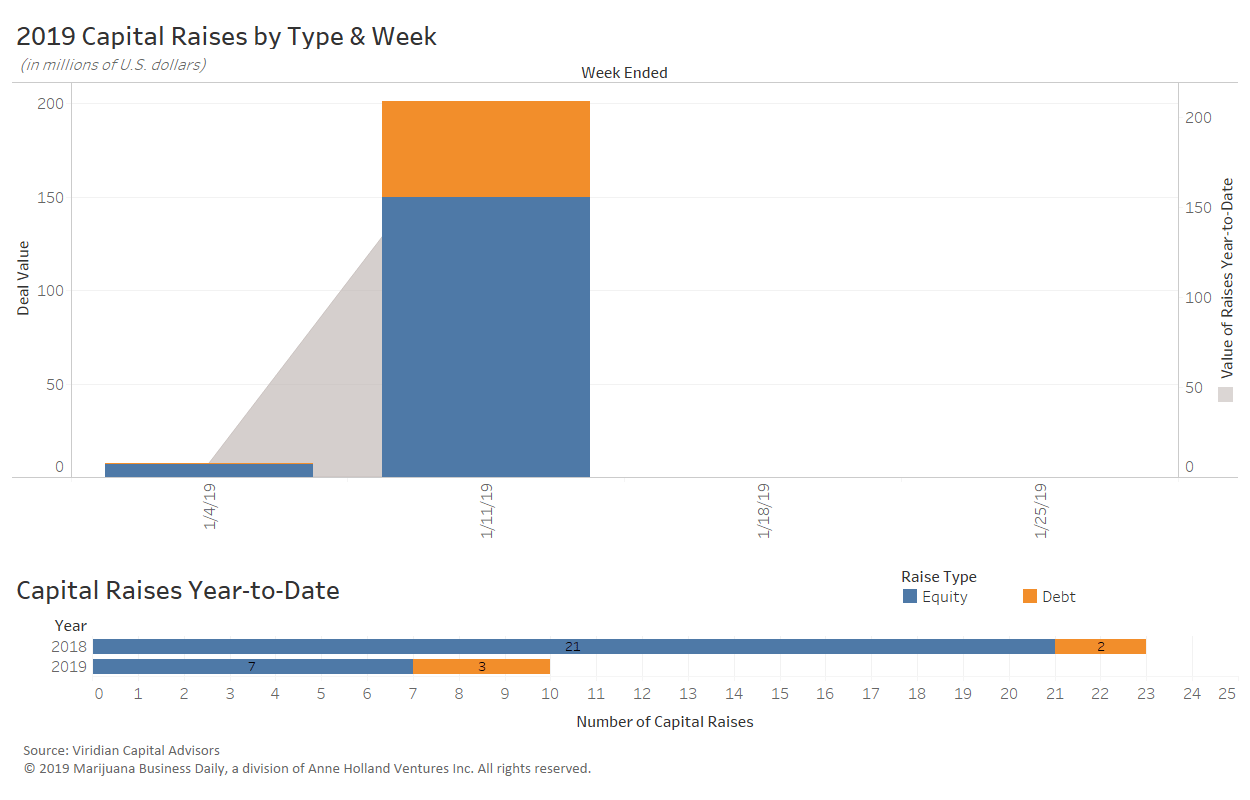 Key takeaways among capital raises:
Newly launched Treehouse Real Estate Investment Trust completed a $133 million raise – capital the venture plans to use to purchase properties from MedMen Enterprises (Nasdaq: MMNFF; CSE: MMEN) and lease back to the multistate operator. Treehouse is a collaboration between MedMen and California-based investment firm Stable Road Capital. MedMen, which currently operates 16 stores and three cultivation and processing facilities, plans to use the proceeds from property sales to help fund a national build-out. That potential footprint includes 76 retail licenses and 16 cultivation and manufacturing licenses in 12 states. "Slowly, but surely, we're seeing more and more money being deployed into real estate vehicles to help aid the build-out of these multistate operators' footprints," said Harrison Phillips, vice president with Viridian Capital Partners.
Seattle-based marijuana data and analytics provider Headset raised $12.1 million for expansion, with Canadian marijuana giant Canopy Growth Corp. (TSX: WEED; NYSE: CGC) acquiring a key stake. Toronto-based Canopy Rivers, the venture capital arm of Canopy Growth, invested $3.1 million in preferred shares through a funding round led by San Francisco-based Poseidon Asset Management and AFI Capital Partners of Santa Monica, California. "Having actionable data is key for companies as the industry becomes more and more competitive and margins get lower," Phillips said. "Operators are going to have to find operational efficiencies to recapture those margins, and having good data on sales and operations will be critical."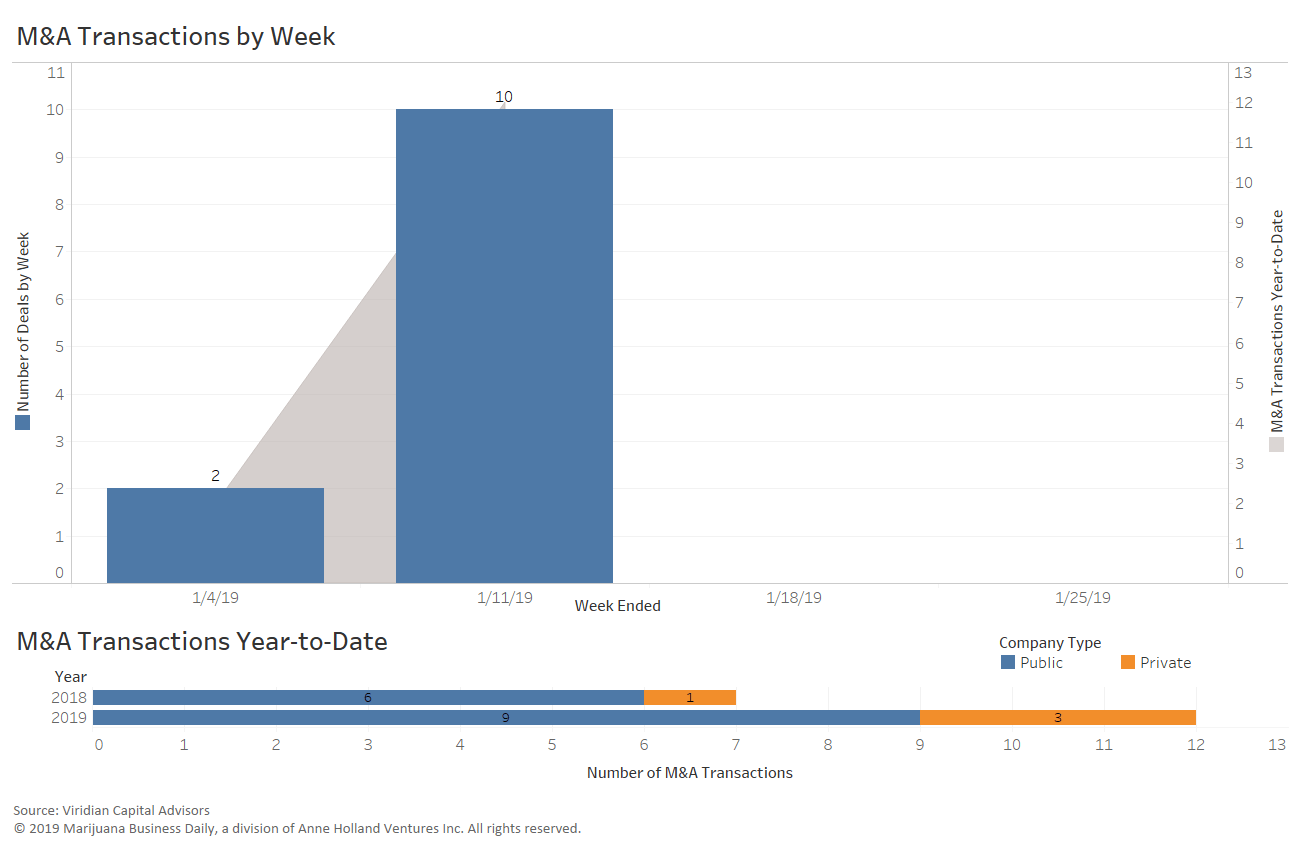 Merger & acquisition highlights:
Canadian licensed producer Aphria completed its acquisition of CC Pharma, an importer and distributor of pharmaceutical products – including medical cannabis – to more than 13,000 pharmacies throughout Europe. The deal boosts Aphria's medical supply chain in Germany – a key market that Canadian operators are targeting. "We expect to see more and more of these deals happening, as a large part of the Canadian producers' valuations have been based on their ability to scale globally," Phillips said. The deal is also a signal that Aphria "is actively distancing themselves" from the fallout of a recent short attack and separate hostile takeover, Phillips added.
Auxly Cannabis Group closed a $15 million deal to acquire an 80% stake in Inverell S.A., a licensed cannabis producer in Uruguay. The deal provides Auxly with a low-cost source of cannabinoids, including CBD, for global distribution.
Viridian Capital Advisors is a financial and strategic advisory firm that provides investment banking, M&A, corporate development and investor relations services to emerging growth companies and qualified investors in the cannabis sector.