How much revenue does the average dispensary generate?
Every entrepreneur looking to start a medical marijuana center asks that question early on in the due diligence process, but the answer is often elusive given the lack of industry data.
As a result, most look to Harborside Health Center to get an idea of what's possible in this industry. The California-based dispensary – one of the few MMJ operations to reveal financial data publicly – claims it generates more than $22 million in annual revenues, making it one of the largest cannabis centers in the nation from a sales perspective.
Impressive, for sure. But most dispensaries don't come close to those figures.
Nearly 60% of dispensary owners who responded to a recent industry survey said they take in $500,000 or less in annual revenues, according to first-of-its-kind data in the newly released Marijuana Business Factbook, published by MMJ Business Daily. A fair share (27% of all respondents) reported sales of between $100,000 and $250,000, while 15% said they bring in less than $100,000 a year.
Those numbers may sound surprising to newbies, and they certainly fly in the face of the media's representation of the industry. But they reflect the reality of the situation: Opening a dispensary is not necessarily a route to quick riches.
The good news is that if you put in the hard work, follow local regulations and implement best practices, the potential is indeed sky high. More than a quarter of dispensaries in the survey reported annual revenues of more than $1 million, and another 15% said they generate between $500,000 and $1 million.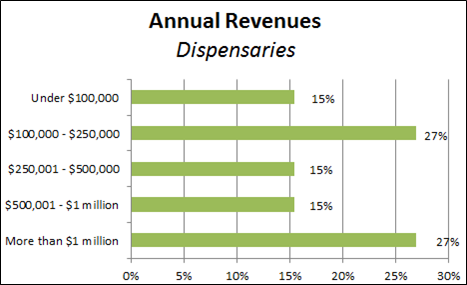 Dispensaries at the top end of the spectrum often have thousands – or even tens of thousands – of loyal patients, professional packaging and tested products, a dozen or more employees and multiple locations within one state.
Dispensaries on the lower end (less than $100,000) typically are mom-and-pop shops or tiny storefronts in rural areas where the market is small. These dispensaries often have just a few hundred customers and are staffed by the owner and maybe a part-time employee or two.
How big a dispensary gets from a revenue perspective depends on many factors, including local regulations, plant limits and permitting and licensing requirements (the higher these are, the larger dispensaries usually are). Additionally, it depends on the intentions of the owner. Some entrepreneurs prefer to fly under the radar given the industry's shaky legal status, so they keep their dispensaries small to avoid unwanted attention and scrutiny.
The findings are part of a larger survey of MMJ business owners conducted online in January. More than 130 cannabis executives – including those who run dispensaries, cultivation operations, edibles companies and ancillary firms – responded to the survey. Given the sensitivity businesses have when it comes to their own financial data, MMJ Business Daily did not require respondents to provide names or any other identifying information.
Click here to get your copy of the entire 180-page Marijuana Business Factbook 2013, packed with exclusive financial, legal and market research data for cannabis professionals.