By Becky DeKeuster
Vertical integration is terrible for our industry.
It leads to enormous burdens during the startup phase, creates mistrust between small farmers and the retail outlets that cannot accept their product, and limits client selection and strain diversity.
This was going to be the focus of my column, based on our experiences in a 100% vertically integrated market here in Maine. But a funny thing happened as I started to organize my thoughts for this piece: I realized that vertical integration is actually a pretty good model.
In recent years, several MMJ states have adopted laws that require vertical integration, forcing dispensaries to grow and process all or most of their own cannabis rather than buy it wholesale.
I initially intended to focus on all the perceived barriers to success resulting from vertical integration and the sheer folly of asking one company to simultaneously and instantly become an expert at a host of essentially unrelated tasks. Then, before you knew it, I'd have a definitive takedown of vertical integration that would strike fear (or reason) into the hearts of regulators nationwide.
But the more I wrote, the more began to see that the issues I was describing were not exclusive to medical cannabis – they are part and parcel of any regulatory model that demands vertical integration. These issues also are not insurmountable, especially to operators who understand the value of learning from those who have gone before them.
And, as I discovered while trying hard to write about how terrible vertical integration is, there are some exceptionally good reasons for states to adopt this model, at least in the early stages.
Brand Ownership and Controlling Your Own Destiny
As a single owner responsible for every facet of your business you have the opportunity to build a brand that reflects your personal values. You can operate in such a way that customers will come to believe in you and trust your product. You can direct the culture of your company, making the key decisions that will best take your business in the desired direction.
It also provides opportunity for personal and professional growth, helping to clarify when to take charge and when to delegate. Overcoming the challenges of learning all aspects of day-to-day operations, from cultivation through testing and to point of sale, can be immensely rewarding.
Building a Relationship With Clients
Interaction with clients is exciting and gratifying. Demonstrating your personal expertise puts clients at ease and develops trust in you and your product.
The result is that customers who aren't simply satisfied, but who are sincerely happy to be working with you. Vertical integration allows you to track an SKU (stock keeping unit) from point of sale back through every step of the process to identify and eliminate problems in any phase. Through you, clients can meet any staffer involved with their meds from seed to sale.
Employee Engagement
Surround yourself with employees who exude a positive attitude and who value collegiality and a team first concept.
Since it's unlikely that you'll start out as an expert on all things cannabis, you will need a management team composed of authorities in all applicable areas. For starters, you'll need an agricultural expert to oversee the cultivation of the plants, a scientist with expertise in the various methods of botanical extractions and a baker who can infuse the oils, waxes and other elements taken from the bulk plant materials into consumables. This provides you with total quality control and the shared experience and expertise of your staff will manifest itself in team bonding toward a shared goal.
You will also enjoy the flexibility to move employees laterally in the company if they show an interest and aptitude for a phase of the operation for which they were not originally hired. All staff will gain a deeper understanding of each aspect of the business.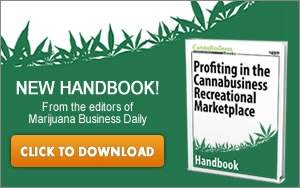 Vertical integration is an appealing option for legislators as it offers one-stop regulation, easier tracking and tighter regulatory oversight at each point along the product's life.
There may come a point where vertical integration ceases to be more beneficial than not for business owners and clients. Perhaps the VI model won't survive legalization, in the same way that most wineries no longer grow their own grapes.
But if you are entering – or find yourself in – a vertically integrated market, know that it won't be easy and it may not last; but it also won't be terrible—and it will definitely be worthwhile.
Becky DeKeuster is director of community and education at Wellness Connection of Maine.