LAS VEGAS – From a Dutch cultivator of medical cannabis to one of the handful of retailers to open for Canadian Legalization Day, Marijuana Business Daily recognized leaders of the hemp and MJ industries Thursday night during the inaugural MJBizDaily Awards gala at The Cosmopolitan Hotel.
Setting the stage for the new awards program, MJBizDaily inducted two industry pioneers, Wanda James and Steve DeAngelo, as the first members of the MJBizDaily Awards Hall of Fame.
James has been active in the marijuana sector since 2009, when she became the first black woman in Colorado to own a licensed cannabis dispensary. Today, she is CEO of the Simply Pure dispensary in Denver and founder and president of a marketing and consulting firm, Cannabis Global Initiative.
A former Navy lieutenant, James has actively worked to get court-ordered sentences for marijuana possession dropped.
"This industry is changing," James said during her acceptance speech, "and there is enough to go around for everybody.
"We have to make sure that our corporations are including people, that we are including women, that we are including vets and we are including people of color – because we went to jail for this plant."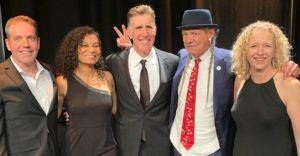 DeAngelo is a pioneering cannabis entrepreneur, activist and author referred to as "the father of the legal cannabis industry" by former California Assembly Speaker and San Francisco Mayor Willie Brown.
DeAngelo co-founded some of the industry's most well-known entities – Harborside, Steep Hill Laboratory, The Arcview Group and the National Cannabis Industry Association – and successfully fought the U.S. Department of Justice's attempt in 2011 to shut down California's medical cannabis dispensaries.
DeAngelo also is founding board member of the Last Prisoner Project, a group working to free people imprisoned for cannabis and get their records expunged.
"This is a wonderful honor to get; it took an army of thousands to get to this place," DeAngelo said.
"Our mission – the mission that we started decades ago – is not going to be finished until every single human being who needs cannabis on this planet has it and every single cannabis prisoner is free to come home."
This summer, MJBizDaily asked its readers to nominate trailblazers in a number of categories. The editorial staff whittled the list of nominees, and a panel of industry judges voted on the winners.
Judges for the U.S. Market Leader Awards were charged with selecting companies utilizing innovations and unique approaches to expand the industry.
The winner in the Cultivation category was East Fork Cultivars.
Brothers Nathan and Aaron Howard founded East Fork Cultivars in 2015 to help their oldest brother tackle a wide range of medical conditions.
Today, the Takilma, Oregon, company is an industry thought leader that is breeding and growing CBD-rich cultivars to improve quality of life for its customers.
Colorado-based Wana Brands took top honors among companies in the Infused Products category.
Wana currently has products on shelves in seven states. Since January, the 9-year-old company has grown its product suite beyond infused gummies to include a line of disposable vaporizers, extended-release capsules, 5-milligram chewable tablets and a rapid-onset tincture.
Tops among the market leaders in the Retail category was Planet 13, which accounts for nearly 10% of all Nevada dispensary sales.
Planet 13 is as much an experience as it is a retailer. In addition to carrying more than 450 products, the Las Vegas superstore is outfitted with LED installations controlled by patrons.
Judges in the Hemp Game Changer category were directed to select a company that demonstrates outstanding innovation and development.
The winner, Front Range Biosciences, is in the process of adding a tissue culture laboratory and research facility in California, and its Clean Stock program was created to reduce the need for pesticides and soil depletion.
Dubbed "The Queen of Legal Weed" by Inc. magazine and "The Martha Stewart of Edibles" by Entrepreneur, Nancy Whiteman picked up a second honor as the Industry Impact Award winner.
Whiteman co-founded Wana Brands in 2010, and the company has since expanded the No. 1-ranked edibles brand from its Colorado base to cover Arizona, California, Illinois, Michigan, Nevada, Ohio and Oregon, with plans to move into Florida, Maryland, Pennsylvania and Canada. (Listen to Whiteman on the just-released News & Views podcast.)
"This is amazing, and I couldn't be happier," Whiteman said at the awards gala.
Asked for her predictions for 2020, the award winner told MJBizDaily: "I think we're going to see growth in existing markets, but we're going to see really explosive growth in some of the newer markets, and I could not be more thrilled for this year."
The winners in the Regional Game Changer categories have demonstrated true innovation and pushed boundaries, all while showing strong business performance.
Each of these game changers has expanded its business in the past year and influenced policy and rulemaking at all levels.
Receiving the most votes among U.S.-based companies was Chicago-based Cresco Labs, which employs a consumer packaged goods approach to its products. The company has offices in 11 states and 400 employees.
James Beard Award-winning chef Mindy Segal is at the helm of Cresco's infused edibles creations, and the company recently streamlined its multistate retail outlets to provide shoppers with a consistent experience nationwide.
PharmaCielo, the winner representing Latin America, was the first Colombian firm to receive a license for the cultivation of cannabis. The company trades on the Toronto Stock Exchange and has more than 20 proprietary strains under license by the Colombian government.
The company's 1.2 million square feet of open-air greenhouse is capable of producing more than 5.6 million kilograms of cannabis flower per year.
Bedrocan, the game-changer winner covering Europe, the Middle East, Africa and Oceania, is a producer of pharmaceutical-grade medicinal cannabis used by patients worldwide.
The company is the exclusive provider to the Dutch Office of Medical Cannabis, which supplies domestic pharmacies and exports Bedrocan's standardized products to countries across Europe as well as the Middle East and Australia.
The Canadian winner, Fire & Flower, was the first cannabis company to be listed on the Toronto Stock Exchange.
The company has more than 30 stores in the provinces of Alberta, Ontario and Saskatchewan.
Fire & Flower announced in July an investment of nearly $26 million from North American convenience-store giant Alimentation Couche-Tard, which has more than 16,000 stores worldwide.
The Community Impact Awards celebrate the businesses that make a difference not just for themselves but their communities as well. The winners in this category provide a working example of the value good corporate citizenship.
Since its founding in 1999 by a group of HIV/AIDS and cannabis reform activists, Berkeley Patients Group, the winner in the Giving Back to the Community category, has been a regular contributor to organizations that work to improve the lives of consumers, including some that provide free cannabis to low- and no-income patients.
The company also has been involved in countless local and state policy initiatives.
Sustainable Business Practices winner Native Roots is altering its cultivation program to minimize the amount of soil used for growing each plant.
The Colorado-based company is adopting new gram and eighth containers made of fully recyclable material; these packages also contain an enzyme that allows it to break down in landfills if not recycled.
Kate Lavin can be reached at katel@mjbizdaily.com