Steve DeAngelo offered a long list of practical business advice Thursday morning at the National Marijuana Business Conference. DeAngelo touched on a wide range of business topics, offering advice on how to advance pro-marijuana politics in non-friendly states as well as how to lure investors. He predicted California to legalize recreational cannabis no later than 2016.
He advised business owners to get GPS devices for their vehicles, a functional inventory control system for their shops and good insurance. He advised businesses to step into pro-legalization advocacy roles within their local communities. For business owners in restrictive states, DeAngelo advised owners to seek out political help from advocates on the far right.
DeAngelo, owner of Harborside Health Center in Oakland, California, also preached a message of compliance and transparency to cannabis business owners. In lieu of the industry's tremendous growth, business owners are still being scrutinized by law enforcement, the media and the general public. "Be squeaky clean," he said. "We're going to have a magnifying glass on us for the foreseeable future."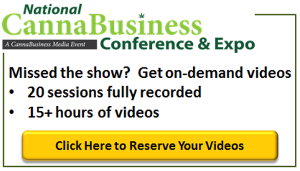 DeAngelo said the clean image will help accomplish all areas of business growth, from securing real estate deals, to earning operational licenses and attracting investors. The increase in attention from local and national media has also put pressure on the industry to follow the rules. But that's not a bad thing for business, he believes.
"Invite media attention," DeAngelo said. "Figure out what you're going to say to the cameras in seven words or less. What is your story? What sets you apart from other businesses? You need to say something about your story, your plant or your vision."
Investors, DeAngelo said, not only want to see a clean image from a cannabis business, they also want to see that a business owner has laid out a clear strategy for the stages of business growth.
"You're not going to grow your business out of your regular cash flow as quickly as the opportunities are going to present themselves," DeAngelo said. "Plan for rapid growth."
The growth the industry has experienced is not going to slow down, DeAngelo cautioned, so business owners should prepare themselves for sudden shifts in the market caused by new legislation and technological shifts. DeAngelo believes the infused products offers the best market for innovation and growth, alongside smoking paraphernalia such as portable vaporizers. But the new technology and legislation puts a premium on specialization within the industry.
"There are more opportunities available in the cannabis industry than it is possible for any one person to exploit," DeAngelo said. "The key to success is going to be choosing a niche for your business."