Cannabis sales in 2021 were expected to be muted, relative to sales in 2020, but instead, transaction volume from new consumers supported unexpectedly high growth rates early this year.
Last year, the cannabis industry experienced multiple unique sales accelerators, and those catalysts have carried into 2021.
2020 started with Illinois and Massachusetts, ranked Nos. 5 and 15 in state populations, respectively, kicking off their first full year of recreational sales. In addition, the total number of retail stores and dispensaries in the United States grew nearly 21%, according to Cannabiz Media.
In March, while the pandemic gained steam and unemployment peaked, consumers flocked to cannabis retail stores and dispensaries. Cannabis presented an opportunity to test new products that could help users cope with the trauma of the situation.
The pandemic also drastically improved consumers' buying experiences. Most retailers implemented live menus, which allowed new consumers to view and choose inventory at their own pace rather than in a rushed transaction as many often experience during a first visit.
Delivery legislation also accelerated in many states, simplifying the buying effort to a few clicks.
By the end of the year, sales had increased 48%, or $6.9 billion, the highest dollar increase in U.S. industry history.
In 2021, we are forecasting new dispensaries to be less than half of last year because of slow legislation and shakeouts in competitive markets such as Oklahoma. In addition, with the lifting of coronavirus-related restrictions and consumers returning to work, we anticipated growth to slow or at best remain flat.
Instead, countrywide growth has maintained through 2021. Mature markets such as Colorado, Oregon and Washington state are averaging 26% year-over-year sales growth; at the same time, newer states such as Illinois, Massachusetts, Michigan and Pennsylvania are averaging 136%.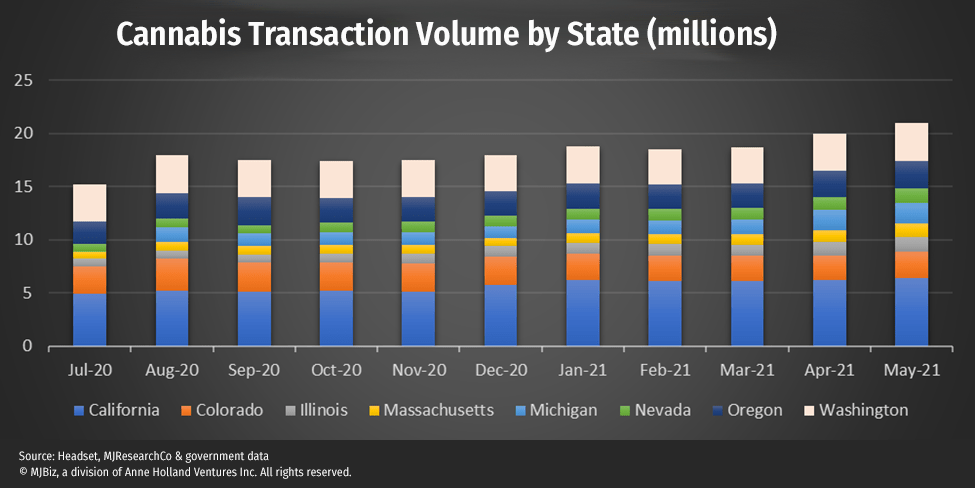 Our research reflects these increases are due to more consumers shopping for cannabis rather than existing customers buying more. While average basket size, or the spend per transaction, has fallen roughly 0.5% in 2021, the number of transactions increased 15-20%.
This is encouraging for the cannabis industry because it means visits from new customers are offsetting the inevitable pricing pressure on cannabis products. Most importantly, it means the sales spikes we saw during the pandemic sparked a sustained growth trend, rather than an anomaly of one-time consumers.
– Mike Regan and Colin Ferrian of MJResearchCo. They can be reached at mikeandcolin@mjresearchco.com.
Deal of the Week / In partnership with Viridian Capital Advisors
Hydrofarm deals signal wake up in ag-tech
Last week, Hydrofarm Holdings Group (Nasdaq: HYFM) closed its acquisition of House & Garden, Humboldt Wholesale, Allied Imports & Logistics and South Coast Horticultural Supply (collectively "House & Garden").
Consideration of approximately $125 million was paid in cash, using a portion of the $326 million from the company's May equity raise. The purchase price represents approximately 2.3X House & Garden's projected 2021 sales and less than 7X projected 2021 adjusted EBITDA.
Looking at the equity raise and acquisition together, we find the deal to be 46% accretive in terms of EBITDA per share:


With such transactions available to the company, it is no wonder that Hydrofarm is in acquisition mode – and it is not alone. Although Hydrofarm has been the largest capital raiser ($326 million of the $528 million raised to date), it is a distant second in the M&A game. GrowGeneration has been the buyer in eight of the 13 deals so far this year; Hydrofarm completed only two. However, we expect to see more of Hydrofarm's cash put to work in additional acquisitions in the balance of the year.
The agriculture-technology sector is a small segment of the overall cannabis industry. We track only 22 companies in this sector out of the 364 public companies included in the Viridian Value Tracker. The total market cap of the sector is approximately $15.5 billion relative to the $137 billion for the total cannabis industry.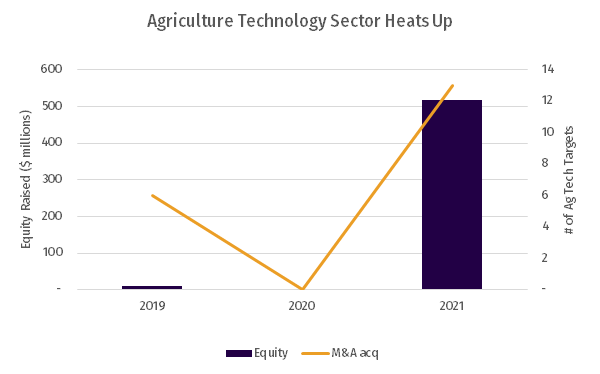 Furthermore, with regard to capital-markets activity, this has been a relatively sleepy sector with no equity raises in 2020. But the sector is waking up and has registered record equity capital raises year-to-date as well as a record number of M&A transactions with sector participants as targets. Total equity raised year-to-date of $528 million is still a small number relative to the $4.8 billion raised by the cannabis industry, but we believe this is a harbinger of greater activity to come.
Agriculture-technology companies produce and sell products that help cultivators increase the yield and quality of their production. So it makes sense, with huge new cultivation capacity coming online in newly opened states, that agriculture technology companies sales will accelerate.