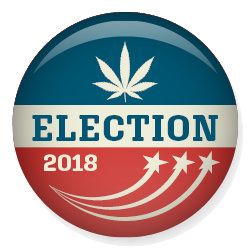 The vast majority of at least 94 cannabis-related local ballot measures in California were either approved easily by voters or appeared headed to victory after Election Day 2018, a development that is expected to be a boon for marijuana entrepreneurs looking for new markets.
Just 15 of the 94 were defeated at the ballot box, with most of the initiatives approving new marijuana business taxes.
Approval of these types of measures are closely watched by cannabis entrepreneurs because industry watchers say:
Many of those tax measures are likely the first step toward establishing business licensing processes and regulations within the marijuana industry.
They believe Election Day victories are probably going to help expand business opportunities in California.
In most municipalities that had cannabis measures on ballots, several were approved by voters while competing measures were defeated – such as in Simi Valley, Vista, Half Moon Bay and Hemet. And voters in Oakland approved a measure that could lead to a drop in local marijuana business taxes.
Of the few counties that had marijuana on the ballots, only Kern, Plumas and San Joaquin turned down cannabis business taxes, while Del Norte, El Dorado, Lake, Lassen and Nevada all approved MJ initiatives.
Also of note, voters in Los Angeles defeated an initiative that would have created a new public bank that could have been utilized by marijuana businesses.