Washington State has issued its first recreational cannabis license, paving the way for retail marijuana sales to begin this summer.
Sean Green, CEO of Spokane-based Kouchlock Productions, was given a producer-processor license Wednesday at a meeting held by the state's liquor board. The license allows Kouchlock to establish a cultivation site covering up to 21,000 square feet and to make infused products.
Green currently operates medical marijuana dispensaries in two cities, though the fate of those businesses is unclear as the state transitions to recreational marijuana.
He called the license "beautiful" and highlighted the employment impact he expects his operation to have. "I"m coming home with jobs, Spokane," he said to a room full of cannabis legalization supporters.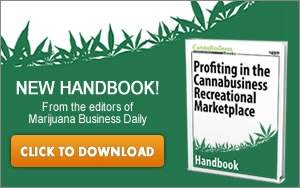 The Liquor Control Board said that from this point forward, licenses will be issued regularly as it continues to work through the more than 2,800 applications for producer permits. The state will start issuing retail store licenses soon as well, with the first shops expected to open in June or July.
Washington's approach of issuing cultivation licenses prior to retail shops opening should help ease the types of inventory supply problems faced by many Colorado retail cannabis shops in the days and weeks following the industry's launch on Jan. 1 of this year.