Correction: An earlier version of this story incorrectly stated that the main sales figures for Washington State reflect solely retail store transactions, when in fact the numbers include revenues generated by producers and processors as well. The story has been updated to include only retail sales.
By Chris Walsh
Colorado and Washington State release recreational cannabis sales data, a federal official says the banking situation is getting better and media reports heighten scrutiny of the MMJ process in Massachusetts.
Here's a closer look at several business-related developments in the cannabis industry over the past week:
Tale of Two States
Washington State reported recreational marijuana sales data for the first time ever this week, saying that retail cannabis stores generated $2.6 million in July.
Meanwhile, Colorado released its latest retail marijuana sales tally: $24 million for the month of June. That figure is just for sales through retail stores, while Washington's includes wholesale and other revenues.
The numbers offer a closer look at how the nation's first – and so far only – recreational cannabis markets are performing.
There's quite a gap between the states from a revenue perspective, which is to be expected given that Washington's retail marijuana industry is still in its infancy.
But it's clear that Colorado's retail industry certainly got off to a much faster start than its counterpart in Washington, and it has posted impressive growth since.
Stores in Colorado racked up $14.4 million in revenue for the month of January, when the industry launched. That's about six times the revenue from the first month of sales in Washington.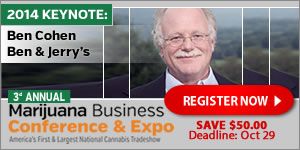 Of course, the Washington figure only includes about three weeks of data (the first stores opened on July 8), while Colorado's included the full month of January. Still, Colorado stores hit a daily average of $460,000 in sales during the first month, while Washington's average was around $108,000.
There are many factors at play (fewer overall stores opened in Washington, Colorado had an MMJ infrastructure already in place, etc.), and this certainly isn't a competition.
Moreover, while Washington's marijuana industry hasn't hit the sales figures some were expecting, it will surely grow substantially in the coming months as more stores open.
"There is no doubt that Washington's entry into the market is slow and greatly disappointing," said Greta Carter, who has founded several cannabis businesses in Washington. "It's all explainable, but still a disappointment to everyone. I predict it will take at least another year for us to get where Colorado is relative to numbers…but it's going to happen and get ready for a great ride!"
Banking on the Cannabis Business

Although most banks have cut ties with the marijuana industry in recent years, some financial institutions are still willing to work with the industry – they just don't advertise it.
It's been difficult to determine how many banks belonged to this camp, until now.
This week, a high-ranking federal financial official said 105 banks are actively working with marijuana companies – a surprisingly high number.
The government official who provided the information – Jennifer Shasky Calvery, head of the U.S. Treasury Department's Financial Crimes Enforcement Network – didn't offer any comparison data from, say, a year ago.
But she did insinuate that the numbers have risen, saying the recent banking guidance issued by the federal government is working.
"It is facilitating access to financial services," Calvery said, "while ensuring that this activity is transparent and the funds are going into regulated financial institutions."
This is an immensely positive sign for an industry that desperately needs banking relief.
Pressure Cooker

Mainstream media outlets in Massachusetts – particularly The Boston Globe – are having a significant impact on the state's MMJ licensing process.
This week, the state put a dispensary company's provisional licenses on hold after a report in The Boston Globe revealed that a key executive submitted false information in the application.
It's not the first time this has happened. Similar media reports earlier this year pressured the state into scrutinizing applicants more heavily, and as part of that process officials yanked nearly half of the provisional licenses they initially awarded.
Some in the industry believe local media has been too aggressive and even unfair at times.
But you have to credit The Globe and other media outlets in Massachusetts for taking the industry seriously and trying to take a watchdog role, which few publications are doing.
Helping expose questionable actions by state officials in awarding licenses – and companies submitting applications – benefits the industry as a whole.