By Fred Dreier
Colorado's retail marijuana industry has enjoyed overwhelmingly positive press through its first two months, with the program's better-than-expected sales figures and optimistic tax projections grabbing headlines.
But there are those in the industry who wonder how long the media will focus solely on the flashy business metrics.
Reporters are already turning their attention to stories of consumers behaving badly. Teachers at Jefferson County Public Schools are confiscating vaporizer pens from teenagers who sneak a toke between class. Kids are ending up in the hospital after eating edibles. As reported this week, so are dogs. Tourists are sparking up in public at ski areas. And the public health community is sounding alarm bells against stoned driving.
The difference in public perception is reflected in a recent Quinnipiac University poll, which says that while most Coloradans still support legalized recreational cannabis, the majority also believe that legalization has been bad for the state's national image.
Bad consumer activity poses a challenge for the industry. Shop owners cannot control the actions of their patrons, even though those actions will reflect poorly on the businesses.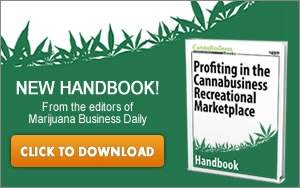 So to curb this problem, trade groups and companies are rolling out educational programs and establishing etiquette for consumers. In the coming weeks, for example, Dixie Elixirs and Edibles will launch a social media campaign aimed at preventing overindulgence of their products.
Advertising on each Dixie package will drive consumers to a Facebook page where they can share their experiences with the product and discuss how long it took for the product to activate. Additional advertising will warn consumers that edibles do not activate immediately, and that they must instead wait to feel the effects.
"The goal is to solicit responsible shared experiences," said Joe Hodas, Dixie's new chief marketing officer. "We want to head off people consuming too much."
The National Cannabis Industry Association partnered with the Marijuana Policy Project and a Colorado trade group to produce a brochure for new consumers, which spells out how they can take advantage of the new freedoms without breaking the law. According to Aaron Smith, executive director of the NCIA, the brochure warns against driving under the influence and giving products to minors.
"Businesses aren't liable for what consumers are doing, but we strongly encourage them to promote responsible activity," Smith said. "Businesses can provide information on the rules."
Perhaps the best method for curbing bad consumer habits, however, is for those in the industry to simply establish and enforce unwritten rules of consumer etiquette. Perhaps a budtender reminds the tourist with the ski pass that smoking on the slopes isn't just illegal, it's also bad manners. Or a store manager reminds a customer to keep edibles away from kids.
Toni Fox, owner of Denver's 3-D Cannabis Center, said her way of curbing bad consumer habits is to have her employees act as role models and remind consumers that they, too, are under the microscope.
"You put it to the consumer that hey, the world is watching you," Fox said. "If you mess up, you're going to wreck it for everyone else."