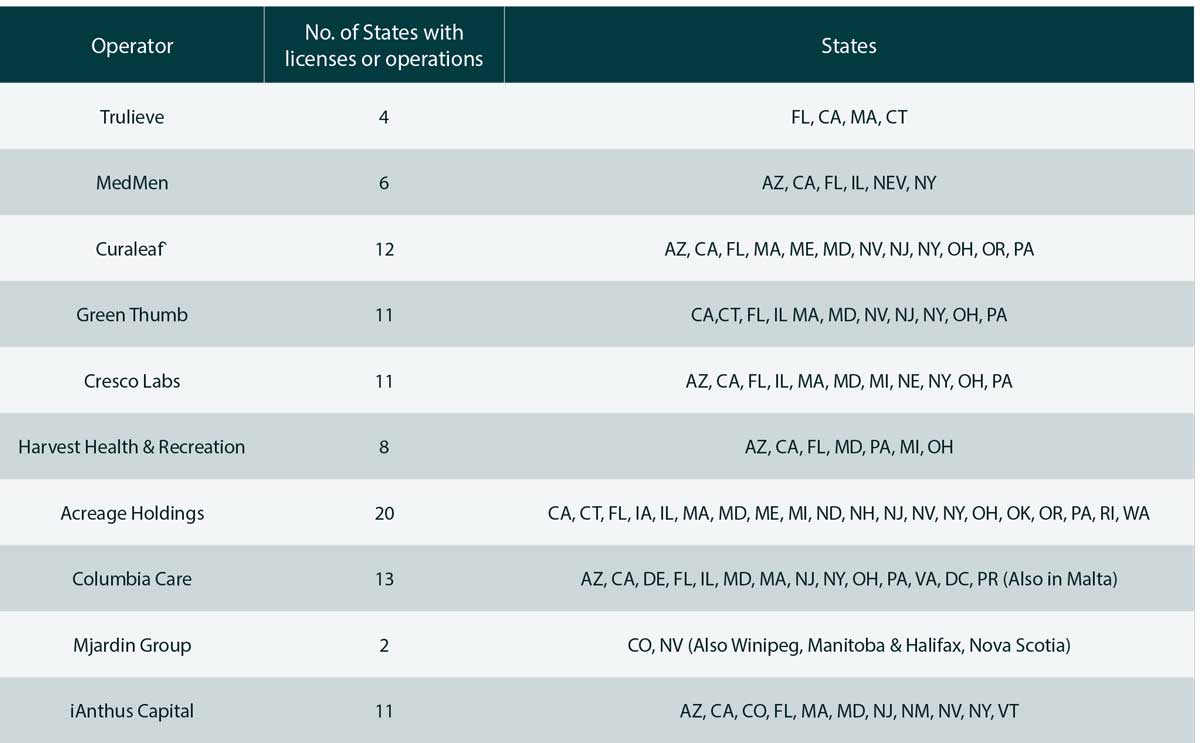 With each new quarter, investors are getting a deeper look at the operations and opportunity unfolding across the U.S cannabis sector.
The chart above offers a glance at the 10 leading U.S. multistate public cannabis firms by Q1 revenue.
Here's a quick snapshot of the top takeaways from Q1:
Florida-based Trulieve Cannabis Corp. continues to lead in revenues and profits among multistate public cannabis operators. The firm reported revenue for the first quarter of $44.5 million and more than doubled its profit to $14.7 million.
Profitability has continued to elude many other public cannabis firms – including Acreage Holdings, Curaleaf, MedMen and others – with most citing investment in their rapid nationwide expansion as the critical expense.
Scrutiny on spending is increasing among investors as they look for metrics to benchmark the rapid growth underway against returns. Perhaps one clear signal of this shift is MedMen's move in May to slash executive salaries as the company logged another quarter of multimillion-dollar losses in its fiscal third quarter ($63.1 million). To curb administrative expenses, the firm said it was cutting the annual salaries of CEO Adam Bierman and President Andrew Modlin to $50,000 apiece.
For those cannabis firms offering guidance on their full-year revenues, some enormous numbers have been hitting the charts, fueled in large part by recent activity and their M&A pipelines. Here's an overview:
Curaleaf anticipates a $400 million revenue figure for 2019, based on its plans to open 67 dispensaries in 12 states by the end of the year.
Harvest Health & Recreation boosted its 2019 revenue guidance to $350 million to $400 million. The estimate is a big leap from its previous prediction of $223 million and driven largely by its recent acquisitions of Verano Holdings, CannaPharmacy and Devine Holdings. While the company has just 13 dispensaries currently open, it's on pace to have more than 120 stores operating by the end of 2020. However, it's worth noting that the CannaPharmacy and Devine deals have not closed, but Harvest is still including these revenues (specific amounts not disclosed) in its guidance.
Trulieve reaffirmed its fiscal 2019 guidance of $214 million in revenue and gross profit of $145 million – which would be a 68% spike year-over-year. That forecast doesn't factor in sales from recently announced acquisitions in California and Massachusetts or the anticipated opening of 14 new medical marijuana dispensaries in Florida. Trulieve has said it expects to update the outlook as it gains more insight on the timing of those new additions.