LAS VEGAS – Cannabis experts took to the MJBizCon stage this week to share marijuana business know-how and best practices, touching on everything from the vaping epidemic to corporate integration challenges surrounding M&As to the future of marijuana retail and more.
Rebounding from the vaping epidemic
What can legal marijuana vape manufacturers and retailers do to protect themselves from the residual effects of the vaping crisis?
Antonio Frazier, vice president of operations for CannaSafe in Los Angeles, said the No. 1 tactic is to remain compliant with regulations.
"Testing, properly understanding your hardware – just getting your clients and patients more information about why your products are safe and what it means to be safe," Frazier said Friday during an MJBizCon panel on the vaping epidemic.
"It's really an education thing that's going to fix this for a lot of us, especially with the regulators."
Douglas Fischer, general counsel for Florida-based Greenlane, said that because the problem has mostly emanated from the illicit market, there's several things beyond educating consumers that cannabis companies can do to protect themselves from the vape crisis fallout.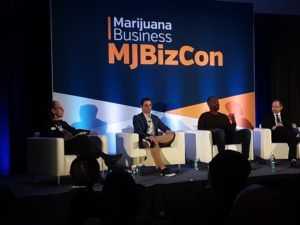 They include:
Get to know your supply chain.
Learn about the hardware.
Learn about the plants.
Advocate for the right regulations at the state level.
Do emissions testing beyond just testing the substance itself.
MJBizDaily takeaway: According to Cannabis Trade Federation CEO Neal Levine, the industry must be responsible and embrace regulation "because this shows us, everybody, the difference between regulated and unregulated product.
"And while no one has died from a cannabis overdose in the 5,000 years of recorded medical history, once you take the plant and manufacture it to something else, we need some standards."
Communication is key during M&As
Buying a license-holding cannabis company is one way to bypass the time, cost and headaches that go into building a business from the ground up, but that comes with its own set of challenges, according to Julius Kalcevich, CFO of New York-based iAnthus Capital Holdings.
Kalcevich credited mergers and acquisitions for helping iAnthus grow from a four-person operation to a 750-employee firm with operations in 11 states.
In order to identify pain points during an ownership change, Kalcevich advocated spending time with each team member at the acquired company to hear their concerns firsthand.
Kalcevich cited the importance of making sure staff are aware of any management changes that accompany an M&A situation.
"In the process of integration, you can start breaking some of the best things about that company if you don't all have the same direction," Kalcevich said.
MJBizDaily takeaway: Open direct lines of communication with staff acquired through M&A. They are the most knowledgeable about existing procedures.
Consumers expect uniformity in products sold via retail
In immature cannabis markets, where cultivators and infused product makers haven't reached full production, it can be difficult to achieve consistency on retail shelves.
But maintaining a reliable product line is key to keeping consumers happy, according to Mark Passerini, executive vice president of operations for Michigan-based Mission Dispensaries.
Customers "want consistency in what they buy, and they want to see the same strain on the shelf every single time," said Passerini, whose company operates dispensaries in five states.
If a retailer isn't vertically integrated, cultivating and maintaining vendor relationships is the way to achieve the goal of product consistency.
MJBizDaily takeaway: Passerini suggested long-term contracts as a way to avoid running out of a product that is a favorite of regular customers.
"If you can lock down your supply chain and keep a consistent product that does well on your shelves, you're going to have a leg up on everybody," he said.
Operators should consider long-term contracts with suppliers in order to maintain a consistent line of products for consumers, Passerini recommended.
Narrowing legislative priorities may offer quicker progress
Some marijuana-friendly legislation has made historic strides on Capitol Hill recently such as when a key U.S. House panel moved a federal cannabis legalization bill forward.
The social justice-focused Marijuana Opportunity Reinvestment and Expungement (MORE) Act of 2019 could open up huge business opportunities for legal marijuana nationwide, similar to the federal legalization of hemp.
Such indicators show there's more support among lawmakers than in the past, but further legislative movement through the end of the year is not likely, according to Saphira Galoob, executive director of the National Cannabis Roundtable, and David Mangone, policy director for The Liaison Group.
MJBizDaily takeaway: The MJBizCon speakers recommended the industry should prioritize one bill this year – the Secure And Fair Enforcement Banking (SAFE) Act – and ask senators, especially Republicans, for their support on the legislation.
Previously published MJBizCon 2019 stories are available here and here as well as here. A review of winners showcased at the MJBizDaily Awards is available here.