Marijuana advocates in Alaska may be in for a disappointment come November.
The latest survey by Public Policy Polling found that support for a measure to legalize recreational cannabis has slipped among voters, with 44% saying they back legalization vs. 49% who oppose. Roughly 8% are undecided.
When the organization last polled Alaskans in May, 48% of respondents favored the measure compared with 45% who opposed.
The campaign behind the legalization bill (Measure 2) still has a chance to sway more voters heading into the last few months of the election season, but this could come down to the wire.
In the latest poll, almost 60% of Democrats backed Measure 2, but only a quarter of Republicans polled are behind it. Nearly 50% of registered unaffiliated voters support the measure.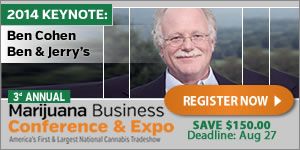 While 48% of younger voters are in favor of Measure 2, the percentage shrinks with age — just 30% of voters older than 65 are in favor of legalizing recreational marijuana.
Measure 2 would allow residents to grow up to six plants and possess up to an ounce of marijuana, and it would make the manufacturing and sale of recreational cannabis legal.