By John Schroyer
Cheeba Chews has been cruising in the fast lane for the better part of five years, building a wildly popular brand of edibles in Colorado and expanding into two other states along the way.
But the company ran head-first into a major roadblock this spring that brought its Colorado operations to a near standstill.
Cheeba Chews was forced to halt production in the state because of issues with its manufacturing partner, and its products began disappearing from dispensaries and recreational cannabis shops. Store owners were largely kept in the dark about the company's issues, and some thought Cheeba Chews went out of business entirely.
Now, the company is up and running again with a new partner – and some invaluable experience about navigating through unexpected turmoil.
Marijuana Business Daily reached out to the company for insight about its recent challenges, the edibles market and building a cannabis brand. Three Cheeba Chews executives – Chief Executive Officer James Howler, Operations Manager Dave Maggio (pictured) and Marketing Director Eric Leslie – agreed to answer questions via email.
Here are excerpts of their responses, edited for length and clarity:
What exactly happened that halted production of Cheeba Chews, and what did you have to do to resolve the issue?
Howler: Cheeba Chews experienced a tremendous amount of growth after initially being introduced to the medical marijuana market.
During our growth period, the company was set up with a licensing structure that would give us the necessary flexibility to scale into new markets. Unfortunately, the license holder ran into some compliance issues mainly concerning products being made at the same kitchen as Cheeba Chews.
What did you learn from the incident, and have you changed any specific business practices because of it?
Maggio: Our newly built kitchen is 100% dedicated to Cheeba Chews product manufacturing only. That is the major difference in our current structure.
The overall lesson really was the same as any rapidly developing business learns about growth and adaption.
The success and support of the brand wasn't something any of us could have predicted. The structure that helped establish the brand in our home state needed to be adjusted.
How quickly you can repave your foundation, let it settle and rebuild on it properly was the key take-away for us.
What type of financial impact did this have on the company? How did you stay afloat while no products were being sold, and how did it impact your brand and reach in the market?
Howler: Cheeba Chews lost about two weeks' worth of inventoried product, along with a two-week supply of oil.
Fortunately we have always been a fiscally responsible business and were able to weather the down time.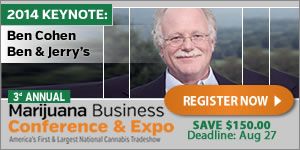 The business is completely self-sufficient from a financial perspective. No debt, low overhead, efficient processes and we've taken no outside investment.
It's a fast-moving industry and we've established the necessary flexibility to adapt.
How did the temporary loss of manufacturing affect Cheeba Chews' relationship with vendors, including dispensaries and retail shops? How was the company able to get its products back on store shelves?
Leslie: The industry at the budtender level is quite cyclical, so we saw that a lot of old contacts had moved on to new locations (looking to welcome us with open arms) and in their place was a new relationship to establish.
It was mostly about effectively communicating our status as being 100% compliant once we re-entered the medical marketplace. Our partner/vendor relationships are always an ongoing priority.
How can other cannabusinesses avoid the same kind of trouble you ran into?
Howler: You can't avoid the lessons that this industry is going to teach you. You live and you learn.
The real take-away is perseverance. We ran into some major challenges but the "no quit" attitude of everybody we work with was the necessary fuel to keep this business running.
We bonded together and challenged each other to be better today than we were yesterday.
Have you seen any differences in consumer preferences for edibles in the recreational vs. medical marijuana market?
Maggio: It's pretty clear medical marijuana patients are mostly looking for higher dosage levels with edibles versus recreational consumers, who a lot of the times are trying an edible for the first time.
There are some real challenges in the recreational world as it pertains to edibles, given their relative novelty to a majority of Americans outside of legal states.
Edibles have an uncertain future regarding state regulations, given recent negative media attention. What kind of regulations would you like to see put in place in Colorado and other states, and why?
Leslie: I think more than "what type" of regulations need to be made, we'd like to see more active input and conversations between consumers and manufacturers.
Less noise from lobbyists, media and politicians can help expose the fact that these recreational challenges are not insurmountable; it's just a commitment to education along with responsible practices and consumption.
The first time you drank liquor, did you know beforehand how much it would take before you felt the intoxicating effects? Our simple theme has always been "a little can do a lot."
How did you achieve your market penetration in Colorado, and what tips do you have for getting products on store shelves in this industry?
Howler: We're in 300-plus dispensaries around Colorado. We've approached our business with a simple motto: Consistently provide a discreet cannabis-infused edible with reliable potency. Everyone in our organization is held to that standard.
We're also strong believers in being unique and providing an edible that solves a real problem for patients.
Etch out your niche and serve it to the best of your abilities. Stay focused and hold yourself to high quality standards. That's a good foundation for success in any industry.
John Schroyer can be reached at Johns@mjbizmedia.com