By Chris Walsh
A blockbuster business deal goes up in smoke, an industry leader discusses Big Pharma's interest in medical cannabis and Washington gears up for a historic day.
Here's a closer look at some notable business-related developments in the marijuana industry over the past week:
Messy Divorce

Another partnership involving a well-known edibles company and a publicly traded firm is going up in flames.
Bhang Chocolate, one of the industry's premier edibles brands, is looking to terminate its blockbuster deal with Mentor Capital.
The agreement turned many heads in the industry, not only for its size – Mentor agreed to acquire a 60% stake in Bhang for a whopping $39 million – but also because it seemed to highlight just how far the marijuana sector has come.
The deal valued Bhang at roughly $65 million, which is pretty impressive for a cannabis company. It also represented an attempt to merge the old guard with newbies hoping to cash in on the industry's potential. Bhang has been in the cannabis space for years, while Mentor Capital has been around for decades but entered the marijuana industry early in 2014.
Scott Van Rixel, Bhang's chief executive officer, highlighted the significance of a longstanding cannabis company hooking up with a publicly traded firm when he struck a deal with Mentor.
"The marijuana community has had mixed results thus far with the public companies that have come to deal with us. What is needed is funding through the public market that is fair, to help our good, solid companies grow," he stated in a press release. "I believe we have found that exact mix for Bhang in working with…Mentor Capital."
Still, many industry insiders were suspect of the deal, wondering why Bhang would align itself with a virtual unknown in the industry. The terms of the agreement were difficult to decipher, and some observers felt the partnership would turn ugly. Apparently they were right.
This marks the second high-profile divorce of the year between an edibles company and a publicly traded firm (see: Dixie Elixirs and Medical Marijuana Inc.).
Given these two incidents, private and public cannabis companies might think extra hard before hooking up in the future.
Outside Invasion
Josh Stanley, creator of the CBD-heavy Charlotte's Web strain of cannabis, believes that it's only a matter of time before pharmaceutical giants enter the marijuana industry.
In fact, they're already involved, Stanley noted during a keynote speech at a cannabis investment conference in Canada on Thursday. Stanley said a handful of pharmaceutical companies are in the cannabis space, such as London-based GW Pharmaceuticals, which develops CBD products and is tapping the U.S. market for funding.
But that's not such a bad thing,
"I'm not worried about that and neither should you," Stanley said. "Pharmaceutical companies will be here, and are here…and they're probably something we need to embrace and work with."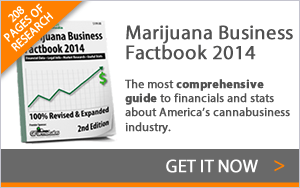 Stanley also said that the cannabis industry in general is moving to large-scale agricultural production.
"The walls are falling across the world, not just the US," he said. With that will come huge demand, and some of the biggest opportunities will involve figuring out how to mass produce cannabis for a huge client base.
3 Trends to Watch in Washington

We now have a solid date: July 8. That's when recreational cannabis sales will begin in Washington State.
Here are three areas to keep an eye on in the early days of the market:
1) Demand – Will people turn out in droves to buy recreational marijuana, as they did in Colorado earlier this year? Or has the novelty worn off a bit?
2) Supply – It appears only a handful of stores will actually be ready to open on July 8, funneling all customers into a few hot spots around the state. The first-movers could find themselves facing shortages, as growers recently predicted.
3) Edibles – Infused goodies have been flying off the shelves in Colorado, but they've also created headaches for the industry and led to controversy. Will Washington handle the edibles situation better, using lessons learned from the first state to legalize recreational marijuana?